Teen Titans Go! To the Movies Is a Hilariously Meta Watch That Isn't Just for Kids
Warner Bros. delivers a superhero movie that doesn't pull punches when it comes to making fun of itself.
(SPOT.ph) Warner Bros. hasn't had the most stellar batting average when it comes to superhero movies this past decade, so it wouldn't be unreasonable to come into a movie based on a TV cartoon featuring a bunch of goofball superheroes with extremely low expectations. But Warner Bros. (WB) is at its best when it parodies itself, with a long history of self-aware comedies such as 1990's Gremlins 2, which might have blown your mind by being so meta (one scene features a Gremlin getting a WB tattoo on its chest).
Teen Titans Go! To the Movies is based on the Teen Titans Go! television series that first aired in 2013, which is a send-up of the teenaged heroes. It follows the adventures of Robin (voiced by Scott Menville), Starfire (Hynden Walch), Beast Boy (Greg Cipes), Cyborg (Khary Payton), and Raven (Tara Strong) as they go about their teenage shenanigans unhampered by adult supervision. The highly irreverent, inane series drew mixed reactions from fans who loved the less comedic, critically acclaimed Teen Titans series that preceded it, but was a hit with younger audiences who weaned on the absurdity of modern cartoons.
ADVERTISEMENT - CONTINUE READING BELOW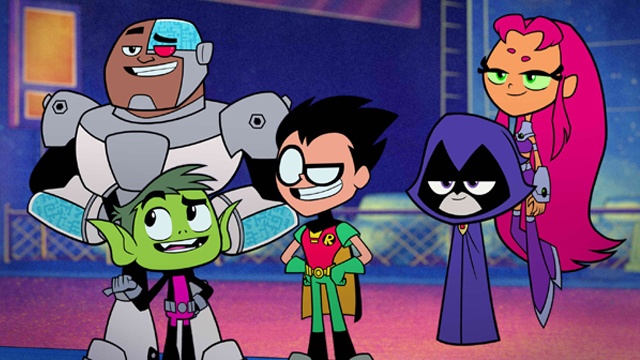 Adults needn't worry, however, because more than half the jokes in Teen Titans Go! To the Movies is aimed at the parents who've likely been roped in to watching the film by clamoring kids. There are butt and poop jokes for everyone, but the biggest laughs come from getting the references, from the popular to the most obscure. Warner Bros. pulls no punches and holds nothing sacred for the sake of a good laugh, making fun of their own box-office bombs as well as employing a Marvel staple in a meta-bending appearance.
ADVERTISEMENT - CONTINUE READING BELOW
Freed from the structural constraints of traditional superhero storytelling, Teen Titans Go! To the Movies lampoons the entire genre even more than a certain merc-with-a-mouth without going into R-Rated territory or breaking the fourth wall. Directed by Peter Rida Michail and Aaron Horvath, it's a brilliantly written commentary on the spate of superhero films. Robin, the Titans' fearless leader, is obsessed with getting his own movie, believing that a movie legitimizes their status as full-fledged superheroes.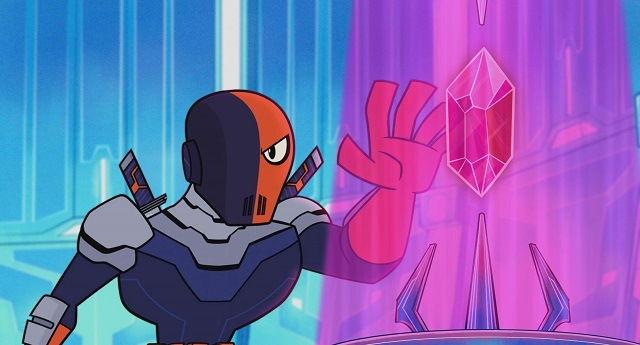 ADVERTISEMENT - CONTINUE READING BELOW
The film also brings in the comedic talents of Will Arnett as their archnemesis Slade, who once upon a time was known as Deathstroke the Terminator. That name was overkill, which must've been why the villain that inspired Deadpool was reduced to using his first name. Don't worry, the Teen Titans make sure to say it really ominously so you know he's a force to be reckoned with.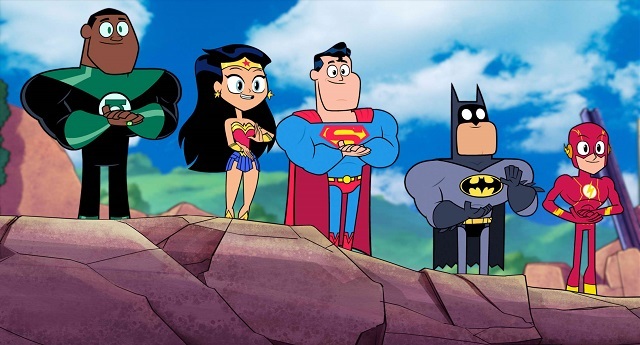 ADVERTISEMENT - CONTINUE READING BELOW
Kirsten Bell lends her voice to movie director Jade Wilson, who repeatedly rebuffs Robin's entreaties to feature them in a movie, creating tension among the team. Nicolas Cage, once slated to play Superman in a Tim Burton project in the '90s, finally gets to play the role and gets many comedic moments of his own.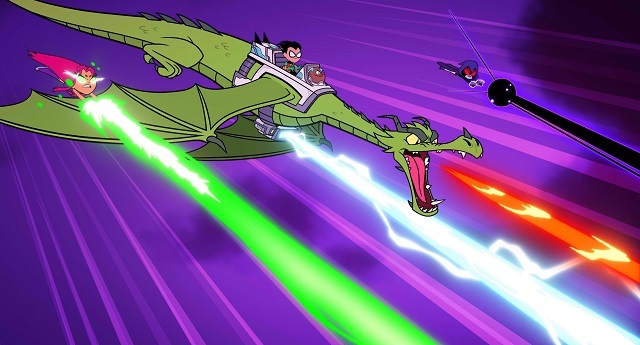 ADVERTISEMENT - CONTINUE READING BELOW
Teen Titans Go! To the Movies is a riotous ride from start to finish, guaranteed to leave viewers in stitches. It's also accompanied with an extremely catchy soundtrack that parents will find themselves being forced to play and sing along to on the ride home from the theaters. From the highly energetic, Beastie Boys-inspired "Go!" hiphop theme song to the broadway-style "My Superhero Movie" where Robin displays some Batman envy, audiences will find themselves nodding happily to the beats.
Some of the film's highlights are in the infectious musical numbers, particularly the irrepressibly happy synth and sax-powered "Upbeat," which features dolphins on keyboards and Michael Bolton as a shades-wearing, white Lisa Frank tiger. The team also saves a dying planet with some butt-baringly hypnotic EDM and use A-Ha and some Back to the Future for good nostalgic measure.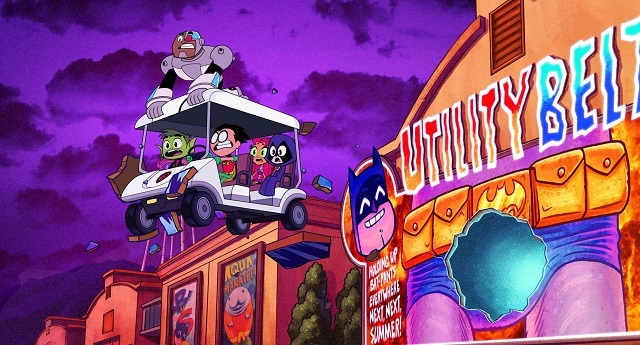 ADVERTISEMENT - CONTINUE READING BELOW
Filipino audiences should also be thrilled to know that large chunks of the Flash-animated film were made in the Philippines by a talented team of Pinoy animators. Most of the action scenes were drawn and rendered by Snipple Animation in Quezon City, working off animatics sent by Warner Bros., who were reportedly so thrilled by their work that they wanted the studio to work exclusively on projects for the studio. In an exclusive interview with animation director Kiko Lerma, this wasn't possible due to their other commitments, so Warner Bros. decided to just load them with more projects. And now, the seven-year-old animation outfit is currently working on five top-secret projects with Warner Bros.
Teen Titans Go to the Movies! is one of the funnest, funniest movies of the year, a treat that the whole family can enjoy. DC comics fans will be thrilled at all the Easter eggs and cameos, providing another layer of enjoyment and fans of the original Teen Titans animated series should watch out for the mid-credits scene.
ADVERTISEMENT - CONTINUE READING BELOW
RATING: 5 out of 5 Spots
Teen Titans Go! To the Movies premieres on August 1.
Photos courtesy of Warner Bros. Pictures
CONTINUE READING BELOW
Recommended Videos
Share this story with your friends!
---
Help us make Spot.ph better!
Take the short survey
Load More Stories