Christopher Robin Takes You on a Slow Stroll Back to the Hundred Acre Wood
But not without Winnie the Pooh's trademark tender moments.
(SPOT.ph) There usually comes a time when one has to put away childish things—it's a time to grow up, to stop doing nothing, and start doing something. And yes, adulting is hard, but should it also be so boring? The main conceit of Christopher Robin, based on the beloved characters by A.A. Milne, is that the titular Christopher (Ewan McGregor) grows up to be a joyless workaholic whom his childhood friends must save from a life of tedium and banality. His childhood friends, of course, being little talking dolls.
Winnie the Pooh (voiced by Jim Cummings, who also plays Tigger) ventures out from the Hundred Acre Wood to look for his friends only to stumble upon a Christopher Robin on the verge of a mental breakdown. Robin has been tasked by his boss Giles Winslow (Mark Gatiss) to come up with a solution to save the luggage company he works for over the vacation weekend he'd promised his wife Evelyn (Hayley Atwell) and daughter Madeline (Bronte Carmichael). He's forced to cancel on his family, who hie off to Sussex without him.
ADVERTISEMENT - CONTINUE READING BELOW
CONTINUE READING BELOW
Recommended Videos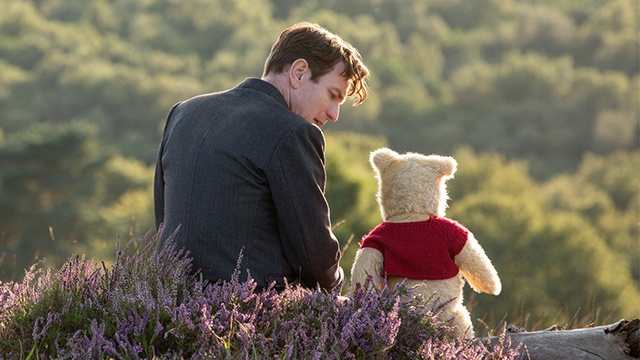 The film opens pleasantly enough, with a flashback to a young Christopher Robin (Orton O'Brien) bidding farewell to his friends before he goes off to boarding school. He and Pooh share a poignant moment on a bridge over a creek where he explains that he loves, "doing nothing," but will soon need to not do nothing as he needs to grow up. As the opening credits roll, viewers are taken on a journey of Robin's life as he meets his wife and later goes off to war just as she gives birth to their child.
ADVERTISEMENT - CONTINUE READING BELOW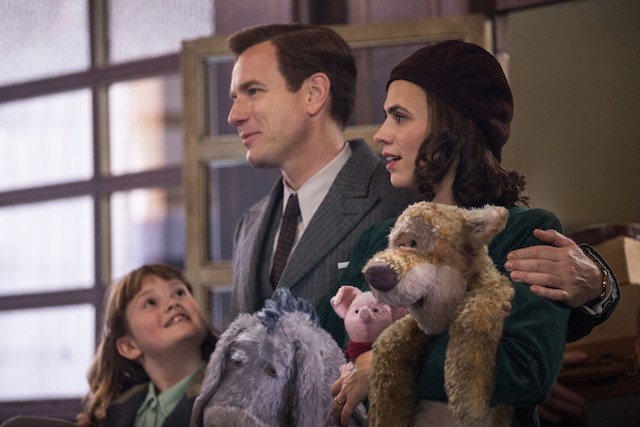 Christopher Robin is a tepid journey of self-discovery shot with an oppressive and melancholy mood throughout. It's something of a disservice to the character to have him grow up to be a terrible father and distant husband who's too caught up doing work only to force upon him all the lessons he'd supposedly already learned as a kid just for the sake of a story. Christopher Robin, a highly imaginative, thoughtful little boy, who often has wisdom-filled exchanges with his best friend Pooh, grows up to be a dreadfully dull man. He's also preparing to send Madeline away despite the protestations of his wife, who points out that there are perfectly good schools in London.
ADVERTISEMENT - CONTINUE READING BELOW
It's a blatant condemnation of prep school. The message is clear: Parents, don't send your children away because it will suck the fun out of them. Christopher Robin is helmed by Marc Forster, who directed the similarly melancholy Finding Neverland and the slow-paced James Bond chapter Quantum of Solace. The film is permeated with a pervasive gloom, and Hundred Acre Wood feels ominous and unpleasant even when the scenes are supposed to be happy. It aims for a gritty, desaturated nostalgic realism befitting the 1920s era when Winnie the Pooh was created. But practically nobody remembers Pooh from the E.H. Shepard illustrations—especially not any of the children who might watch with parents excited to experience some Pooh-bear magic. Unfortunately, this isn't the Pooh of the Disney cartoons.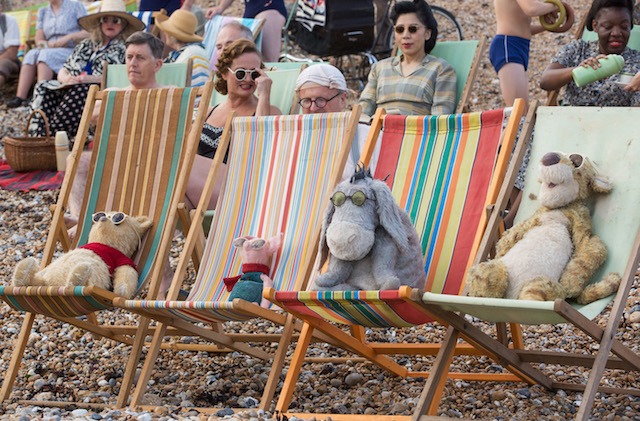 ADVERTISEMENT - CONTINUE READING BELOW
The film is not for children, its pace is slow and plodding, and the plot itself is aimed at adults as a reminder to take some time off work and focus on family. It's a familiar refrain that only necessitates telling because the main character is so dismally lacking in self-awareness and so out of touch with his inner child (or his own, actual child, for that matter). A metaphor is drawn to depict Robin as the dreaded Heffalump, which will be lost on viewers more familiar with the cute and cuddly version from the animation.
There's a strange subplot with an obnoxious neighbor who pesters Robin to play Gin Rummy that goes nowhere and apparently only exists to drive Christopher Robin to the park to meet Pooh. Otherwise, the film is tight and the story solid. It just feels slightly unnecessary, merely another addition to Disney's growing stable of properties done in live action. There are tender moments and wonderful lines, and for true Pooh fans this might be reason enough to sit through two hours of melancholy storytelling to come to the conclusion that everybody needs to go on a holiday.
ADVERTISEMENT - CONTINUE READING BELOW
RATING: 2 out of 5 spots
Christopher Robin is now in theaters.
Photos courtesy of Walt Disney Studios
Load More Stories