10 of the Sexiest Beach Scenes in Movies
Warning: These might just get you hot and bothered.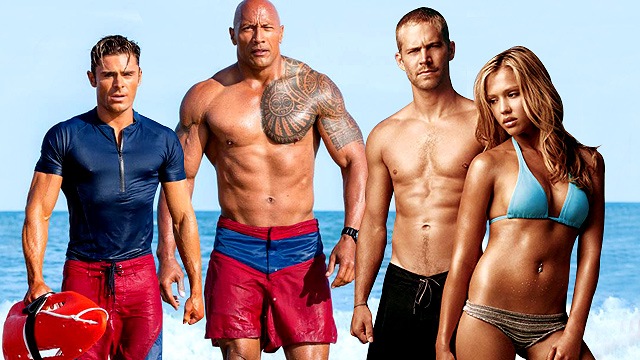 (SPOT.ph) If there's one place we'd rather be when Manila weather is this unpredictable, it's the beach. And while we all can't just pack up our things and hit the coast, there's always an alternative: Fun movies that'll take us there instead. So with picture-perfect views behind all these hot movie moments, here are 10 sexy scenes that'll make you want to hit the beach ASAP.
Dr. No (1962)
Directed by: Terrence Young
As the first-ever James Bond film, the Sean-Connery-starrer Dr. No delivers one of the most memorable Bond-girl scenes. Ursula Andress' Honey Ryder steps out of the Jamaican ocean with a nude bikini while singing and looking for some shells to sell in Miami. How could you not be transfixed?
Die Another Day (2002)
Directed by: Lee Tamahori
The James Bond franchise has always been known for its spectacular shoot locations and star-studded cast. But one particular scene from the 2002 installment starring Pierce Brosnan, Die Another Day, features an unforgettable entrance by Jinx (played by Halle Berry), who emerges from the ocean in a stunning orange bikini.
ADVERTISEMENT - CONTINUE READING BELOW
Charlie's Angels: Full Throttle (2003)
Directed by: McG
Charlie's Angels is known for many a thing: Cool spy stuff, awesome action scenes, the occasional comedic relief…then there's also this gem in the second star-studded film. The Angels (played by Cameron Diaz, Drew Barrymore, and Lucy Liu) meet a former Angel, Madison Lee (Demi Moore), by the beach during a surfboard stakeout. Admit it: You totally wanted to be a spy after seeing these movies.
Into the Blue (2005)
Directed by: John Stockwell
This movie might be an action-thriller, but that doesn't mean it can't have picturesque scenes underwater—especially if it's set on the coast of the Bahamas. When their friends arrive for a quick vacation, Sam (Jessica Alba) and Jared (Paul Walker) tour them around the island and take them snorkeling and jet ski-riding. You'd best believe there are exciting shots of the girls enjoying their day out under the sun.
CONTINUE READING BELOW
Recommended Videos
Piranha 3D (2010)
Directed by: Alexandre Aja
You can't have a campy summer disaster movie like Piranha 3D without a party scene set on the beach. Of course, it comes complete with a pair of girls—including Kelly Brook—dancing together on a yacht to the amusement of a horde of partygoers who want to see more.
Fast Five (2011)
Directed by: Justin Lin
Before she was Wonder Woman, one of the roles that put Gal Gadot on our radar was Gisele Yashar in the Fast and Furious franchise. And check out this scene in Fast Five where she flaunts her beach-ready bod to show Han just why you "don't send a man to do a woman's job."
ADVERTISEMENT - CONTINUE READING BELOW
Just Go With It (2011)
Directed by: Dennis Dugan
Because of a complicated lie to date Palmer (Brooklyn Decker), Danny (Adam Sandler) has to pretend that he has a wife (Jennifer Aniston)—that he's about to divorce—and two kids with her. They all go on vacation in Hawaii where they pretend to be one family to maintain Danny's lie. And while the set-up sounds complicated, Palmer coming out of the ocean in an itty-bitty yellow bikini is motivation enough for Danny to keep up with the charade.
Step Up Revolution (2012)
Directed by: Scott Speer
Remember all the Step Up movies that made you wish you could dance? Well, you might remember one of the later installments, Step Up Revolution, which starred So You Think You Dance finalist Kathryn McCormick. There's one particular scene in the film where she and Sean (Ryan Guzman) heat things up on the beach in a dance competition. Just look at those moves!
The Other Woman (2014)
Directed by: Nick Casavetes
After Kate (Leslie Mann) meets her husband Frank's (Don Johnson) mistress Carly (Cameron Diaz), they both find out that he has yet another mistress, Amber (Kate Upton). They team up and follow Frank and Amber on a beach vacation where they try to lie low while spying on Amber. But when Amber takes a dip in the beach and goes for a jog—that would give Baywatch lifeguards a run for their money—Carly loses it. What ensues is a brawl-turned-team-up that'll leave you laughing out loud.
ADVERTISEMENT - CONTINUE READING BELOW
Baywatch (2017)
Directed by: Seth Gordon
Baywatch was a classic American TV show that followed lifeguards from Los Angeles County. It was one of the most-watched series of all time, and while it wrapped in 2001, it got made into a movie in 2017 that stars Dwayne Johnson and Zac Efron as a mentor-protege duo. Of course, they can't have a remake without that unforgettable scene of the lifeguards in their red suits running down the beach.
Share this story with your friends!
---
Help us make Spot.ph better!
Take the short survey
Load More Stories