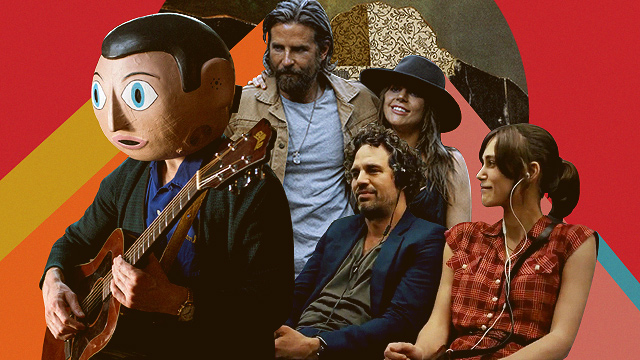 (SPOT.ph) Movies or music—why not both? Sometimes it just works better when a film becomes a two-hour medley of story and soundtrack (where we often keep the latter on repeat for weeks). You've probably already been listening to Queen's songs non-stop ever since you watched (and re-watched) Bohemian Rhapsody, so you might want a fresh set of tunes you can jam to in the shower. Here are 10 movies you must watch if you're a certified music lover.
ADVERTISEMENT - CONTINUE READING BELOW
Music and Lyrics (2007)
Director: Marc Lawrence
"All I wanna do is find my way back into love"—we're pretty sure you've heard this song at least once. The fictional origins of the song are explored in Music and Lyrics. In the film, Hugh Grant plays washed-up superstar Alex Fletcher who finds that he has a chance to get back into a spotlight when the reigning pop diva Cora (Haley Bennett) wants to perform a song he writes for her. His problem? He can't write lyrics. Solution? His plant lady Sophie (Drew Barrymore) does.
Once (2007)
Directed by: John Carney
After watching the award-winning Once and hearing the film's featured song "Falling Slowly," you'll probably be scrambling to find a duet partner who can sing the song with you. The movie follows the story of two unlikely musicians—one a street performer, another a hobby singer and pianist—as they navigate Europe while starting to chase their music dreams. As the two get closer, they find that they're attracted to one another but both have circumstances that make it hard to actually be together. You'll be rooting for both the characters as much as you look forward to the next song that comes on.
ADVERTISEMENT - CONTINUE READING BELOW
Recommended Videos
August Rush (2007)
Directed by: Kirsten Sheridan
In August Rush, Evan (Freddie Highmore) is a gifted orphan who runs away to New York in search of his birth parents. His musical talent catches the attention of a man simply known as Wizard (Robin Williams), who dubs him "August Rush" with the intention of profiting from his music. Unbeknownst to Evan, his parents are out there, and they're searching for him too.
Country Strong (2011)
Directed by: Shana Feste
After landing herself in rehab, country singer and superstar Kelly Canter (Gwyneth Paltrow) has a romantic fling with one of the staff, Beau Button (Garrett Hedlund) who happens to be a talented musician. As an attempt to clear her image, Kelly's husband James (Tim McGraw) pulls her out of rehab to do a three-day tour. But as with anything revolving around relationships, affairs, and addictions in the face of stardom, things quickly become messy.
ADVERTISEMENT - CONTINUE READING BELOW
Begin Again (2013)
Directed by: John Carney
In Begin Again, Mark Ruffalo and Keira Knightley team up to become the next indie sensation. Ruffalo plays Dan, a disgraced record executive that chances upon Gretta (Knightley) performing in a club after getting her heart broken by former boyfriend and rising songwriter Dave (Adam Levine). Together, Dan and Gretta form a bond while working on releasing the latter's first solo album. You might remember catchy tunes like "Lost Stars" littering the movie's soundtrack, too.
Frank (2014)
Directed by: Lenny Abrahamson
Complete with a Frank Sidebottom-esque larger-than-life papier-mache head, Frank is a black comedy film about four musicians looking to breakout as a band in Europe. Jon (Domhnall Gleeson) is invited by titular mask-wearing character Frank (Michael Fassbender) to be a part of their band, along with his tough best friend Clara (Maggie Gyllenhaal). What follows is a story of the ups and downs of any struggling musical group—and of course the eccentricities of having a masked man for a friend.
ADVERTISEMENT - CONTINUE READING BELOW
Sing Street (2016)
Directed by: John Carney
This 2016 musical comedy-drama is set in 1980s Dublin, right in the middle of a local recession. The story starts when Conor "Cosmo" Lawlor (Ferdia Walsh-Peelo) who, on a whim, starts the titular band in order to impress a girl at his new school. What follows is a coming-of-age story of a budding musician, his family, and his friends. The award-winning soundtrack features original songs by the band, like "To Find You" and "Drive It Like You Stole It."
A Star is Born (2018)
Directed by: Bradley Cooper
Bradley Cooper and Lady Gaga star as Jackson Maine and Ally in the critically acclaimed remake of A Star is Born. Follow the compelling story of music veteran Jackson who discovers and eventually falls in love with Ally, a struggling musician looking to break out into the music scene. The movie is full of amazing hit songs—like the likes of "Shallow"—that you'll surely keep on repeat.
ADVERTISEMENT - CONTINUE READING BELOW
Burn The Stage: The Movie (2018)
Directed by: Jun-Soo Park
The outrageously popular K-Pop group BTS has already dominated the music scene, but they're about to do the same in film too. Burn The Stage: The Movie is a documentary that follows the band's seven members while on tour. You don't even need to be a K-Pop fan to appreciate this film, as it's also a close look at the band's rise to superstardom and is, of course, full of their original hit songs that have already taken over the world.
A Head Full of Dreams (2018)
Directed by: Mat Whitecross
Coldplay stars in this docu-film that celebrates the band's 20 years of being in the music industry. The movie takes a closer look at the group's rise to international fame from their humble beginnings. Since it's a film all about Coldplay, you can bet it'll be full of all the band's hit songs and highlights through the years. You'll see another side of the band and learn more about what went into the making of hit songs like "The Scientist," "Yellow," "Paradise," and their collab with Beyoncé, "Hymn for the Weekend." What makes it even more interesting is how director Mat Whitecross (who also helmed Oasis' docu-film Supersonic), started taking videos of Coldplay when they were just starting out in college.
ADVERTISEMENT - CONTINUE READING BELOW
Share this story with your friends!
---
Help us make Spot.ph better!
Take the short survey
Load More Stories