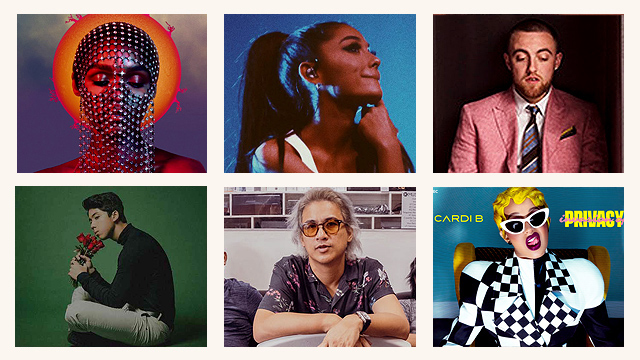 (SPOT.ph) It has been an eventful year in music indeed. While we sadly had to say goodbye to big names like rapper Mac Miller, Swedish DJ Avicii, Queen of Soul Aretha Franklin, and Cranberries' Dolores O'Riordan, we were also witness to significant music moments worth celebrating. Beyoncé headlined Coachella, and Kendrick Lamar was honored with a Pulitzer Prize for his album DAMN. Drake's "In My Feelings" ruled social media and gave us all a groovy good time, while the legendary Lady Gaga is now up for a Golden Globe for her performance in A Star is Born. Locally, we saw the continuing rise of K-Pop fever, as well as better appreciation for local indie music. Fresh acts like Fern., TALA, and Any Name's Okay, to name a few, are showing promise of a bright OPM future.
ADVERTISEMENT - CONTINUE READING BELOW
In terms of albums, this year brought hits that are sure to spill over our 2019 playlists. Below, we list 10 of our picks for the must-hear records of 2018, and then some. 
Dirty Computer by Janelle Monáe
Release date: April 27, 2018
Listen to: "Make Me Feel," "Crazy, Classic, Life," and "Pynk (feat. Grimes)"
There were high expectations for Janelle Monáe's third album. The late Prince, after all, was her mentor and collaborator. While a strong futuristic vibe envelops the whole pop record, Dirty Computer is by no means defined by that concept alone. Monáe talks about the here and now, singing about politics and sexual freedom. There are touches of rap, soul, R&B, and funk thrown in for good measure. More than anything, with this record, the queer black artist claims her rightful place in the sometimes-alienating world of music.
Full Flood by Apartel
Release date: October 3, 2018
Listen to: "Pateros," "Sisid," and "Pre-Loved (feat. Zia Quizon)"
Apartel doesn't skimp on the funk and soul in their sophomore album, but Full Flood isn't limited to those elements. With all band members involved in the songwriting process, the record proves to be a pleasantly eclectic piece of work, mixing in electro, rock, disco, and even Motown influences, too. If that's not enough to make you listen, note that the album was mastered by none other than Bernie Grundman, who worked on Michael Jackson's Thriller, Prince's Purple Rain, Kendrick Lamar's DAMN., and Childish Gambino's Awaken, My Love!. If it seems that you've come across that name recently, it's because he also remastered the 25th Anniversary reissue of Eraserheads' Ultraelectromagneticpop!.
ADVERTISEMENT - CONTINUE READING BELOW
Recommended Videos
Grandma by UNIQUE
Release date: August 13, 2018
Listen to: "Sino," "OZONE (Itulak Ang Pinto)," and "Apoy Ng Kandila"
Hearts broke everywhere when Unique Salonga left breakout band IV of Spades. Not long after, he dropped his debut offering "Midnight Sky," a ballad that received mixed reviews. We sure hope you didn't let your experience of his music end there. Grandma is a masterful first album from the 18-year-old singer-songwriter who shows nothing but promise. Veering away from disco-pop, the record showcases influences from psychedelic rock to folk, travels through varying soundscapes, and touches on a wide range of emotions.
Honey by Robyn
Release date: October 26, 2018
Listen to: "Honey," "Missing U," and "Ever Again"
It took eight years for Scandinavian singer Robyn to release her follow-up to 2010's Body Talk, but it was worth the wait. Do not mistake Honey, her eighth solo album, for a mere saccharine offering. It is deeply personal and brutal, proving Robyn's conviction to make music only on her own terms—big pop machinery and mass appeal be damned. Like she warns in the title track: "No, you're not gonna get what you need. But baby, I got what you want." The record delves deep into heartbreak and the artist's personal musings, and it shimmers with cathartic synths, pulsating beats, shifting vocals, and reflective lyrics.
ADVERTISEMENT - CONTINUE READING BELOW
Invasion of Privacy by Cardi B
Release date: April 5, 2018
Listen to: "I Like It," "Money Bag," and "I Do"
From being a gang member, then stripper, to a reality TV personality, Cardi B has risen to become one of the industry's most endeared rappers. Her debut album is a testament to her Cinderella story, plus a reflection of her realness and lack of filter. In Invasion of Privacy, she's brazen and irreverent, referencing sex and the woman's body in a way that's empowered and with agency. The tight hip-hop beats are overshadowed by her fine delivery (despite the thick accent). The hit record also features collaborations with Migos, Chance the Rapper, Kehlani, and SZA.
Love Me / Love Me Not by HONNE
Release date: August 24, 2018
Listen to: "Day 1," "Location Unknown," and "Crying Over You"
There are two sides to HONNE's second studio album. True to the electro-pop duo's penchant for romance, Love Me / Love Me Not shows the duality of outcomes when it comes to love. Electronically driven, the record is smooth and soulful, with a good balance between chill tracks and upbeat numbers. You'll be pleasantly surprised to find R&B, hip-hop, and jazz influences in this refreshing experimental effort.
ADVERTISEMENT - CONTINUE READING BELOW
The Midnight Emotion by One Click Straight
Release date: September 18, 2018
Listen to: "Small Talk," "Velvet," and "Honey"
One Click Straight's debut album successfully captures the four-piece band's synth-heavy pop-rock sound. The consistency throughout is admirable. Plus, there's a certain level of melancholy that ties the whole record together—all while remaining entertaining and danceable. The Midnight Emotion is the kind of album you put on during a late-night drive as it conjures images of city lights and recalls memories of love, heartbreak, and everything in between.
Sweetener by Ariana Grande
Release date: August 17, 2018
Listen to: "God is a woman," "breathin," and "everytime"
Ariana Grande had a tough year before she released her fourth album. In May 2017, her concert in Manchester, England, was the site of a terrorist bombing that killed 23 people. Powering through the trauma and the end of her relationship with the late Mac Miller, Grande released the meticulously crafted Sweetener album. Critics say it's her best one yet, and it's easy to see why. It's cohesive and catchy but without the need for any over-the-top gimmickry. In the pop-, R&B-, and trap-inspired record, Grande's expressive vocals and musical maturity shine.
ADVERTISEMENT - CONTINUE READING BELOW
Swimming by Mac Miller
Release date: August 3, 2018
Listen to: "What's the Use?," "Self Care," and "Perfecto"
Mac Miller left us with a final album that shows the kind of growth and maturity a tough life can thrust upon someone. In Swimming, he explores heartbreak and delves deep into his headspace with a noticeably peaceful disposition. He sings and raps with ease in the silky funk- and soul-inspired record, which is nothing like the frat rap of his earlier releases. Swimming may not be loud and explosive, but it is no doubt sincere and heartfelt.
Tranquility Base Hotel & Casino by Arctic Monkeys
Release date: May 11, 2018
Listen to: "One Point Perspective," "Four Out Of Five," and "Tranquility Base Hotel & Casino"
For their sixth studio album (the title of which was inspired by the 1969 landing site on the moon), Arctic Monkeys takes it easy on the guitars and turns trippy. The highly psychedelic record marks another style evolution in the band's career, and we are here for it. Frontman Alex Turner sounds suave as always as he shifts from lows croons to sweeping falsettos. If you keep an open mind, it's likely you'll love the lunar vibes of this concept album—restrained instrumentation and all—as it takes you on an immersive listening experience.
ADVERTISEMENT - CONTINUE READING BELOW
All My Friends by tide/edit
Release date: August 25, 2018
Listen to: "Mr. Crame," "White Flag," and "Twelve"
Post-rock quartet tide/edit did not disappoint when they dropped their newest album. All My Friends is a lush instrumental project, mindfully put together using enchanting melodies, rich guitar layers, and exciting rhythmic variations. In one track, Run Dorothy's Dee Cruz provides vocals. The record is an ethereal experience altogether, and it manages to remain engaging from start to finish. If you have yet to get acquainted with the post-rock genre, All My Friends is an ideal introduction.
Fern. by Fern.
Release date: March 30, 2018
Listen to: "Into You" and "Wanna Dance With You"
It's technically an EP, but we can't help but recommend Fern.'s self-titled debut. The 17-year-old solo artist first wowed us with his hit single "Into You," which delightfully opens the collection of songs. The unassuming six-track project introduces us to the young musician's R&B-inspired brand of psychedelic chill pop. In it, Fern Tan mulls over youthful love and heartache against a richly sonic backdrop.
ADVERTISEMENT - CONTINUE READING BELOW
Flight by FRANCO
Released: February 2, 2018
Listen to: "All Nighter," "Breaking For The Weekend," and "Lost In Your Universe"
FRANCO stays true to its kickass style of rock in Flight. The new album includes 10 strong tracks with dynamic instrumentation and thoughtful songwriting. While some entries deliver a solid modern rock sound, others boast a more danceable rhythm thanks to the infusion of tropical and reggae influences. The album dictates the pace at which you listen, taking you from darker corners to brighter spaces.
High As Hope by Florence + The Machine
Release date: June 29, 2018
Listen to: "Hunger," "Big God," and "Sky Full Of Song"
Florence Welch's otherworldly vocals continue to command respect in Florence + The Machine's fourth LP. High as Hope is a triumphant experimental endeavor for the band. Deeply personal and emotionally charged, it features a more stripped-down production that paves the way for a deeper exploration of themes such as loneliness and heartbreak in the lyrics. Welch's thoughts and emotions are evident in the album, for which she is credited as executive producer.
ADVERTISEMENT - CONTINUE READING BELOW
The Now Now by Gorillaz
Release date: June 29, 2018
Listen to: "Humility (feat. George Benson)," "Hollywood (feat. Snoop Dogg and Jamie Principle)," and "One Percent"
British virtual band Gorillaz's The Now Now is an easily enjoyable record oozing with psychedelic pop and space funk. But more than that, it's a think piece about today's politics and technology-driven life. There are only a few featured artists in the album (including Snoop Dogg), and the focus is more on the admirable simplicity of the tracks as well as its overall optimism. It may not be as complex as the group's earlier efforts, but it is just as worthy of a listen.
Share this story with your friends!
---
Help us make Spot.ph better!
Take the short survey
Load More Stories