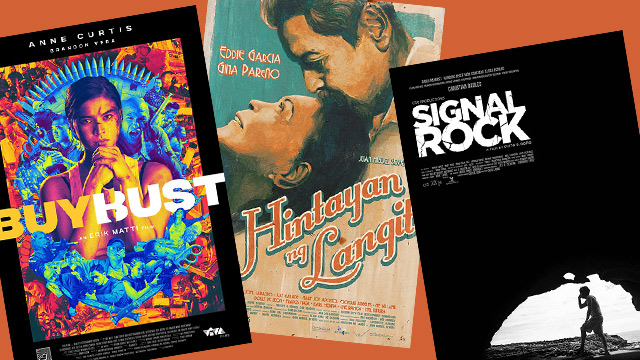 (SPOT.ph) Local cinema continues to up their game every year, from storyline to casting, and even down to the smaller details like promotional materials. A great poster can play a huge part in getting everyone excited about what's to come.
We're far from the days when the most effective movie posters were only the biggest and loudest ones, starring the biggest (and, yes, sometimes even the loudest) stars. So here's a list of local movie posters that do more than build up hype. These are the ones that captivated us from first glance, reminding everyone that if a picture paints a thousand words, then a poster tells a whole 60-minute (or more) story.
ADVERTISEMENT - CONTINUE READING BELOW
BuyBust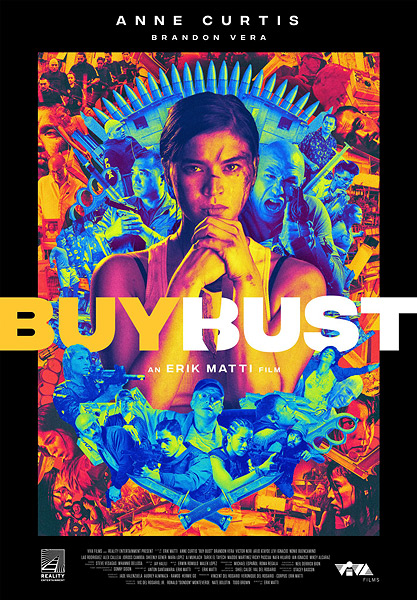 Directed by: Erik Matti
To promote the film, BuyBust released a series of beautiful, colorful posters that almost makes you forget it was an action film—until you saw the stern gaze and bleeding face of lead Anne Curtis, that is. The mesh of colors came together stunningly, different from most action or police-related movies in the country. The images around Curtis are a crazy hodgepodge of faces and scenes, so you never really know where to look next. In a blog post, artist Miguel Lugtu discusses the grueling process involved in producing the posters and how he used neon colors and images to illustrate the chaos that happens in the film. 
Signal Rock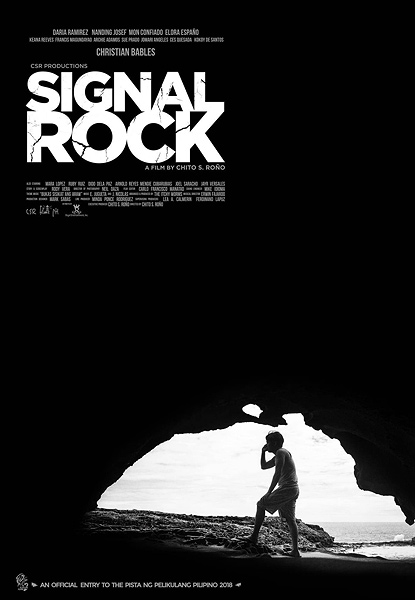 Directed by: Chito S. Roño
The film Signal Rock revolves around Intoy (Christian Bables), a man who has to climb atop precarious rock formations near their rural island village just to get in touch with his sister. The imagery of the man seen from a cave that was made to suspiciously look like an island in the poster makes for a striking visual. A stark contrast from the movie's colorful cinematography, the dominantly black space of the poster also hints at the film's themes of trouble and dismay, with only a little bit of hope and light left for the main character. Even the crumbling effect you see in the title helps convey the feel of the film.
ADVERTISEMENT - CONTINUE READING BELOW
Distance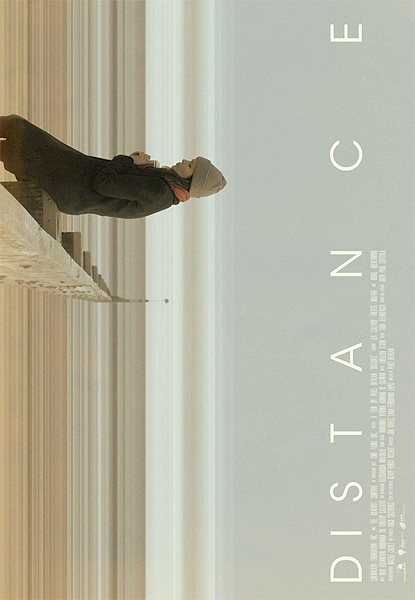 Directed by: Perci Intalan
Perci Intalan's Cinemalaya entry Distance is a quiet montage of space and sound following the mundane life of its lead Liza, played by Iza Calzado, and it's almost as if you can feel time slowly moving with all the parallel lines on the poster. Complete with the simple, cleverly spaced-out title typography and motion blur-inspired background, the poster doesn't have a lot going on but it nevertheless looks stunning, making you wonder what the film's really about.
ADVERTISEMENT - CONTINUE READING BELOW
Eerie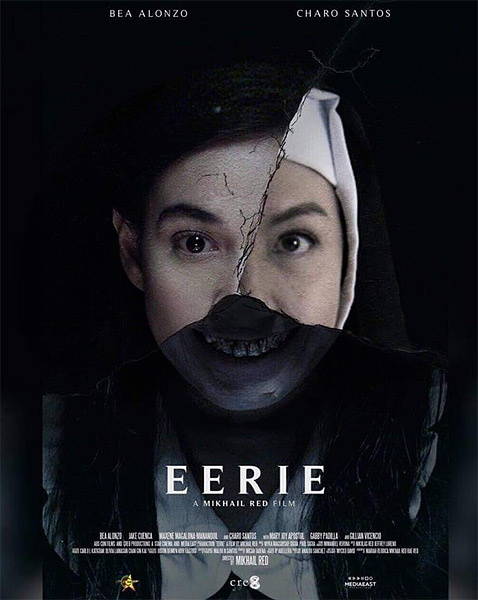 Directed by: Mikhail Red
Though it stars big names like Bea Alonzo and Charo Santos-Concio, Eerie's poster only gives you a peek of them in this creepy mosaic. The intertwining of faces makes sense when you remember that the film is about Alonzo's character getting involved in a Catholic school mystery involving a student's death. With chilling elements like the bottom half of a demonic-looking face, a nun in a habit, as well as an understated font for the title, the poster hints that it's a film made out of every Catholic school's urban legends.
ADVERTISEMENT - CONTINUE READING BELOW
Double Twisting Double Back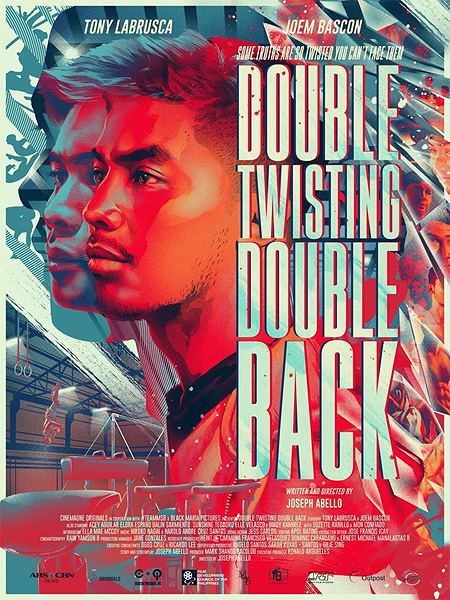 Directed by: Joseph Abello
The visual rollercoaster that is Double Twisting Double Back's poster hints at the film's complex themes of psychological and emotional distress. The intense bursts of red and blue are big contrasts to each other, and the dual silhouette of leading man Tony Labrusca is a nice visual play on the title. The subtle gymnastics scene is also refreshing to see in Philippine cinema, since you rarely stumble upon a male gymnast lead.
ADVERTISEMENT - CONTINUE READING BELOW
Gusto Kita With All My Hypothalamus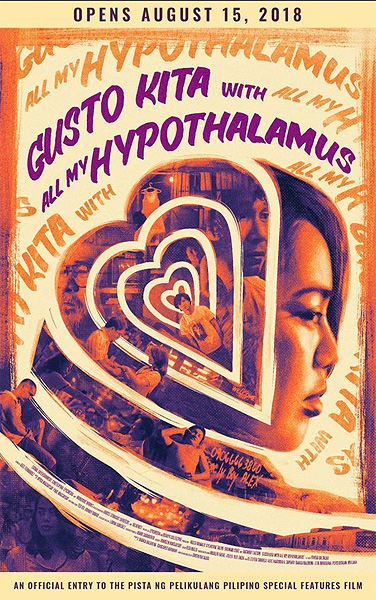 Directed by: Dwein Baltazar
With everything that's going on with the poster of Gusto Kita With All My Hypothalamus, you can probably tell that this love story isn't your usual one. You immediately notice the main, albeit mysterious, leading lady, complete with the faces of different men you already know she's had encounters with. The concentric heart drawn over her head is also a clever detail. Together with all the contrasting colors and cool brush-type text, the poster makes you think the film's going to be one heck of an emotional ride (but isn't that always the case with matters of the heart—er, hypothalamus?).
ADVERTISEMENT - CONTINUE READING BELOW
Never Tear Us Apart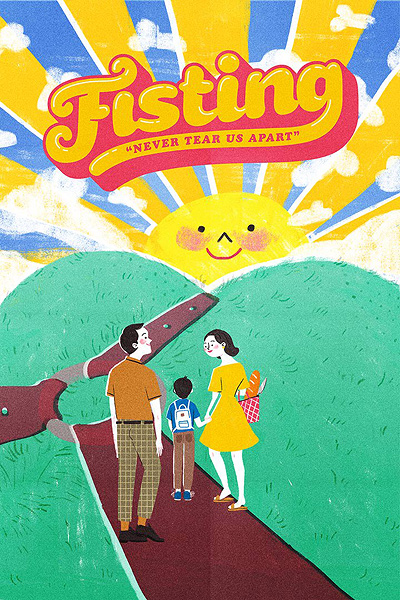 Directed by: Whammy Alcazaren
Before it was officially renamed Never Tear Us Apart (after event organizers Cinema One Originals requested a name change), the film was called Fisting. Its original poster looked as cheeky as it sounded—the illustrated, almost childish, cartoon doesn't seem like much at first, but after a while, you're left doing double takes on certain elements on the poster. It's almost a shame that the title was changed, as everything about this poster was a brilliant inside joke.
ADVERTISEMENT - CONTINUE READING BELOW
Hintayan ng Langit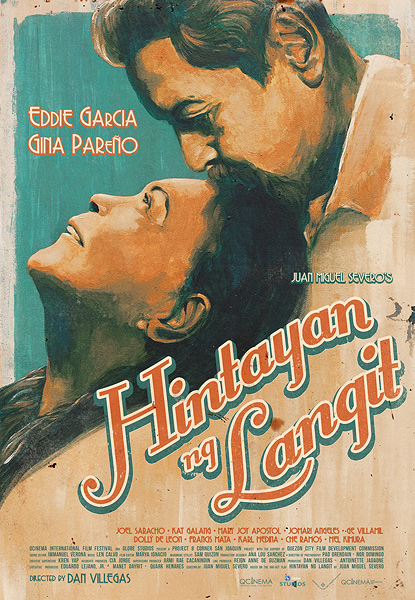 Directed by:  Dan Villegas
At first glance, Hintayan ng Langit's old school, carnival-like aesthetic—the dual-tone paint effect and the playfully drawn letters—makes it seem like a film taking place from another time, which works well considering the film takes place in another world altogether. The way the leads Eddie Garcia and Gina Pareño interact in the poster also lend the film a sweet yet somehow playful feel, evoking a lot of questions about the pair's history.
ADVERTISEMENT - CONTINUE READING BELOW
A Short History of a Few Bad Things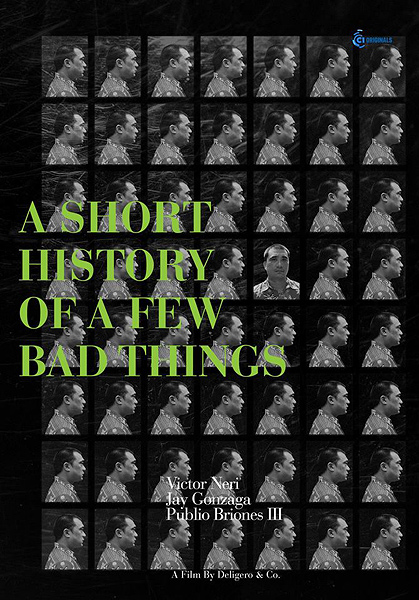 Directed by: Keith Deligero
The combination of mugshots and drops of blood carefully smudged over certain panels in the film's poster resemble a hit list, which is apt for a crime drama like this one. The face is the same in all the shots, making you wonder just what happens in the film. Even the crumpled and faded effects in certain areas of the poster lend it some realness.
ADVERTISEMENT - CONTINUE READING BELOW
Hospicio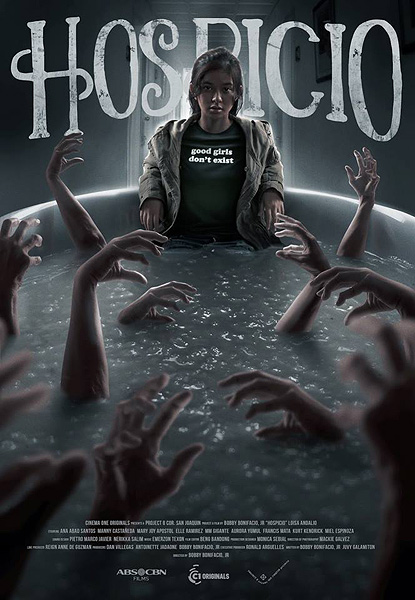 Directed by: Bobby Bonifacio Jr.
If the predominantly dark visuals didn't give it away, then the eerie outstretched arms reaching up from under a mysterious water-filled tub will tell you that Hospicio aims to be a film that keeps you up at night. Both the title and tagline on lead Loisa Andalio's shirt gives you a hint about the kind of person the main character is, and the look on her face is sure to raise some goosebumps.
ADVERTISEMENT - CONTINUE READING BELOW
Share this story with your friends!
---
Help us make Spot.ph better!
Take the short survey
More Videos You Can Watch
Load More Stories