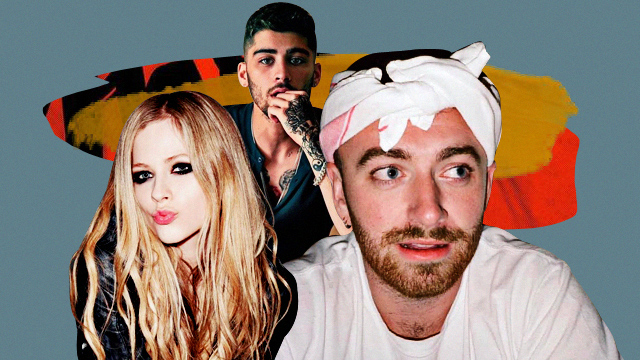 (SPOT.ph) It's been a cold holiday season, and it looks like the chilly breeze is here to stay for a while. Yes, it's time to return to the daily grind, but you may still be feeling the effects of lazy-day weather. To really squeeze in a bit more R&R, we have some fresh tunes for you. From poignant ballads to chill electro-laced tracks, we've got you covered. Hear the latest from international acts Sam Smith, Sabrina Carpenter, ZAYN, The Chainsmokers featuring Winona Oak, and Avril Lavigne. Local musicians Keiko Necesario, IV of Spades, Meg Zurbito, Kiana Valenciano, and collaborators Mat Olavides and Mike Ocampo can keep you company as you lounge about, too. 
ADVERTISEMENT - CONTINUE READING BELOW
"Fire On Fire"
Artist: Sam Smith
British crooner Sam Smith just released a sweeping ballad, which was recorded with the BBC Concert Orchestra. The powerful orchestral number features Smith's emotive vocals flowing through exquisite instrumentation. "Fire On Fire" does not peak anywhere, but it's this restraint that adds more soul to the track.
Fun fact: The song was written as the theme song for the forthcoming animated miniseries adaptation of the classic Richard Adams novel, Watership Down.
"Blithe"
Artist: Keiko Necesario
Keiko Necesario adds her sleek electro-pop contribution to 2018's Elements Music Camp. The slow-tempo "Blithe" boasts lush vocals and an atmospheric arrangement. There's a pleasant blend of sweetness and edginess to the track that captures the energy of the young female artist.
Fun fact:  According to Necesario, the song "is for everyone who has experienced being in a blurry situation with someone they truly cared about."
"Paris"
Artist: Sabrina Carpenter
Sabrina Carpenter's hit "Paris" delivers dreamy synths and a flawless buildup to a more upbeat pace. It's chill enough to keep you comfy in bed, but also dancey enough to have you moving about in your room. The sexy and romantic vibe will have you falling in love with the dream destination, too.
Fun fact: The song is off the 19-year-old singer's third album titled Singular: Act I.
"Take That Man"
Artist: IV of Spades
Speed things up with the latest from IV of Spades. Fancy a solo dance party at home to set the tone for 2019? "Take That Man" has enough rock power to pump you up. The trio's high-octane yearend offering has standout guitar riffs that no doubt serve as the highlight of the track.
Fun fact: Shaira Luna directed the music video for the song.
"Tonight"
Artist: ZAYN
One of ZAYN's newest releases, "Tonight," is a spacey and sensual tune perfect for lazy days or nights in with your S.O. The song remains true to the singer-songwriter's recognizable brand of R&B. Aside from the enjoyable groove, ZAYN's alluring falsetto is nothing if not transfixing.
Fun fact: ZAYN's second studio album, Icarus Falls, contains 27 songs.
"Tayo"
Artist: Meg Zurbito
Let Meg Zurbito's calming vocals in her heartfelt single "Tayo" lull you to sleep. An artist to watch for, Zurbito showcases both the strength and delicateness of her voice in this poetic track. We're looking forward to hearing more from her.
Fun fact: Zurbito is signed under Ivory Music and Video.
ADVERTISEMENT - CONTINUE READING BELOW
"Hope (feat. Winona Oak)"
Artist: The Chainsmokers
The Chainsmokers and Swedish singer-songwriter Winona Oak team up in "Hope," a tropical electro-pop ditty that shows some experimentation. As part of the electronic music duo's new album, the track features a bit more maturity and artistry, a refreshing and much-appreciated effort.
Fun fact: The release of "Hope" marks the completion of The Chainsmokers' sophomore album, Sick Boy.
"See Me"
Artist: Kiana Valenciano
Kiana Valenciano's "See Me" gives us a taste of her first full-length offering due for release in early 2019. In it, she sounds soulful—her vocals are clear, while the R&B beats are memorable enough that you might just find yourself humming them after the first listen.
Fun fact: The song was released during Valenciano's birthday on December 21, 2018.
"Tell Me It's Over"
Artist: Avril Lavigne
We're loving Avril Lavigne's new music. Be warned: It's nothing like her old punk-rock sound, but "Tell Me It's Over" is still worth a listen. Her vocal capacities shine through as she soulfully sings about a failed relationship. With this track and her earlier single "Head Above Water," it looks like we can expect a more mature contemporary style from her in her upcoming album release.
Fun fact: This is the second single off Lavigne's highly anticipated sixth studio album also titled Head Above Water. It is a record dedicated to her battle against Lyme disease.
ADVERTISEMENT - CONTINUE READING BELOW
"Taking Off"
Artists: Mat Olavides feat. Mike Ocampo
Craving some funk to fill you with energy? "Taking Off" is here for that. This upbeat electro-funk tune has exciting beats made for dancing. Watch for the catchy guitars that will make this your instant favorite.
Fun fact: The song is the collaborative project of DJ and producer Mat Olavides and singer-songwriter Mike Ocampo, and is being promoted by Chasing After The Sound.
Share this story with your friends!
---
Help us make Spot.ph better!
Take the short survey
More Videos You Can Watch
Load More Stories