10 Kid-Friendly Movies We're Excited to Watch in 2019
Must-see movies-even for the kids-at-heart!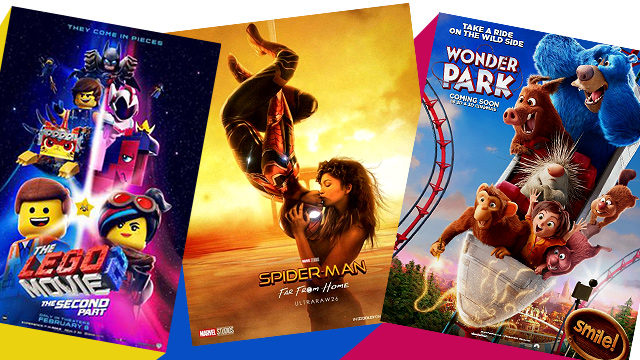 Apart from movies that retell classics or reimagine old tales, there are also plenty of exciting sequels and fun animated flicks to look forward to this year (that are not just for '90s kids!). So whether you're heading to the cinemas with the family or you're admittedly a kid-at-heart, here are some movies to see this 2019.
ADVERTISEMENT - CONTINUE READING BELOW
The Lego Movie 2: The Second Part
Release date: February 13
The sequel picks up five years after the events of the last film, and everything is NOT awesome. Invaders from outer space are wreaking havoc faster than they can rebuild! Chris Pratt and Elizabeth Banks return to make everything awesome again—hopefully. 
Wonder Park
Release date: March 15
June is a little girl with an overactive imagination, and she absolutely loves theme parks. But like everyone else, she grew up. But when her favorite park announced it will soon close, June rediscovers her imagination, and she wants to fight hard to keep the park open. 
Shazam!
Release date: April 4
A streetwise 14-year-old can transform into an adult superhero simply by shouting out one word. His newfound powers soon get put to the test when he squares off against the evil Dr. Thaddeus Sivana.
Penguins
Release date: April 19
Scheduled to come out just in time for Earth Day celebrations, this movie is about a penguin named Steve who joins millions of his peers to build a nest, find a life partner, and start a family. But he faces a few challenges, including killer whales and leopard seals! 
ADVERTISEMENT - CONTINUE READING BELOW
Missing Link
Release date: April 12
From the stop-motion animation geniuses at Laika, this film tells the story of Mr. Link, a funny, big fellow who has had it with living alone. He hires a guide to take him to his relatives in the fabled valley of Shangri-La. Oh, and he meets a new friend, too! 
UglyDolls
Release date: May 10
When a perfect UglyDoll (yes, the plushie brand!) tries to teach everyone to be perfect, it doesn't end well. But the dolls discover what it means to be different, the struggle with the desire to be loved, and ultimately discovering oneself and embracing it. 
The Secret Life of Pets 2
Release date: June 7
The sequel picks up from where the 2016 movie ended. We've seen what the pets do without their humans, and based on the first few teasers, it seems there's a lot more to Max the dog, Chloe the cat, and Snowball the bunny that we don't know. 
ADVERTISEMENT - CONTINUE READING BELOW
Spider-Man Far From Home
#SpiderManFarFromHome's @TomHolland1996, Jake Gyllenhaal, and Jacob Batalon surprised fans at #CCXP18 today - take a look! ????? pic.twitter.com/9MEc82vabC

— Spider-Man (@SpiderManMovie) December 9, 2018
Release date: July 5
In Avengers: Infinity War, Tom Holland's Spider-Man was a casualty of Thanos' wrath, but this teaser tweet proves Peter Parker will live to see another day. In fact, he and his friends will reportedly spend their summer vacation in Europe (how fancy!) and will face off with the villain Mysterio. 
Playmobil: The Movie
Release date: August 9
Toy brand Playmobil is releasing an animated movie about their toys! A human boy finds himself transported into Playmobil land, and his brother follows him into unchartered territory to rescue him. 
Spies in Disguise
Release date: September 18
Will Smith plays the voice of a cool spy in this film and is joined by Spider-Man himself, Tom Holland, who will voice the scientist Walter Beckett. They're exact opposites, but they have to work together to save the world—even if the scientist accidentally turned the best spy into a bird! 
ADVERTISEMENT - CONTINUE READING BELOW
Angry Birds The Movie 2
Very excited to announce our cast for #AngryBirdsMovie2 - Jason Sudeikis, @joshgad, @Lesdoggg, @Racheldoesstuff, @SterlingKBrown, @EugenioDerbez, Bill Hader, @awkwafina, @LilRel4, @DoveCameron, Danny McBride, @becbenit, @thebrooklynnk & Peter Dinklage! pic.twitter.com/4CB1OcWFY7

— John Cohen (@JohnCohen1) April 20, 2018
Release date: September 20
We're not yet sure what this sequel to the 2016 film is about, but we'll see Red (Jason Sudeikis), Chuck (Josh Gad), Bomb (Danny McBride), and Mighty Eagle (Peter Dinklage) again. New voice casts include Leslie Jones, Awkwafina and Nicki Minaj! 
Sonic the Hedgehog
Release date: November 8
Ben Schwartz, Jim Carrey, and James Marsden lend their voices to this video game-turned-animated movie. Sonic is a fugitive after a cop helps him escape the authorities. The film has a more realistic take, as it's set on Earth. There's no word yet if Tails and Knuckles will join him.
ADVERTISEMENT - CONTINUE READING BELOW
This story originally appeared on Smartparenting.com.ph. Minor edits have been made by the editors.
Recommended Videos
Load More Stories