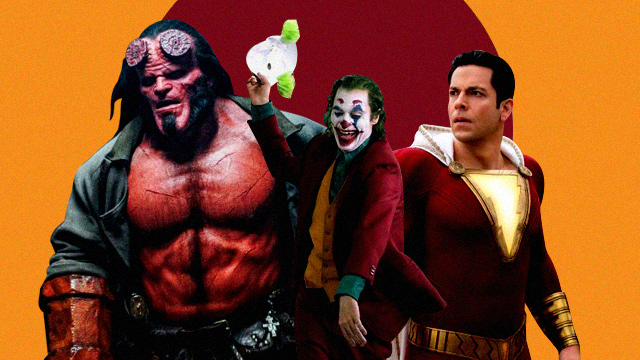 (SPOT.ph) There's no doubt that 2018 was a great year for film. From action blockbusters like Deadpool 2 and Avengers: Infinity War to romantic comedies like Crazy Rich Asians and To All the Boys I've Loved Before, movie fans definitely had a lot to keep them entertained. But we've got more to look forward to in 2019, so we list down the movies that'll have you lining up at the cinemas.
ADVERTISEMENT - CONTINUE READING BELOW
Alita: Battle Angel
Release date: February 6
Produced by James Cameron and Robert Rodriguez, Alita: Battle Angel is based on a Japanese manga called Gunnm (which means "gun dream"). It follows the titular Alita (Rosa Salazar), a female cyborg who wakes up with no memories of her past. She is taken in and pieced back together by Dr. Dyson Ido (Christoph Waltz) but soon discovers that those in power want to hunt her down for her skills and fighting abilities.
The Lego Movie 2: The Second Part
Release date: February 13
It was easy to pass off The Lego Movie as just another kid's flick that their parents and older siblings would have to sit through. But families probably left theatergoers more than satisfied with the hilarious movie (and the song "Everything Is Awesome" stuck in their heads). There's been a couple of spin-offs since then (The Lego Batman Movie and The Lego Ninjago Movie) but The Lego Movie 2: The Second Part continues the story of Emmet (Chris Pratt) as he tries to rescue his kidnapped friends and girlfriend Lucy (Elizabeth Banks) from a shape-shifting alien (Tiffany Haddish).
ADVERTISEMENT - CONTINUE READING BELOW
Recommended Videos
How To Train Your Dragon: The Hidden World
Release date: February 20
We've seen Toothless lose his tail fin in the first installment of the How To Train Your Dragon franchise and we've seen him get brainwashed in the second installment. This time, we'll see the only Night Fury dragon fall in love with a Light Fury—and discover a secret world with his best friend Hiccup (Jay Baruchel) in an effort to defend their home.
Captain Marvel
Release date: March 6
Marvel fans have been waiting for every possible clue as to how the Earth's mightiest heroes can survive Thanos' (Josh Brolin) world-ending snap in Avengers: Infinity War. They'll finally get one of their many questions answered with the '90s-set Captain Marvel. It follows Carol Danvers (Brie Larson) as she finds herself in the middle of two alien races at war with each other. Of course, you've also got the ever-present (and de-aged) Nick Fury (Samuel L. Jackson).
ADVERTISEMENT - CONTINUE READING BELOW
Us
Release date: March 15
After Jordan Peele left audiences disturbed for life with Get Out, he's back with another stomach-churning horror film. Us stars Winston Duke (Black Panther) and Lupita Nyong'o (Black Panther, 12 Years a Slave) as husband and wife who bring their kids to a beach house for a vacation. The happy family trip quickly turns into a nightmare as four strangers somehow replicate each of the family members' faces and force them to fight for their lives.
Shazam!
Release date: April 5
Billy Batson (Asher Angel) is your average 14-year-old boy—except, when he says "Shazam!" he turns into a hero (Zachary Levi) with super speed, super strength, and flight. Along with his foster brother Freddy (Jack Dylan Grazer), Billy has to figure out how to use his powers in order to stop the evil Dr. Sivana (Mark Strong).
Hellboy
Release date: April 12 (U.S.A.)
This isn't the first time that Hellboy is getting the big-screen treatment, but this one's going to be R-rated so expect more gore and intense action sequences. In this adaptation of the popular comics, David Harbour puts on the horns as the demon who has to stop a sorceress from destroying all of humanity.
ADVERTISEMENT - CONTINUE READING BELOW
Avengers: Endgame
Release date: April 26
After what feels like an eternity—though it's actually just been a year—fans will finally know what the heck happened after half the world disintegrated in Avengers: Infinity War. We're sure to finally see Captain Marvel (Brie Larson) in action alongside the other surviving superheroes in Avengers: Endgame. It might even be the last time we see some of them.
Aladdin
Release date: May 24
Aladdin is going to be introduced to a whole new world when its remake premieres nearly three decades after the original came out. Guy Ritchie directs the film that stars Will Smith as Genie, Naomi Scott as Princess Jasmine, and Mena Massoud as Aladdin, respectively.
Pokémon: Detective Pikachu
Release month: May
There's no specific premiere date for Pokémon: Detective Pikachu just yet, but '90s kids are already excited to see their favorite yellow Pokémon come to life—and voiced by the ever-snarky Ryan Reynolds. In the movie, the detective works with Tim Goodman, a former Pokémon trainer (Justice Smith) so they could figure out what happened to Tim's father.
ADVERTISEMENT - CONTINUE READING BELOW
The Dark Phoenix
Release date: June 7
Comic-book fans last saw the wrath of Jean Grey (Sophie Turner) in 2016's X-Men: Apocalypse. And now that the events from previous timelines were cancelled out, you can expect an even more powerful Phoenix to go head-to-head with the X-Men when a mission in outer space goes awry. The film also stars James McAvoy as Professor X, Michael Fassbender as Magneto, Jennifer Lawrence as Mystique, Nicholas Hoult as Beast, Tye Sheridan as Cyclops, Evan Peters as Quicksilver, and Jessica Chastain as a shape-shifting alien who gets in Phoenix's head.
Men in Black: International
Release date: June 12
Someone in the movie industry was smart enough to have Chris Hemsworth and Tessa Thompson team up in a buddy-cop movie once again after watching them be hilarious in Thor: Ragnarok. In this installment of the Men in Black (MIB) franchise, Agent H (Hemsworth) and Agent M (Thompson) work with the head of MIB in London (Liam Neeson) to look for clues around the world to solve a murder mystery.
ADVERTISEMENT - CONTINUE READING BELOW
Dumbo
Release date: June 13
Certified '90s kids shed a tear or two when they first watched the trailer of this live-action remake of Dumbo. Tim Burton, who's helmed Alice in Wonderland, Edward Scissorhands, and The Nightmare Before Christmas, to name a few, brings everyone's favorite elephant to new heights. In the movie, a family is tasked with taking care of the adorable circus elephant who can fly with his ears.
Toy Story 4
Release date: June 21 (U.S.)
Kids—who are now kids-at-heart—fell in love with Woody, Buzz Lightyear, Jessie, and the gang when Toy Story first came out. After the tear-jerking Toy Story 3 which saw everyone's favorite toys say goodbye to Andy, we see them all together again. This time, they've got a new member: Forky, a plastic fork that was turned into a toy.
Spider-Man: Far From Home
ADVERTISEMENT - CONTINUE READING BELOW
Release date: July 5 (U.S.)
This movie will be the first-ever Marvel movie after the events of what's sure to be the life- and universe-changing events of Avengers: Endgame. Not much has been revealed about the plot of the movie, but you're sure to see Spider-Man (Tom Holland) swing into action once again. And maybe we'll see more of MJ (Zendaya) this time around.
The Lion King
Release date: July 19 (U.S)
As if it weren't enough that one of your favorite cartoons was going to be remade for the big screen, Disney has outdone itself with a star-studded cast that includes Donald Glover as Simba, Beyoncé as Nala, Seth Rogen as Pumbaa, Chiwetel Ejiofor as Scar, John Oliver as Zazu, and Keegan-Michael Key as Kamari. James Earl Jones also reprises his role as Mufasa. If the trailer is any indication, this remake will be faithful to the original, so you can sing along to "Circle of Life," "Hakuna Matata," "Can You Feel the Love Tonight," and more, while reliving your childhood.
ADVERTISEMENT - CONTINUE READING BELOW
The New Mutants
Release date: August 2 (U.S.)
If you love superhero movies and horror films, then The New Mutants should definitely be on your must-watch list. It follows teenage mutants who are kept in a facility after discovering their new superpowers.
It: Chapter Two
Release date: September 6 (U.S.)
Nope, you haven't seen the last of the Pennywise the Dancing Clown (Bill Skarsgård) and the red balloon. It: Chapter Two picks up 27 years after the events of the first movie and follows the all grown-up kids of The Losers Club going back to their hometown to finally put an end to Pennywise.
Joker
Release date: October 4 (U.S.)
If you're wondering why it's Joaquin Phoenix taking on the role of Joker instead of Jared Leto, that's because this upcoming movie is going to be separate from the DC Extended Universe. In the film, we get a closer look at the unforgettable villain, and how he went from being a failed stand-up comedian to a criminal.
ADVERTISEMENT - CONTINUE READING BELOW
Star Wars: Episode IX
Release date: December 20 (U.S.)
This yet-to-be-titled Star Wars installment takes place one year after the events of The Last Jedi—which ended with Luke (Mark Hamill) becoming one with The Force. It was originally supposed to focus more on General Leia (Carrie Fisher), but with Fisher's death, it'll be interesting to see how they handle her story in the film.
Share this story with your friends!
---
Help us make Spot.ph better!
Take the short survey
Load More Stories