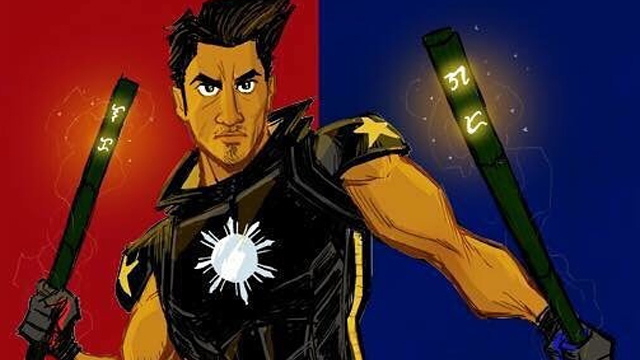 (SPOT.ph) It wasn't long ago when Filipino-American story artist Bobby Rubio made headlines for Float, the first Pixar animated short that will star Pinoy characters. Rubio is working towards more representation, saying, "When I was growing up, I didn't see much characters that looked like me on television or movies and I am thrilled that my children will have these guys and hopefully they are just the beginning and will inspire more Fil-Am stories to come!" And it looks like he's already taking on that mission because his next project called Neighborhood Legend is going to feature a Filipino-American superhero who uses Eskrima, the national sport and martial art of the Philippines also known as arnis. 
ADVERTISEMENT - CONTINUE READING BELOW
In an Instagram post, Rubio talks about his work on the comic book. "I'm back to working on my next project, Neighborhood Legend! I want to create a Filipino-American superhero and he has enchanted Eskrima sticks!" He also notes the other known heroes who also have their own eskrima sticks. "On the sticks are [words] written [in] baybayin [that mean], 'strength' and 'beauty,' both are needed to do this  Filipino martial art," he explains.
ADVERTISEMENT - CONTINUE READING BELOW
Recommended Videos
"Sure, I like Nightwing and Black Widow but I want to see a Fil-Am doing our martial art! Eskrima is a Filipino Martial Art!" he says, along with the hashtags, #ShareTheCulture and #ChangeTheWorld. Rubio first tweeted about the project in February 2017.
Plot details are still scarce, but according to Rubio's older posts, the story will be set in San Diego. "The story is a love letter to my neighborhood, all my friends and family." He also reveals, "The guy's name is Dan Santos. I'm thinking of naming the girl, Jocelyn...that's a very Filipina sounding name."
ADVERTISEMENT - CONTINUE READING BELOW
ADVERTISEMENT - CONTINUE READING BELOW
As for the other characters, you can expect there to be a grandma-slash-grandmaster named Liwayway. "Grandmaster Liwayway is a blind Eskrima master and Babaylan Spiritual Leader to Dan Reyes!" For even more authenticity for his storytelling, Rubio also took it upon himself to take eskrima lessons.
Rubio also shares that he was inspired by none other than Darna for his characters. "I'm inspired by the classic Filipina superheroine Darna to create my own for my latest comic series Neighborhood Legend!"
ADVERTISEMENT - CONTINUE READING BELOW
Rubio has already worked on other comic books before, called Alcatraz High and 4 Gun Conclusion. He's also working on another project called Enforcemen.
Neighborhood Legend is still in the works, but you can expect Pinoy fans to get their hands on it as soon as possible. Who knows, with Pinoy comic books like Trese getting a Netflix series, it might even get an onscreen adaptation!
Share this story with your friends!
---
Help us make Spot.ph better!
Take the short survey
Load More Stories