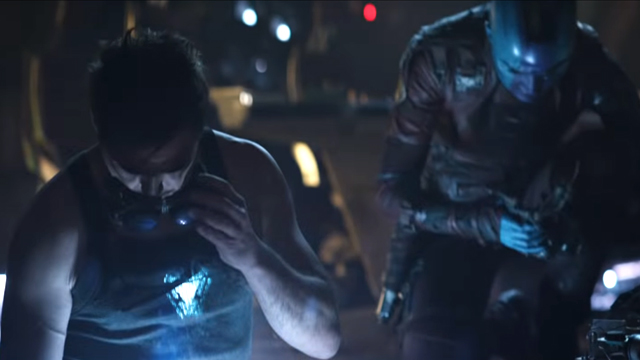 (SPOT.ph) Another year, another set of trailers from the Superbowl. While football fans were in for a treat at the Superbowl LIII with the New England Patriots going up against the Los Angeles Rams, movie buffs also got their fair share of excitement with all the new teasers that were aired. We list down the ones that'll get you even more pumped up for the films coming in 2019.
ADVERTISEMENT - CONTINUE READING BELOW
Alita: Battle Angel
Release date: February 6
Alita: Battle Angel follows the story of the titular Alita (Rosa Salazar), a robot heroine who wakes up with no memories in a world that's been destroyed. In this anticipated sci-fi movie produced by James Cameron, she tries to remember her past while going against people who are after her for her enhanced skills.
Captain Marvel
Release date: March 8
We're only a month away until the next movie in the Marvel Cinematic Universe, which will hopefully show us how Captain Marvel could be the key to saving the Avengers. In this clip, we see pilot Carol Danvers (Brie Larson) go "higher, further, faster" and beat up some bad guys along the way.
Us
Release date: March 8
If you thought Get Out was disturbing, wait till you see the newest trailer for dircetor Jordan Peele's Us. In the trailer, a family with Lupita Nyong'o as the mom and Winstone Duke as the dad (they worked together in Black Panther, btw) are shown going on vacation. But clips of their happy beach trip are interwoven with creepy visions of mysterious masked creatures following them around.
ADVERTISEMENT - CONTINUE READING BELOW
Recommended Videos
Wonder Park
Release date: March 15
In this animated feature, a young girl (Brianna Denski) builds an amusement park with her mother (voiced by Jennifer Garner) but forgets all about it when her mom passes away. She rediscovers it as she grows up and tries to save it from being destroyed.
Avengers: Endgame
Release date: April 24
2018's Superbowl gave fans a look into the beginning of the end with a trailer for Avengers: Infinity War. It seems only fitting that 2019's Superbowl also has a spot for a new teaser for Avengers: Endgame—and Cap (Chris Evans) doesn't look too happy. He teams up with the rest of the surviving Avengers back on Earth while it looks like Iron Man (Robert Downey Jr.) survives his last dying breath, as seen in the last trailer, and works with Nebula (Karen Gillan).
Toy Story 4
ADVERTISEMENT - CONTINUE READING BELOW
Release date: June 4
The first teaser for Toy Story 4 showed Woody (Tom Hanks), Buzz (Tim Allen), and the rest of the gang with a new, kid-made toy. In this new funny preview, we see Woody and Little Bo Peep (Annie Potts) waiting for Buzz at a carnival. The only thing is, Buzz is stuck at a booth, being held against his well as a prize.
Hobbs & Shaw
Release date: July 31
Think of the two characters from the Fast & Furious franchise who could possibly team up together to save the world. Well, cop Brian (Paul Walker) and illegal street racer Dom (Vin Diesel) did it, so why can't government agent Hobbs (Dwayne Johnson) and international criminal (and Han-killer) Shaw (Jason Statham)? In this spin-off, the two reluctantly work together to take on an enhanced Idris Elba.
Scary Stories to Tell in the Dark
Release date: August 19 (U.S.)
You can only expect the creepiest of creatures when you're dealing with a movie written by Guillermo del Toro. Three mini-trailers were released, all of them featuring a monster that's sure to haunt your dreams: Pale Lady, Big Toe, Jangly Man, and Red Spot. The movie, which is based on a series of the same name, follows a group of young people trying to solve a series of horrific murders in their small town.
ADVERTISEMENT - CONTINUE READING BELOW
Share this story with your friends!
---
Help us make Spot.ph better!
Take the short survey
Load More Stories