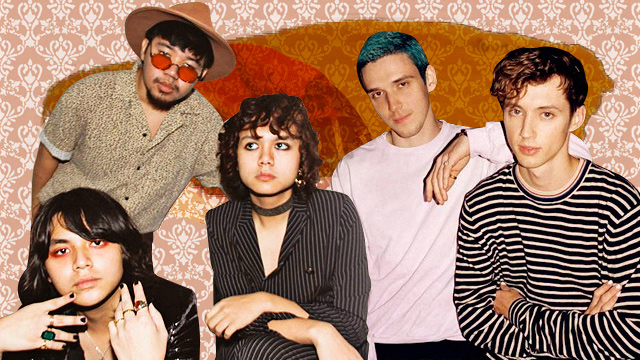 (SPOT.ph) Fret not if you're flying solo this V-Day. You can always tune out what's sugary and sweet, and tune in to our recommended tracks this month. We've got anthems for all you singles out there—whatever state of mind you may be in. Listen to Lauv and Troye Sivan's lush collab, Ariana Grande's cheeky single, Mark Ronson and Miley Cyrus' addictive ditty, Mike Posner's heartfelt offering, and Maren Morris' empowering track. Also hear what local favorites UDD, IV of Spades, Leila Alcasid, Ena Mori, and Moon Mask have to say about love.
ADVERTISEMENT - CONTINUE READING BELOW
"i'm so tired..."
Artists: Lauv and Troye Sivan
Tired of love songs (and love)? So are singer-songwriters Lauv and Troye Sivan. "i'm so tired" captures the frustrations of trying oh so hard to forget someone who may have once meant the world to you. It's a chill track with melancholic verses and a catchy hook that you'll want to put on repeat.
Fun fact: Sivan and Lauv are coming to Manila for their headlining concerts on May 1 and May 20, respectively.
"Anino"
Artist: UDD
Love doesn't discriminate as it messes with everyone's heads and hearts. UDD's latest offering from their upcoming fourth album speaks of the confusion that romance can bring and how it can lead us to some tough decisions. You already know Armi Millare's distinct vocals and how they can pierce the soul, so we'll let you go ahead and listen to this stirring single.
Fun fact: "Anino" is part of the soundtrack for the romance-drama film Kung Paano Siya Nawala.
ADVERTISEMENT - CONTINUE READING BELOW
Recommended Videos
"7 rings" 
Artist:  Ariana Grande
Pop star Ariana Grande's latest single samples The Sound of Music and Soulja Boy's "Pretty Boy Swag." The R&B, pop-trap track is a sexy retail therapy ditty for times when you just want to splurge and feel fabulous. "7 rings" also adds interesting variety to the artist's growing musical repertoire.
Fun fact: The song is reportedly inspired by a shopping spree at Tiffany's that the singer went on after her breakup with comedian Pete Davidson.
"I Would Rather Live Alone (I'm Not Who I'm Today)"
Artist:  IV of Spades
The IV of Spades trio surprised everyone with the recent midnight drop of their chart-topping debut album, CLAPCLAPCLAP! One of the singles, "I Would Rather Live Alone (I'm Not Who I'm Today)," is a heartfelt, piano-led ballad that will give you all the feels. The track delves deep into pain and how we sometimes embrace it a little too much.
Fun fact: This is the last item in the 15-track album, and it was also the last one recorded by the band. 
ADVERTISEMENT - CONTINUE READING BELOW
"Nothing Breaks Like a Heart"
Artists: Mark Ronson featuring Miley Cyrus
American singer-songwriter Miley Cyrus adds some country twang to top producer Mark Ronson's latest hit. "Nothing Breaks Like a Heart" is a raw, mid-tempo breakup anthem with creeping and pulsating beats. It's extremely radio friendly, but don't let the catchiness distract you from the devastating lyrics.
Fun fact: The track is the first song off Ronson's upcoming solo album.
"Someday Paradise"
Artist: Leila Alcasid
It's okay not to be okay, but it helps to have something to look forward to. In Leila Alcasid's newest single, "Someday Paradise," she longs for a sweet escape, and you might be feeling the same. Let this relaxing ditty take you to another dimension, or even encourage you to go on a road trip with your BFFs.
Fun fact: Alcasid is signed with ABS-CBN Star Music.
"Move On"
Artist: Mike Posner
The feel-good rhythmic guitar of pop-hop artist Mike Posner's "Move On" is a fitting accompaniment to his contemplative lyrics and fresh vocals. Although the song is inspired by the artist's own experiences of heartbreak and loss, "Move On" still offers hopeful vibes that can inspire you to rise above your dark days.
Fun fact: This is the third single off Posner's new record released last month titled A Real Good Kid.
ADVERTISEMENT - CONTINUE READING BELOW
"Telephone"
Artist: Ena Mori
Manila-based singer-songwriter Ena Mori is out with "Telephone," her debut track under independent label Offshore Music. The pop bop deserves a double tap for its danceable electronic arrangement and fierce lyricism. Play this as you get ready for your big night out, or when your ex starts relentlessly phoning you again.
Fun fact: This young artist is performing at the upcoming Malasimbo Music & Arts Festival.
"GIRL"
Artist: Maren Morris
Feel empowered with Maren Morris' "GIRL," a pop-influenced number from the American country singer. The solid drums and guitars, along with Morris' strong vocals and uplifting lyrics, make for one inspiring single. Here, she recognizes the validity of our unpleasant feelings but offers assurance that everything will be all right eventually.
Fun fact: This 28-year-old is nominated for five Grammys.
"Promenade"
Artist: Moon Mask
Local synth-pop quartet Moon Mask brings us the dreamy "Promenade." In an interview, frontman Zeon Gomez was quoted as saying that the song is "about the time I was led on by this girl I spent all my time in theater club with." We've all had those moments where we felt misled, and maybe this track can help ease the heartache.
Fun fact: Moon Mask is composed of lead singer and producer Zeon Gomez, guitarist Felipe, bassist Dean Dela Cruz, and drummer Julio Del Prado.
ADVERTISEMENT - CONTINUE READING BELOW
Share this story with your friends!
---
Help us make Spot.ph better!
Take the short survey
Load More Stories