10 Video-Game Adaptations For Your Next Movie Night
Old and new picks for video-game fans, including Pikachu and Sonic.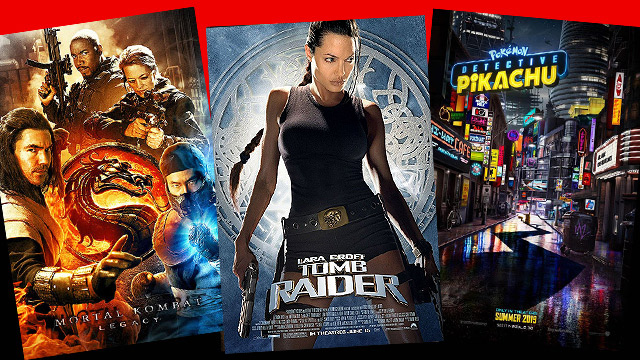 (SPOT.ph) The debate on whether video games are good or bad for you will probably never end, and as long as people keep playing them, game developers will keep making them. Of course, Hollywood will try to cash in, too, by making TV or film adaptations of the more popular ones. While many don't take this genre seriously, you have to admit, some of these shows and movies can be pretty entertaining. Here's a roundup of the more notable ones:
Pokémon: Detective Pikachu (2019)
Directed by: Rob Letterman
The Pokémon franchise has spawned several games, an anime that's been on the air for more than 20 years, and almost two dozen movies. What's so special about this one? When the first trailer for this movie came out, the Internet was mostly confused, and understandably so: Ryan Reynolds voices Pikachu in the first live-action Pokémon movie. It's not easy to reconcile the fact that Deadpool and Pikachu now sound exactly the same, and it doesn't help that all of the Pokémon look hyperrealistic, too (but still adorable). Will it work? We'll find out when the film premieres in May.
ADVERTISEMENT - CONTINUE READING BELOW
Carmen Sandiego (2019)
Directed by: Jos Humphrey and Kenny Park
Just like in the video games Where in the World is Carmen Sandiego?, this new series from Netflix is educational, as it shares facts about different places around the world (in a non-encyclopedic way). While it is not the first Carmen Sandiego show (there was actually a game show in the '90s), it is the first one to portray Carmen (voiced by Gina Rodriguez) as a good person, which didn't sit too well with some fans—but hey, she's still a thief, even if she only steals from other thieves.
CONTINUE READING BELOW
Recommended Videos
Lara Croft: Tomb Raider (2001)
Directed by: Simon West
Alicia Vikander may have taken over the role, but Angelina Jolie will forever be Lara Croft in many people's minds, and the first Tomb Raider movie is still the highest-grossing video-game adaptation in the United States. The movie is also notable for filming scenes in Cambodia's Angkor Wat, the first to have done so since 1964. The film has been credited by many as making Ta Prohm one of the most popular temples in the complex. Even better, the Cambodian authorities reportedly used all the profits to repair and preserve the temples.
Sonic the Hedgehog (2019)
ADVERTISEMENT - CONTINUE READING BELOW
Directed by: Jeff Fowler
Set to be released in November, this movie features Parks and Recreation's Ben Schwartz as the voice of Sonic and Jim Carrey as the villain Dr. Ivo Robotnik. The teaser trailer for the film suggests a hyperrealistic Sonic with fur and toned legs. Unlike with Pokémon: Detective Pikachu, this was met with mostly negative reactions, with fans saying that Sonic's legs shouldn't be so muscular. It prompted the official movie Twitter account to tweet: "Can't a guy work out?"
Street Fighter (1994)
Directed by: Steven E. de Souza
This campy movie is generally viewed as something that's so bad, it's good. It features Jean-Claude Van Damme as Guile, Ming-Na Wen (who also voices Disney's Mulan) as Chun-Li, and Kylie Minogue as Cammy. Raúl Juliá played M. Bison, and this became the actor's last film as he died of a stroke before the film's release. Trivia: Van Damme actually had to turn the role of Johnny Cage (a character that was based on him) in the 1995 Mortal Kombat movie because he had already signed up to play Guile.
Prince of Persia: The Sands of Time (2010)
Directed by: Mike Newell
The film follows Prince Dastan of Persia (played by Jake Gyllenhaal) as he helps Princess Tamina (Gemma Arterton) protect a dagger that has the power to transport the wielder back in time. While the film was met with mixed reviews, Prince of Persia was considered by many as a significant improvement in the genre, which might have helped in the box office, as it became the worldwide top-grossing video game adaptation upon its release, and was only dethroned by Warcraft in 2016.
ADVERTISEMENT - CONTINUE READING BELOW
Pac-Man: The Animated Series (1982)
Directed by: George Gordon, Ray Patterson, Carl Urbano, and Rudy Zamora
Pac-Man is still considered as one of the highest-grossing video games of all a time, so it's only fitting that it is also considered as the first video game to be made into a cartoon. First aired in 1982, the episodes had a pretty formulaic plot which involved the ghosts tormenting Pac-Man and the neighborhood, until the protagonists were able to chomp on power pills to defeat the ghosts.
Mortal Kombat: Legacy (2011)
Directed by: Kevin Tancharoen
Although there have been other shows and movies based on Mortal Kombat (and a live-action reboot and a separate animated movie are in the works), Legacy is the only web series of the franchise. The first season served as a prequel to the story of the original game and explains the story of how characters like Sonya, Johnny Cage, and Kitana came to be part of the tenth Mortal Kombat tournament. Cary-Hiroyuki Tagawa plays Shang Tsung in this adaptation, a role that he also had in the first Mortal Kombat movie released in 1995.
Resident Evil (2002)
Directed by: Paul W.S. Anderson
One of the most notable things about this movie adaptation is that Alice, the main character played by Milla Jovovich, does not actually appear in the original games. According to writer and director Paul W. S. Anderson, Alice was based on all the strong female characters from the game. Jovovich and Anderson first met on the set of the film, and the two have been married since 2009. The first movie's box-office success resulted in five sequels, eventually making it the highest-grossing video game-based franchise of all time.
ADVERTISEMENT - CONTINUE READING BELOW
Final Fantasy: The Spirits Within (2001)
Directed by: Hironobu Sakaguchi and Motonori Sakakibara
The film is set in 2065 and tells the story of Dr. Aki Ross and her fight to save the world by defeating alien life forms known as Phantoms. Before the release of Prince of Persia: Sands of Time, The Spirits Within was the most expensive video game adaptation made, owing to the fact that it was the first photorealistic computer-animated movie. All the backgrounds used in the film were hand-painted and it took 200 people four years to finish its production.
Share this story with your friends!
---
Help us make Spot.ph better!
Take the short survey
Load More Stories