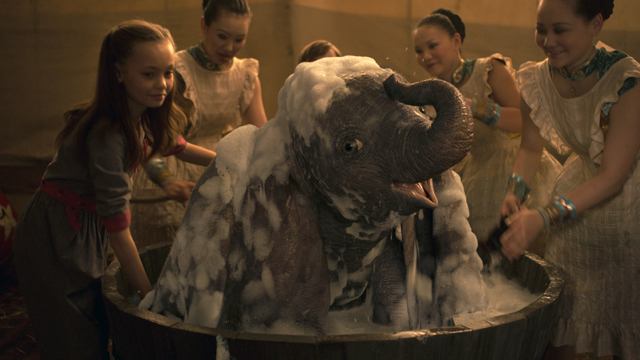 (SPOT.ph) It has been—hold on to your seats—78 years since the animated Disney classic Dumbo premiered in theaters. The year was 1941, and it was only the fourth animated film from Walt Disney. It was also just over an hour long. A different time, for sure. Almost eight decades later, Dumbo is back on the big screen as one of Disney's live-action retellings, this time receiving a Beauty and the Beast-esque live-action/CGI makeover from the one and only Tim Burton (who helmed the Alice in Wonderland remake for Disney as well) and clocking in just under two hours.
ADVERTISEMENT - CONTINUE READING BELOW
The animated Dumbo doesn't have a complicated story, and Burton doesn't try to overcomplicate it for the modern generation, which means going for the simplest storytelling. He just throws in a lot of other things to spice things up, most noticeably a large human cast which was quite absent from the animated, anthropomorphic 1941 film. What Burton and his team achieve is impressive, mostly for its adorableness and production, but it lacks the storytelling smarts to really hit audiences in the heart.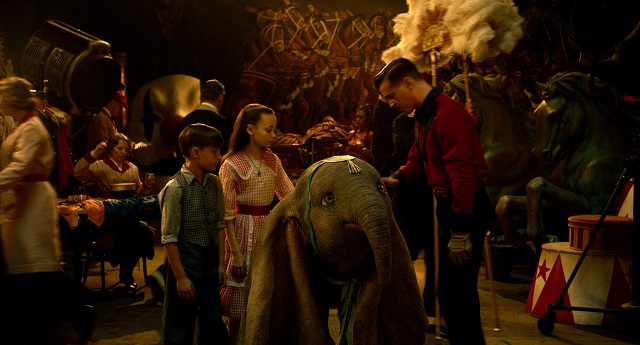 In the 2019 live-action version, ringmaster Max Medici (Danny DeVito) is running a slowly deteriorating circus across America—one that's losing headlining acts and attendees at the same time. Included in this circus is horse trainer/rider and war veteran Holt Farrier (Colin Farrell), who lost an arm during the war, and his two kids Milly and Joe (Nico Parker and Finley Hobbins, respectively). Max puts Holt in charge of a new pregnant elephant he has purchased. The elephant gives birth to Baby Jumbo, but the baby elephant is born with ridiculously large ears and becomes a laughing stock. Max sells back Baby Jumbo's mom because of this disappointing investment, and rude circus workers rename the baby elephant Dumbo.
Milly and Joe bond with Dumbo, soon discovering that he can fly by flapping his big ears—instantly making Dumbo a circus star. The kids promise Dumbo that if he keeps performing, they'll earn enough money to get Dumbo's mom back. When major circus entrepreneur V.A. Vandevere (Michael Keaton) gets wind of Dumbo's existence, he offers Max a partnership. The entire troupe hits the big leagues, with Dumbo performing with Vandevere's star, trapeze artist Colette (Burton muse Eva Green), as the family hope to get Dumbo's mom back.
ADVERTISEMENT - CONTINUE READING BELOW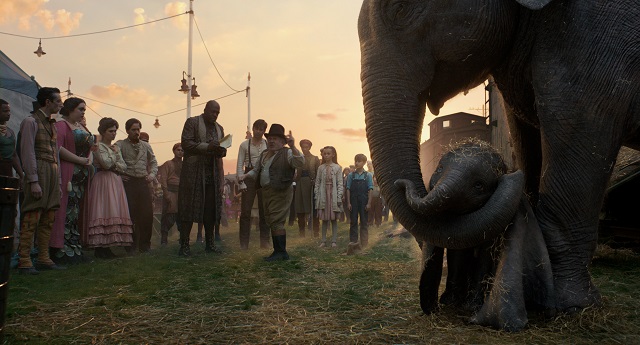 A shift of focus from the young baby elephant's POV to one about a family dealing with loss is the biggest change in the story. Holt's wife has died and the themes of a bond between mother and child is much more poignant when it features two kids without a mother helping another baby get back to his mother. It's not as emotional as it sounds, as for the most part, the kids are having fun with Dumbo and the underlying melancholy is not quite well-expressed.
ADVERTISEMENT - CONTINUE READING BELOW
The film also tries to throw in several other big themes and ideas into the story. For example, the one-armed Holt is disabled, which allows him to empathize with an elephant having its own disability—and there are small bits that deal with making your disability your strength. The film also touches a bit on capitalism, bullying, and grief. None of these are fully formed, but the effort is appreciated.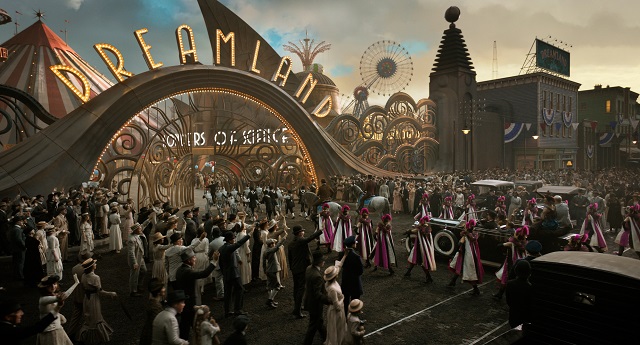 ADVERTISEMENT - CONTINUE READING BELOW
Burton's strong point has always been in his visual style, and Dumbo has a lot of it. Surprisingly, it isn't as over the top as you'd expect, instead hitting the perfect amount of whimsy and magic while also keeping it fairly restrained. There's beauty when Burton pulls back because it's easier to appreciate his personal style (see something like Big Fish, another Burton film set in a circus). Gorgeous sets, stunning costumes, and playful CGI really make Dumbo worth watching if you're looking for that sweet eye candy. For a Burton film, Dumbo is relatively low-key.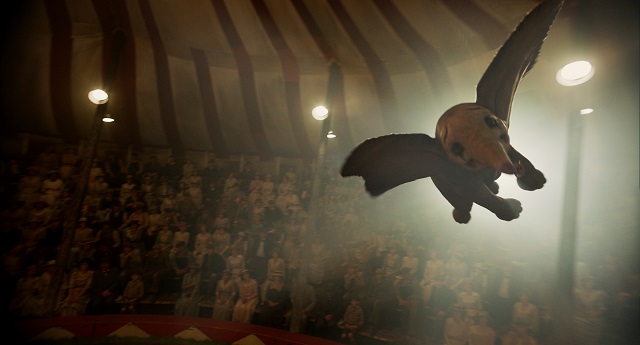 ADVERTISEMENT - CONTINUE READING BELOW
In terms of the writing, the screenplay is by Ehren Kruger, best known for writing three (yes, three) Transformers sequels and a co-writer for the misguided Ghost in the Shell remake, which should tell you a lot about how Dumbo is written. There's a scarcity in subtle or even just nice dialogue throughout. For the most part, wordy exposition or bland declarations usually of heroism, dreams, or love populate the screenplay. If anything, though, Kruger knows how to write a thrilling action scene, and late in the film is a fun breakout sequence where the carnies use their talents.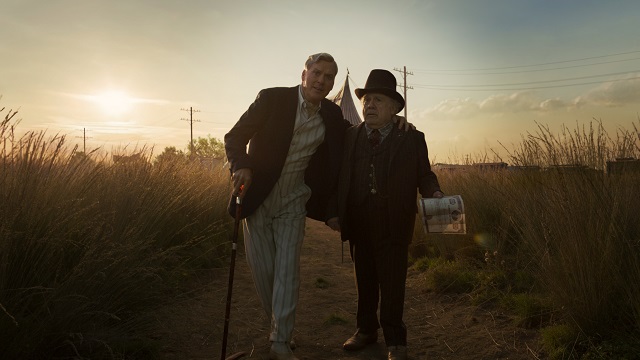 ADVERTISEMENT - CONTINUE READING BELOW
It's really up to the actors to try to make something of the very vanilla screenplay, and even the actors are sometimes a bit lost in the film's world. Half of them (Farrell, the kids) are acting as if they're in a Disney film, while the other half (Burton alums DeVito, Green, and Keaton) are acting as if they're in a Tim Burton movie. The disconnect is there, but everyone gives it their all. Farrell fares pretty well but leaves little impact overall, while Parker and Hobbins are perfectly cute Disney kids—but as dramatic actors, aren't quite there yet. Parker's more relaxed style is better suited to playing a younger version of her mother Thandie Newton's robot character in Westworld rather than here, where big emotions are key.
The Burton half in particular, however, really seem to enjoy the characters they've been given, with DeVito and Keaton hamming it up and Green, sporting her native albeit thicker French accent, is charming in a thankless role. Green also gets one of the better lines in the film where she calls herself a queen, and she delivers it with such gusto, it's applause-worthy.
ADVERTISEMENT - CONTINUE READING BELOW
For Burton fans, there is still a lot to love here. His recurring cast is delightful, and it's nice to see him working with Keaton and DeVito again after a long while. The film also has shades of Burton darkness in it (particularly in the first half where there is surprisingly a lot of death and frank discussion about death). While its screenplay doesn't quite help, the film does have a lot of bells and whistles to it that are a joy to behold, even if it gets repetitive later on. Dumbo (2019) does deserve a round of applause for its visual style, but it doesn't quite live up to a standing ovation.
Rating: 3 out of 5 Spots
Dumbo opens in theaters on March 27.
Photos courtesy of Disney.
Share this story with your friends!
---
Help us make Spot.ph better!
Take the short survey
More Videos You Can Watch
Load More Stories