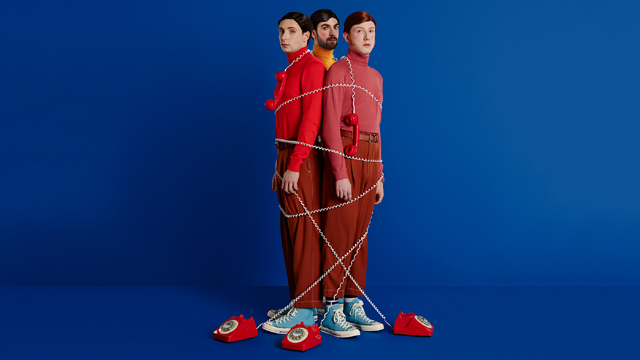 (SPOT.ph) It's close to 8 p.m. on a Saturday, a few hours before Two Door Cinema Club's set in this year's Wanderland Music Festival. Frontman and rhythm guitarist Alex Trimble, lead guitarist Sam Halliday, and bassist Kevin Baird had flown in from halfway around the world the day prior. But there was no trace of jetlag during their exclusive interview with SPOT.ph, in which we talked about the process of creating their new album, their changing perspective of music, and performing live in front of their loyal fans.

ADVERTISEMENT - CONTINUE READING BELOW
Cliché as it may sound, the Northern Irish indie-electronic band has come a long way since it was formed over a decade ago and from the release of their first album, Tourist History in 2010. It features hits like "What You Know," "Something Good Can Work," "Do You Want It All?" and "Undercover Martyn." Two more studio albums followed: Beacon ("Sleep Alone," "Next Year," "Changing of the Seasons," "Sun")  in 2012 and Gameshow ("Are We Ready?," "Bad Decisions,"  "Ordinary") in 2016. They released a new track called "Talk" in March, and while there's no official release date for their fourth album yet, the band's members seem eager to present it to listeners. 
A Mix of the Old and the New
Trimble talks about their forthcoming album, saying, "It's about experimenting and following excitement." He admits that while it's hard for him to be objective about a record he himself helped create, he's happy to see the transition. "I think with every record we change the idea of what Two Door Cinema Club is."
Compared to the catchy and danceable indie-rock aesthetic of their first album, the band's current sound is closer than ever to the electro-pop side of the spectrum, with synths playing a huge part in the musical arrangements that vaguely remind you of '80s pop.
Trimble adds, "I've played it to some friends and responses I get are everything, from people are hearing some of the first album in there, [to] people are hearing bits of the third album in there. So, there's always gonna be something of what we've done before because that's who we are but we grow, we change as people and that shows in the music."
The band has been bolder when it comes to writing songs in recent years. "We've been doing this a long time and it makes sense to take a few chances and try something else. So definitely, there are a few wilder moments on this record."
ADVERTISEMENT - CONTINUE READING BELOW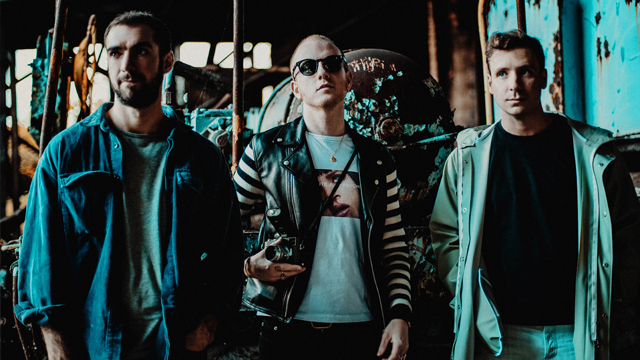 As to whether they've become more technical in writing and arranging songs for the new record, Trimble says, "I enjoy the technical aspect of things. Being in the studio is where I'm happiest. I love gear and equipment, and really honing in and focusing on the right sound for a certain thing, but sometimes that doesn't matter."
ADVERTISEMENT - CONTINUE READING BELOW
Creating music remains a personal process for the band. "It's about excitement and following what makes us at that moment. It's not necessarily about an emotion or a technical aspect, or anything in particular. When we hear something or somebody does something, and someone in the room looks up and it's 'Wow, that's great!' That's what goes on the record."
Two Door Cinema Club says that they now have full creative control over their upcoming album. There was no hesitation or boundaries in determining and following what the band members want, and no looking over their shoulder to check what naysayers would think. But it wasn't always this way.
Closing the Door on Fears
Trimble admits that at one point, they let their songwriting process be affected by their audience.
He recalls the release of the band's first record. "The venue was half-full. I guess we sold a few hundred records and we were touring the world." He reveals it wasn't until after a year, after winning an MTV award, that people started flocking to their shows. "It had taken us so long to get to that point...and by the time we were making our second record we were scared. We really don't want to fuck this up."
ADVERTISEMENT - CONTINUE READING BELOW
"In hindsight, I think we played it too safe with the second record. I still think there were some great moments on that record and I'm still proud of how it turned out, but I think it could have been very different had we not been so scared," Trimble says. "Looking back on that, we kind of vowed not to make the same mistake again."
It was while recording Gameshow that the guys decided they would allow their preferences to dictate what the output would be, and finished the album in a "closed-door environment where we're not looking outside to see what's going on," as Trimble puts it.
Baird stresses the importance of not letting external feedback affect their craft. He explains, "When your value as a person becomes intertwined with the job that you do then not everyone's gonna like it all the time. And sometimes, when people say negative things, does that mean you're not valuable as a person?" He reflects, "I think early on our value as people was very tied up with the band. It was who we were."
ADVERTISEMENT - CONTINUE READING BELOW
"As you get older, it's important to sort of separate yourself as a person from the art you create or the job that you do. Otherwise, it could be a bit dangerous, how you're going to react if people don't like what you do. It doesn't make you less valuable as a person, you know? It's a bit of a tightrope that you have to walk, but I think it's gotten easier as we grew older."
The Changing of the Seasons...and the Music Scene
Tourist History was released at a time when most people still played CDs and uploading music online was fairly new. Baird acknowledges that the music landscape has drastically changed, not just for listeners but for recording artists as well.
He shares, "The barrier to entry is a lot lower and anyone could put up their music on Spotify. You don't need a label. Loads of people, bands, are kinda moving away from that—they don't want to give up control to labels and things like that."
ADVERTISEMENT - CONTINUE READING BELOW
Trimble adds, "Whether it's easier is extremely subjective. For us, because we've been around for so long, certain aspects are definitely easier because we have a lot of music, touring, and experience behind us and now we have complete control over what we do. And that's as a result of having done this for so long." They work hand in hand with their record label and people they've already worked with before, which makes their job easier.
With streaming sites like Spotify, however, there's so much more music for listeners to choose from—30,000 songs a week. Baird volunteers—there is, admittedly, more competition. "You're having to fight through this wall of stuff," says Trimble.
Baird, on the other hand, has seen how music streaming sites have helped the band in gain more listeners.
"Our music seems to have a longer lifespan now that there are things like Spotify. Even if there's so much new stuff all the time, people are still digesting our first album as if it came out yesterday rather than—you put that in perspective—that was nine years ago."
ADVERTISEMENT - CONTINUE READING BELOW
Halliday chimes in, saying, "It's probably the equivalent of, when we were kids and we'd sit down and watch music videos on MTV that have been out for like 10 years but you're just discovering it for the first time whereas that doesn't exist anymore," followed by Trimble: "Puts everything on a level playing field, I suppose."
Making Something Good Work
When asked what they think is the biggest factor that contributes to their staying power as a band, Trimble gives an unexpected response: "I don't know."
The coy expression on his face changes immediately and his voice takes on a more serious tone while saying, "We've learned the hard way. We're really lucky that we caught it before we completely destroy what we have—we've come close. We didn't really want to take breaks in the early years. We were kind of living in fear, in a way."
ADVERTISEMENT - CONTINUE READING BELOW
He continues, "We were trying to save money in case we didn't make any more and we weren't able to say 'no' to any opportunity in case it didn't come 'round again. It's like you're constantly fighting; you don't feel you have it, [like] it's always gonna go away any second."
The band had to take a break because, as Trimble puts it, "The music was suffering, the touring was suffering, the band was suffering."
In 2015, they got together to record Gameshow, followed by a promotional tour.
"We realized that things were still there and more stuff was happening. We feel more comfortable now that this is our job. And unless we really fuck up, it's not gonna go anywhere, fast. Which also is allowing us to take more risks with what we do."
The Fans Want It All
Most musicians probably won't publicly admit which songs they have gotten tired of playing, but they'll readily talk about the ones that they love to perform in front of large crowds. For Two Door Cinema Club, first on the list is "What You Know."
ADVERTISEMENT - CONTINUE READING BELOW
Trimble explains why: "Ironically, that's the song people would expect us to say we hate playing because we've played it in every single show that we've played since we wrote that song. But it's a moment. It always [receives] the biggest reaction. Out of all the songs that we've played in any show, that's where everyone in the room goes off."
"You see that everybody there knows the words and I realize every single night we've played that song that this means something to people. We've probably played that song a couple of thousand of times [yet] I still feel overjoyed and so fortunate to be there when we play that song."
Baird adds, "You can see in people that they get pulled back in a moment in time when they first heard that song or the first time they saw it. That's the fun thing...it's different every night. You see their reaction and they're—I guess—in the moment."
ADVERTISEMENT - CONTINUE READING BELOW
Apparently, "Sun," a track from the band's sophomore album, wasn't nearly as popular among listeners as it is today.
Halliday recalls, "It wasn't until we started touring Gameshow four or five years later that we're playing that song and people know the words, and it's becoming one of those moments in the set like 'Something Good Can Work' and 'What You Know.' All of a sudden it was a hit—or at least, it was a hit as far as we're concerned."
"The idea that a song could be sitting there for so long and it taking years and years for it to find its place, is so unbelievably rewarding. I can't really describe that feeling of—that payoff I guess—of believing in something so long, almost fighting for it. We all love that song. We played it pretty much every show, whether people wanted to hear it or not. And then people wanted to hear it."
ADVERTISEMENT - CONTINUE READING BELOW
No More Bad Decisions
Just as Trimble, Halliday, and Baird never get tired of performing the aforementioned songs in front of an audience, their fans never tire of watching them play hits. If there's one thing that excites us the most at this point, it's the fact that Two Door Cinema Club is set to release its forthcoming album soon.
It's safe to say that they've finally closed the door on the fear of making mistakes when it comes to their music. And after seeing the guys play at Wanderland this year, their new material is the next best thing old and new fans alike can look forward to.
Share this story with your friends!
---
Help us make Spot.ph better!
Take the short survey
More Videos You Can Watch
Load More Stories