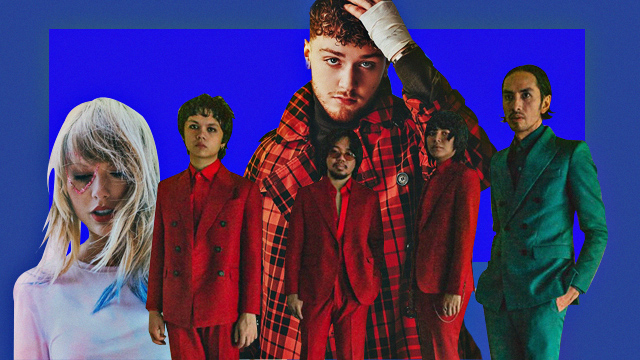 (SPOT.ph) We have a few holidays coming up this August, and we suggest you make the most out of them by scheduling a quick getaway with your crew. Don't forget to put together a much-needed playlist, though. For that, we recommend Sam Smith's soulful single, Taylor Swift's reflective release, The Chainsmokers, Illenium, and Lennon Stella's electronic collab, Ed Sheeran, Camila Cabello, and Cardi B's Latin-pop offering, and Bazzi's chill track. We also suggest you add the latest from local gems Never The Strangers, Rico Blanco with IV of Spades, Reese Lansangan, Munimuni, and Iñigo Pascual.
ADVERTISEMENT - CONTINUE READING BELOW
Here are tracks perfect for your quick getaways this month:
"How Do You Sleep?"
Artist: Sam Smith
Escaping heartbreak during the holidays? Let Sam Smith accompany you as he sings about having had enough and feeling empowered to move on. "How Do You Sleep?" is an emotive new single from the Grammy-winning singer. It features soulful verses, a danceable chorus, and a catchy synth-laced post-chorus drop.
Fun fact: In the music video, Sam Smith shows off his dancing skills with a group of shirtless male dancers.
"Touchdown"
Artist: Never The Strangers
Alternative rock band Never The Strangers is out with "Touchdown," a fresh single showcasing their new wave and pop influences. The three-piece act's minimalist offering includes sentimental lyrics, dreamy synths, and snappy percussion. The reference to travel and love makes this an apt addition to your playlist, too.
Fun fact: The band's new album is also titled Touchdown and contains six new tracks.
"The Archer"
Artist: Taylor Swift
Pop star Taylor Swift's hazy new track is your chill road trip partner this month. "The Archer" is a subdued and reflective mid-tempo anthem with a pleasant airiness to it. Its simplicity is a welcome break from the singer's bright pop releases. The contemplative vibe will certainly help you mull over any troubles you might be having at the moment.
Fun fact: The song was co-written and co-produced by Jack Antonoff (of the indie-pop band Bleachers).
"Nagbabalik"
Artists: Rico Blanco and IV of Spades
OPM veteran Rico Blanco and crowd favorite IV of Spades team up for "Nagbabalik," a kickass alt-rock single clearly heavily influenced by Blanco's musical style. He takes the lead vocals and is complemented by the trio's notable harmonies. Play this for some high-energy local sound during your trip.
Fun fact: The two acts are scheduled to have a concert together on August 3 at the Metrotent Convention Center.
ADVERTISEMENT - CONTINUE READING BELOW
"Takeaway"
Artists: The Chainsmokers, Illenium, and Lennon Stella
You can't have a getaway playlist without some fresh EDM. New York electronic music duo The Chainsmokers enlisted the help of dance-pop star Illenium and Canadian artist Lennon Stella for "Takeaway," a hypnotic electro track about the games people play in relationships. There are some savage thoughts in the lyrics, while the beats make it a real loop-worthy tune.
Fun fact: "Takeaway" is the latest single from The Chainsmokers' forthcoming album, World War Joy.
"Jealousy Is a Familiar Friend"
Artist: Reese Lansangan
Pop-folk singer Reese Lansangan is out with "Jealousy Is a Familiar Friend," a sunny ditty that tackles a rather sensitive topic in relationships. Her soft vocals won't fail to relax and endear you. Plus, the colorful music video featuring a dancing Lansangan will bring you back to the days of retro.
Fun fact: Among Lansangan's musical influences are Regina Spektor, Ingrid Michaelson, Imogen Heap, Jason Mraz, and John Mayer.
ADVERTISEMENT - CONTINUE READING BELOW
"South of the Border"
Artists: Ed Sheeran feat. Camila Cabello and Cardi B
Ed Sheeran continues his collaboration with big music names, Camila Cabello and Cardi B included. "South of the Border," with its sexy beats and sensual vocals, is an ace Latin-pop bop worthy of a spot in your playlist. Cardi B contributes some snappy verses, too, which add more edginess to the song.
Fun fact: "South of the Border" is the second track on the No.6 Collaborations Project album by Sheeran. It also features Bruno Mars, Travis Scott, Eminem, 50 Cent, and Justin Bieber, to name a few.
"Simula"
Artist: Munimuni
Need to slow things down during your trip? Take a listen to makata-pop band Munimuni's "Simula." The mid-tempo single is a poetic piece with significant rock influence. Here, the band talks about time and how it helps us eventually heal our wounds, forget the pain, and laugh about what used to hurt us.
Fun fact: The five-piece band just released their 11-track debut album called Kulayan Natin.
ADVERTISEMENT - CONTINUE READING BELOW
"I.F.L.Y."
Artist: Bazzi
Bazzi's urban-pop offering combines soothing guitars with a sleek falsetto. "I.F.L.Y." is something you and your friends can sing along to during your long drive or lounging sessions by the beach. It's a straightforwardly sweet track, too, with just an overall enjoyable vibe.
Fun fact: Bazzi is American singer, songwriter, rapper, and record producer Andrew Bazzi.
"Options"
Artist: Iñigo Pascual
Inigo Pascual is gearing up for international fame with his latest release. "Options" is a dance-y pop-R&B number with electronic elements, held together by Pascual's smooth crooning. The radio-friendly tune is the title track of Pascual's forthcoming international album expected to drop in the last quarter of this year, so expect more releases from the young artist.
Fun fact: "Options" is Pascual's first international single, produced by LA-based instrumentalist Bernard "HARV" Harvey.
Share this story with your friends!
---
Help us make Spot.ph better!
Take the short survey
More Videos You Can Watch
Load More Stories