(SPOT.ph) Twelve is a weird age for anyone. Some are already going through puberty, some are lagging behind, some are getting their first kisses, some are still playing in homemade forts. That awkward time of being a tween, and what a confusing and strange time of change it is, is the central theme of Good Boys. However, this sweet, coming-of-age message is wrapped in this politically incorrect, outrageous, and absurd package of a film that has 11- and 12-year-olds dropping f-bombs, playing with sex toys, and harboring drugs, and really, what else can you expect from producers Seth Rogen, Evan Goldberg, and the other creators of Superbad, Neighbors, and Sausage Party?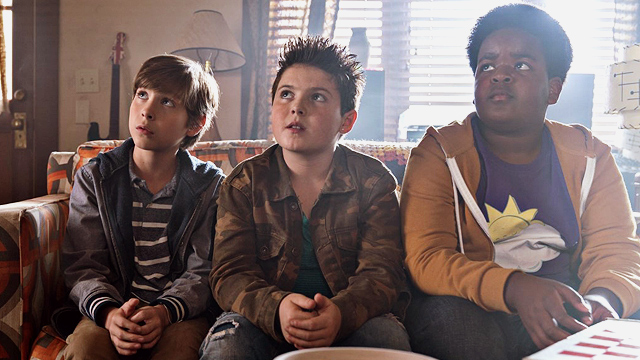 ADVERTISEMENT - CONTINUE READING BELOW
Max, Lucas, and Thor, collectively known as the "Bean Bag Boys" are the best of friends. They're not exactly the coolest kids in school, but they aren't at the bottom of the totem pole either. As they enter sixth grade, things are changing. Their classmates are daring each other to drink beer, they're learning more and more about sex through other 12-year-olds (which means a lot of misinformation), and there are "kissing parties" that they aren't invited to. They all have their own personal issues to face, too: Max (Room star Jacob Tremblay), in love with a girl named Brixlee, is hoping to get invited to one of these kissing parties, Thor (Brady Noon) is forced to drop his dream of starring in the school musical because of classmates' teasing, and Lucas (Keith L. Williams) is going through a rough time after learning of his parents' plan to divorce.
When Max is invited to his first kissing party, the Bean Bag Boys must answer an important question first—how do you kiss? This leads to a deep dive into the world of Internet porn, "CPR" dolls, and sex toys. When they decide to spy on a teen neighbor Hannah (Molly Gordon) to find out more about kissing, they use the drone owned by Max's dad (Will Forte). Hannah takes the drone and, in a standoff, the boys take Hannah's bag—which, unbeknownst to them—contains drugs. This leads to a wild goose chase around their suburban town to get the drone back before Max's dad gets home, and before the kissing party begins.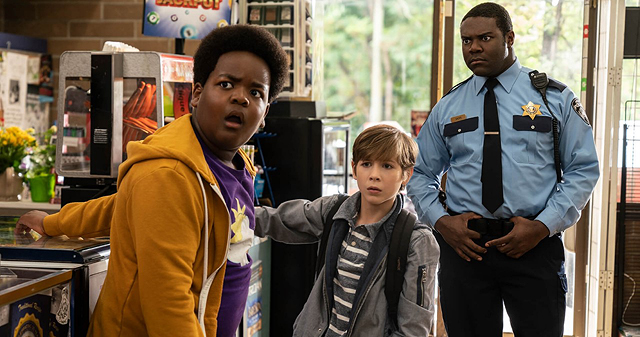 ADVERTISEMENT - CONTINUE READING BELOW
This Gene Stupnitsky-directed movie is heavily marketed as a film where 12-year-olds curse, say inappropriate things, and are put in very adult situations, whether that's dealing with drugs, sex toys, or frat boys. Much like the way Sausage Party pushed all the boundaries of an animated film, Good Boys heavily relies on pushing the boundaries on a tween coming-of-ager. It follows the same structure of certain flicks about kids saving the day, except it's R-rated and naughty. This lowbrow, cheap humor is what the film markets to the audience. However, the funniest and best parts of this film are the hilarious reactions and misunderstandings that happen throughout. 
Good Boys is a lot wittier and smarter than it allows itself to be. The malapropisms, such as not exactly knowing what nymphomaniac or feminist means, or the misunderstandings on what tampons or handjobs are is where the film really shines in its writing. It's unfortunate that the film so quickly moves back to gross-out, shock humor when it could've survived on more of the smarter, sitcom-esque humor similar to The Office and Brooklyn Nine Nine. Some of the most memorable and hilarious scenes—one takes place inside a frat house—don't rely on sex toys or f-bombs, just a misunderstood phrase deployed perfectly, followed by a hilarious action sequence.
ADVERTISEMENT - CONTINUE READING BELOW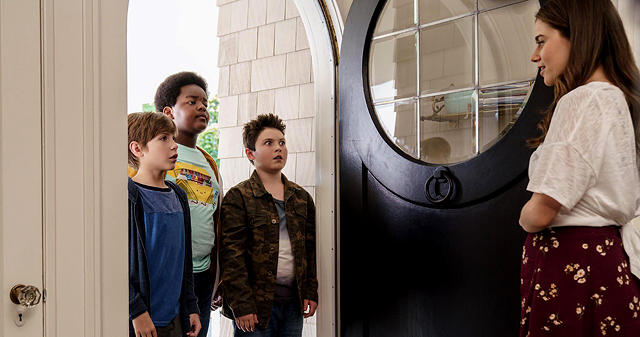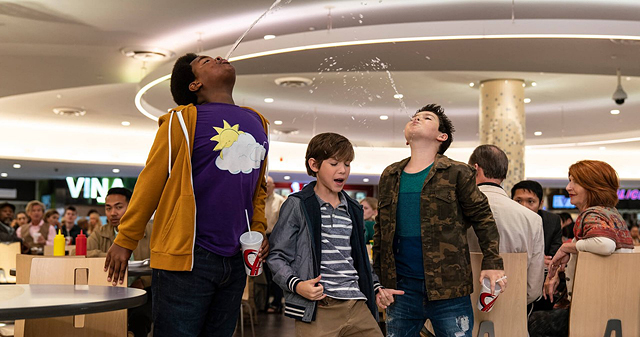 ADVERTISEMENT - CONTINUE READING BELOW
The biggest charm of Good Boys comes from its very good cast of boys. Jacob Tremblay has made a career out of playing these sweet, empathetic children like in Room and Wonder so of course the first line in the film is Tremblay dropping the f-bomb. He shows off his range by playing the charismatic, charming, but emotionally-driven Max, and in moments of distress, Tremblay really gets to show off his acting. Brady Noon, as the motor-mouth of the group that has a passion for singing, is enjoyable as well, but the breakout is Keith L. Williams as the sensitive truth-teller Lucas. Williams gets the most emotional parts of the film as he deals with the divorce of his character's parents, but he also gets the funniest reactions as probably the most innocent of the trio. The cast is rounded out by some comedy greats in Forte, Retta, and Stephen Merchant who don't get a lot to do but are a welcome presence when they're on screen.
ADVERTISEMENT - CONTINUE READING BELOW
Good Boys is no Superbad in the sense that it's not going to be McLovin levels of important in the coming-of-age lexicon, but for a very tight 90 minutes, it's an entertaining ride that's both cringe and surprisingly smart, while also having heart. The shorter runtime means the film keeps its foot on the pedal instead of letting the audience chill with its characters, which sometimes sacrifices story for gags. Thankfully, the time that is spent on the Bean Bag Boys' adventure is fun enough to keep viewers engaged and entertained, put on a good message about growing up, and maybe getting some adults to rethink having children.
Rating: 3.5 out of 5 Spots
Good Boys is now showing exclusively at SM Cinemas. Photos courtesy of Universal Pictures.
Share this story with your friends!
---
Help us make Spot.ph better!
Take the short survey
More Videos You Can Watch
Load More Stories