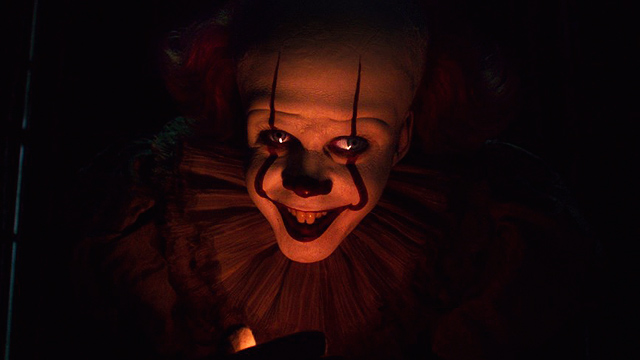 (SPOT.ph) 2017's It not only dominated the box office two years ago—it broke tons of records along the way, including being the largest opening ever for an R-rated horror film, the highest grossing film based on a Stephen King novel, and, unadjusted for inflation, the highest-grossing horror film of all time. These are excellent numbers in itself, but that the film was also well-received by critics (86% on Rotten Tomatoes) and audiences alike makes It's achievements even more impressive. It Chapter Two has big (clown) shoes to fill, and overall, it manages to succeed, but with a few bloody bumps along the way. The terrifying but also heartfelt effect remains, though Chapter Two lacks the first film's focus and tightness, instead leaning into the big and epic.
ADVERTISEMENT - CONTINUE READING BELOW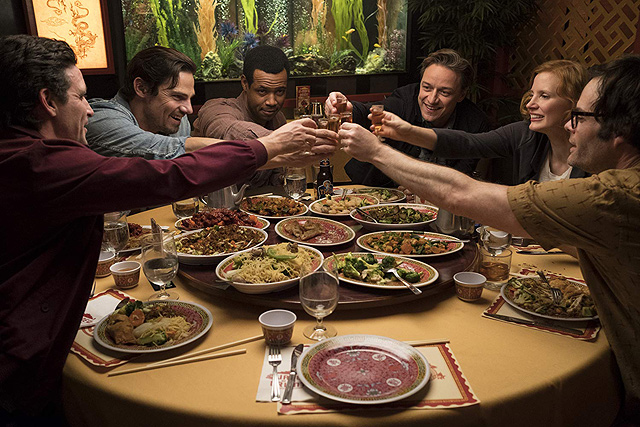 It's been 27 years since most of the Losers Club split up and left Derry, Maine. Only Mike (Isaiah Mustafa) has remained in town, and he's been keeping tabs on Pennywise (a terrifying Bill Skarsgård) if he were to ever return. When a grisly and brutal attack by youngsters on a gay man occurs, Pennywise reappears to take advantage of the nastiness in the world. Mike recruits his old friends—many of whom have completely forgotten about their past in Derry: Bill (James McAvoy), Beverly (Jessica Chastain), Richie (Bill Hader), Eddie (James Ransone), Stanley (Andy Bean) and Ben (Jay Ryan) all get the call, each with varying reactions.
As the adult Losers Club make their way back to Derry and reunite, they must face their childhood trauma head on as Pennywise is back to his old tricks. The Losers must find things they've lost or forgotten in their childhood to really be able to put an end to Pennywise, but the murderous, child-eating clown isn't going to go down that easily.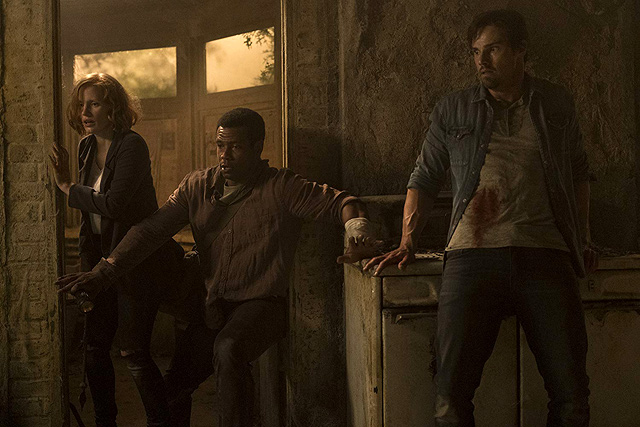 ADVERTISEMENT - CONTINUE READING BELOW
It Chapter Two is a wild movie that is even darker, stranger, and much, much bigger than the first. It's a fun and satisfying counterpart to the first film, and lots of its images and scenes will stay with viewers. It doesn't hold back on the gore, the blood, and the horrifying nightmares that are awakened with Pennywise back to full power. However, Chapter Two loses a lot of the charm and giddiness that came with It as it transitions its focus from its talented young cast to the adults. The adults are great, but as with the King novel and the Tim Curry miniseries, the adult half just doesn't have the same effect as the kid half. That doesn't mean it's bad though, it's just different.
Director Andy Muschietti and writer Gary Dauberman try very hard to give the adults heft, and they do a solid job. While the first film featured a focus on friendship and working together as well as dealing with guilt, this sequel tackles childhood trauma and dealing with your past. It's a heavy theme for an already heavy movie, but Muschietti and Dauberman manage to weave in a lot of humor and entertainment throughout. That's It Chapter Two's best feature—it's entertaining as hell. For the most part, it feels overlong and exhausting, but at least you're enjoying yourself along the way.
ADVERTISEMENT - CONTINUE READING BELOW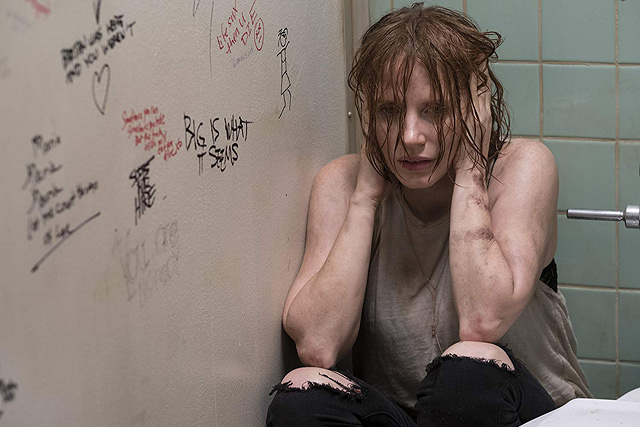 Taking over for the kids, the adults are perfectly cast. Great chemistry and amazing reaction shots make this Adult Losers Club really fun to watch. Hader is the standout, easily, just like his younger counterpart, Stranger Things' Finn Wolfhard was in It. With his well-known excellent comedic timing, Hader as the older trashmouth Richie is excellent. He also gets the most emotions to play with throughout. McAvoy and Chastain are great as well, but many of their scenes are similar in that there's not a lot else for them to do. Mustafa does a lot of heavy lifting as Mike takes center stage in this sequel (when that character was often forgotten in It), and the rest of the Losers do a solid job as well.
ADVERTISEMENT - CONTINUE READING BELOW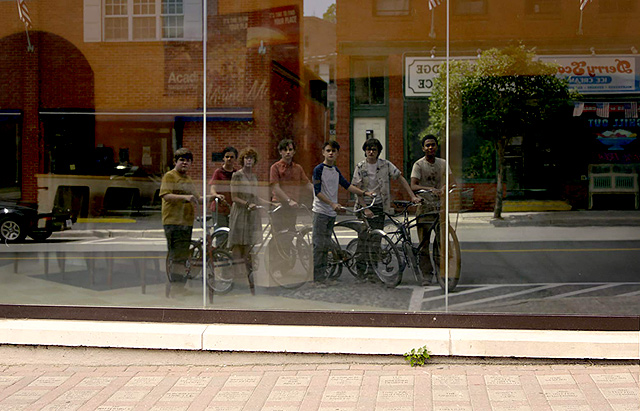 The kids, including Wolfhard, Jaeden Martell, Sophia Lillis, Jack Dylan Grazer, Wyatt Oleff, Chosen Jacobs, and Jeremy Ray Taylor, get their moments to shine as well, as there are flashbacks peppered throughout. In a strange choice, Muschietti decided to de-age the younger cast because puberty has changed a lot of them, and for the most part it isn't really bothersome, but definitely noticeable. The rest of the film's visual effects and CGI though, including Pennywise's transformations, are brilliant. Even more amazing are the practical effects that really throw the actors, especially Chastain, right into the nitty-gritty of it all. It looks so real and so exhausting for the actor, it's exhausting for the viewer too.
ADVERTISEMENT - CONTINUE READING BELOW
Chapter Two does struggle on its pacing. It's jam-packed and it's hard to pick out what can actually be cut out because everything seems very important to the story. Still, it feels lacking despite the length because there's not enough time spent with the Losers before they go back to Derry—it rushes through that instead, speeding to get everyone back to Derry, no matter how clumsy it is. Tightening up the script and the editing of some of the scenes would've done wonders for the flow.
Muschietti delivers a walking nightmare of scene after scene of awful things happening, with very little breather, often going on too long. As much as it's fun to spend time with the Losers, the length really weighs the film down. However, when certain set pieces work, they work beautifully. Scenes set in a mirror funhouse, a bathroom stall, and a Chinese restaurant are some of the highlights. One thing's for sure, Pennywise is more terrifying than before. Pennywise actually feels sinister this time around—he's a clown on a revenge rampage to get back these kids who starved him almost three decades ago. Skarsgård unsurprisingly shines, whether he's tricking kids or threatening the adults.
ADVERTISEMENT - CONTINUE READING BELOW
It Chapter Two is a fun and entertaining thrill ride that works as an enjoyable finale to the epic saga of It despite its length. Muschietti, soon to be the director of the long-awaited Flash movie, makes his mark as a blockbuster-type filmmaker with big ideas and big visuals. It's a whole lot of movie, and rarely ever goes halfway. Because of this, the innocent, heartbreaking charm of the first one isn't there. However, this sequel does pack an unexpected, emotional wallop over its last few minutes that makes for a satisfying ending.
Rating: 3.5 out of 5 Spots.
It: Chapter Two is out in theaters September 4. Photos courtesy of Warner Bros. Pictures.
Share this story with your friends!
---
Help us make Spot.ph better!
Take the short survey
More Videos You Can Watch
Load More Stories