(SPOT.ph) It's been 28 years since we last saw the invincible T-800 in Terminator 2: Judgment Day and the whole Terminator franchise has been a huge hit since then, maintaining a legacy that would forever be remembered. When a film goes down in such a manner, it's often hard to follow it up, but Terminator: Dark Fate, the direct continuation of the second Terminator film, aims to add on to the lore and meet the bar that the first two films set. We got the chance to sit down with the cast of Terminator: Dark Fate at the film's press conference in South Korea on October 21 to know more about what went into making this film a reality.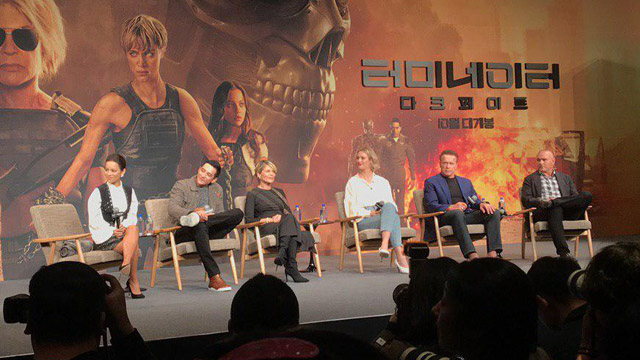 ADVERTISEMENT - CONTINUE READING BELOW
Yes, there's still an indestructable humanoid machine going after people in this edition of Terminator, but what's different is that it's a new model, Rev 9, played by Gabriel Luna, hunting down Daniella "Dani" Ramos, played by Natalia Reyes. The days of Skynet are long gone, and in this version of the future, the Legion reigns supreme. Grace, played by Mackenzie Davis, is sent from the future to protect Dani, much like how Sarah Connor had to be protected.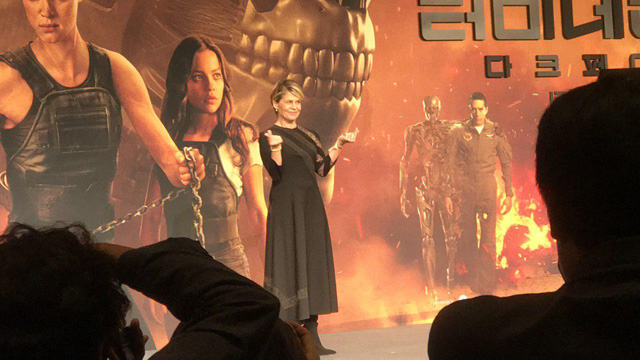 The latest installment in the Terminator franchise may boast a new cast, but old-time faves are making a notable comeback: Linda Hamilton reprises her role as Sarah Connor and Arnold Schwarzenegger is back as the T-800 Terminator, so you'll see some familiar faces when you watch the film, and it's sure to give you nostalgia. You'll also get to see what their lives are like directly after the events in Judgment Day.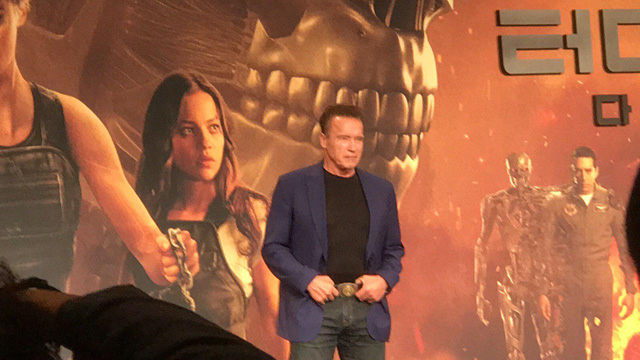 ADVERTISEMENT - CONTINUE READING BELOW
When asked about action scenes, Schwarzenegger reveals that he still trains all the time. "I train every day so I'm kind of ready for a movie like that. But I prepare myself for months in advance and with the staff and coordinators," he says. At 70, does the Terminator feel his age? "I really don't feel my age," he shares, and the room erupts into chuckles.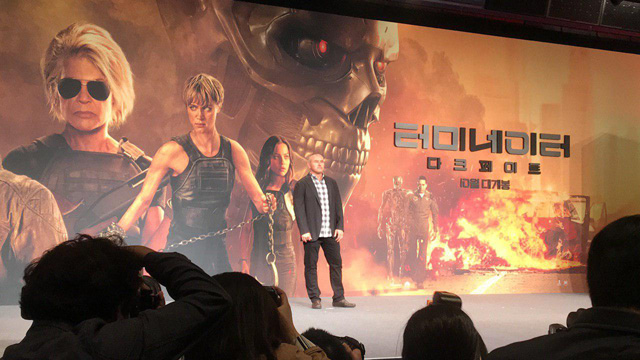 ADVERTISEMENT - CONTINUE READING BELOW
Two women, Davis and Reyes, play the lead characters in the film, with the inclusion of Hamilton playing Sarah in order to effectively kill the new Terminator sent from the new future. During the first two movies, John Connor led the resistance, but women are taking a more hands-on leadership role in the revolution this time around. This has been a theme since the original films, and director Tim Miller wanted to bring it out more in Dark Fate: "I think the prominence of women in Terminator movies is there from the beginning because the first movie is about Sarah Connor, I think the second movie was about Sarah Connor, you could argue, perhaps it was focused [on] John [and it] really was about what he became. It was Sarah protecting him."
Sarah may be back, but Dark Fate makes room for new narratives: "Now, I think it's natural that what she did at the end of Terminator 2 changed the future, and she has to deal with that new future which means additional characters that come into the franchise that weren't there before." And it's not as if Miller had to try very hard for the new characters to come into play. "It wasn't like a plan, it was more like the evolution of the story that had been started already," he concludes.
ADVERTISEMENT - CONTINUE READING BELOW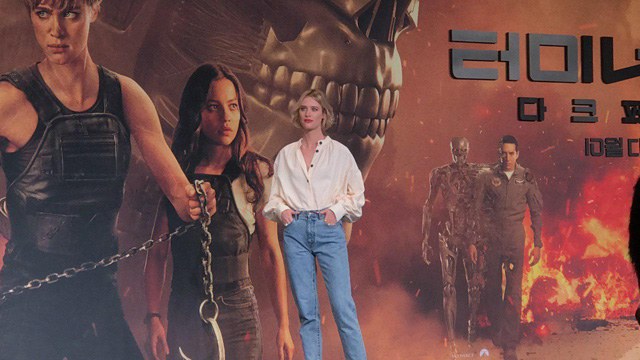 Miller welcomes the inclusion of women in the franchise and thinks they provide another dimension to the action. He directed Davis' action scenes to suit her and her movement, and he says that it was entirely different from how he would have directed a man in the role. "[The action scenes] I designed actually for [Davis], I wouldn't have designed for man, but that's not an event, it's not a gender-specific way. I get a sense of how she would do it and it wouldn't be like how a man would do it," he shares. Miller took the time to see how Davis fights and made sure to direct scenes that would suit the actor, regardless of gender. He believes that it's time to see more women in action-packed roles.
ADVERTISEMENT - CONTINUE READING BELOW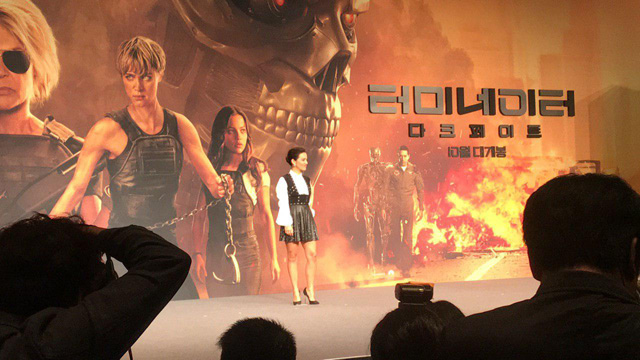 Davis and Reyes have their fair share of action scenes, but the cast admits that the original badass woman is really Hamilton. Sarah and Dani's characters are both being chased by Terminators, but Reyes is quick to clarify that even though Connor knows how it's done, she leaves room for Reyes to explore and take the lead. "She was actually very respectful and letting me do my own thing," Reyes says. Schwarzenegger agrees that the most pressure to deliver the action and badassery is on Hamilton and when he heard producer and The Terminator director James Cameron was bringing her back, he was more than happy to work on Dark Fate.  "And you know the age of 60 is a whole different ballgame. But she did it," he cites in awe.
ADVERTISEMENT - CONTINUE READING BELOW
No spoilers on what's going to happen in Dark Fate (you won't be able to relax, we can guarantee that much), but the cast is hopeful that it succeeds in paying homage to the original films while at the same time adding on to the world's already established lore, and providing viewers and fans both old and new the much-needed story after 28 years.
Schwarzenegger says that, at their core, the Terminator films share something in common: "These films are meant to entertain." So may it be in Asia or the U.S. or the Middle East, the cast hopes audiences from around the world can enjoy Dark Fate.
Terminator: Dark Fate hits theaters on October 30.
Share this story with your friends!
---
Help us make Spot.ph better!
Take the short survey
More Videos You Can Watch
Load More Stories