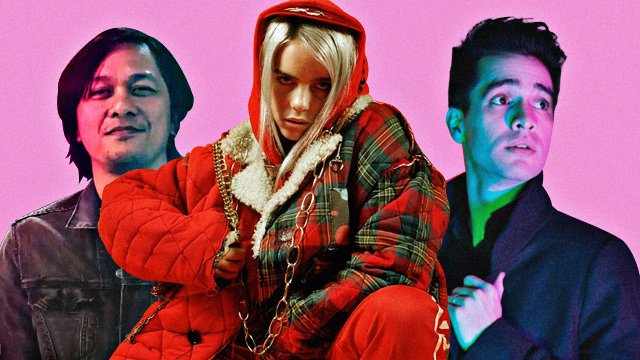 (SPOT.ph) The 2010s was an eventful decade for music. It saw the rise of music streaming, making tunes by both seasoned artists and up-and-coming talents more accessible. Platforms like Spotify, Apple Music, Soundcloud, and now YouTube Music have given music lovers more control over the type of music we want to consume and enjoy—whether they're addictive singles or extremely specific playlists. Pop music has shown more flexibility and variability, while K-Pop fever has taken over the rest of the world. Most notably, artists are no longer the sole focus. With the undying popularity of social media, virality, wokeness, and meme-worthiness have been added to the success formula. 
For this month's playlist recommendations, we select new ditties that will make you think about the decade that was, in music. Check out international acts Billie Eilish, Maggie Rogers, Kanye West, Panic! At The Disco, and GOT7. Locally, you wouldn't want to miss the latest from Ely Buendia and Cheats, Imago featuring BenteDos, BRWN, Sandwich with Ice Seguerra, and Johnoy Danao featuring Angel Aquino. 
ADVERTISEMENT - CONTINUE READING BELOW
Listen to some new tracks that somehow define the music that came out in this decade:
"everything i wanted"
Artist: Billie Eilish 
American singer-songwriter and this year's biggest breakout artist Billie Eilish is back with "everything i wanted," a mid-tempo reflection on the pop star's meteoric rise to fame and an ode to her supportive brother and producer, Finneas. Since her entry into the music scene in 2015, Eilish has been blurring the lines and giving pop music a darker look with her tracks that often tackle pain (sometimes disguised by trap and electronic stylings), this one included. 
Fun fact: At 17, Eilish is the youngest artist to ever be nominated for the Big Four Grammy Awards (Record of the Year, Album of the Year, Song of the Year, and Best New Artist).
"Grizzly Pool"
Artists: Ely Buendia and Cheats  
OPM veteran Ely Buendia and indie rock act Cheats team up in "Grizzly Pool," a refreshing rock ditty that combines Buendia's unmistakable vocals and Cheats' signature fun sound. This project is just one of the several heavyweight collaborations between old-timers and young blood that we've seen recently. It goes without saying that we can't wait to hear more. 
Fun fact: Cheats vocalist Jim Bacarro told Bandwagon that this collaboration was three years in the making. 
"Love You For A Long Time" 
Artist: Maggie Rogers  
Maggie Rogers went from viral phenom to Grammy-nominated artist in just three years. Her first release after her Grammy nomination for Best New Artist, "Love You For A Long Time," is a sweet and romantic tribute to her folk-pop roots. The feel-good track showcases Rogers' distinct vocals perfectly fit for her simpler style. Now, this is one viral story we'd like more of. 
Fun fact: Rogers got her big break in 2016 after playing her song "Alaska" for Pharrell Williams during a masterclass at New York University's Clive Davis Institute of Recorded Music.
"Partida"
Artists: Imago feat. BenteDos
Pinoy rock and rap come together in this impressive collaboration between Imago and promising rap artist BenteDos. The chill number features Kiara San Luis' sweet vocals and BenteDos' spot-on verses. We're hoping this is the start of more rock-rap collaborations between them and other artists. 
Fun fact: The band's current lineup includes Kiara San Luis (lead vocals), Myrene Academia (bass guitar and backing backing vocals), Tim Cacho (lead guitar), Zach Lucero (lead and rhythm guitars, backing vocals, and occasional drums and percussion), and Mervin Panganiban (drums and percussion). 
ADVERTISEMENT - CONTINUE READING BELOW
"Follow God" 
Artist: Kanye West 
Kanye West, despite his oddities, is a critically acclaimed artist for a reason. The American singer, songwriter, rapper, producer, entrepreneur, and "the greatest artist God has ever created" has been known to constantly experiment with various genres and influences—something not many musicians always succeed in doing. In "Follow God," off his new Jesus Is King album, West continues to explore his spirituality while sampling some good-old '70s soul.  
Fun fact: West's father, Ray West, appears in the music video for "Follow God." 
"Fall In Love With You" 
Artist: BRWN
The last decade in Filipino music also saw more of our local talents getting more exposure abroad or creating more internationally appealing music. Local pop-R&B group BRWN hopes to make us all proud with their smooth releases, and "Fall In Love With You" is a great example. 
Fun fact: Among the group's influences are Michael Jackson, Stevie Wonder, and Justin Timberlake. 
ADVERTISEMENT - CONTINUE READING BELOW
"Into the Unknown" 
Artist: Panic! At The Disco
The past decade also saw us gushing over movie soundtracks. Remember "Let It Go"? Well, Frozen 2 just came out, and a new song from the movie might just get stuck in your head, too. Panic! At The Disco's version of "Into the Unknown" features Brendon Urie's incredible range, plus a grand, theatrical arrangement. 
Fun fact: The song is sung by Elsa (Idina Menzel) in the movie. 
"Koloring Book"
Artists: Sandwich feat. Ice Seguerra  
Two big names in OPM share their expertise to produce the stellar "Koloring Book." The rich arrangement is complemented by Ice Seguerra's emotive vocals. Here, we get another taste of classic Pinoy rock, and that will always be a winning sound. 
Fun fact: Raimund Marasigan reportedly had the idea to collaborate with Seguerra after finding inspiration for the song. 
"You Calling My Name"
Artist: GOT7
K-Pop continues to fascinate music fans here and everywhere. Just recently, South Korean boy band GOT7 released the music video for their catchy track "You Calling My Name." The tune combines pop, R&B, and rap to create a sleek and danceable number. 
Fun fact: The track is off Call My Name, the boy band's 10th extended play. 
ADVERTISEMENT - CONTINUE READING BELOW
"Kailangan"
Artists: Johnoy Danao feat. Angel Aquino
Local crooner Johnoy Danao and actress Angel Aquino collaborate on "Kailangan," an enjoyable, piano-led love song that will quickly become your favorite. Danao continues to be our go-to artist for heartfelt love songs (and wedding songs), and we hope he continues to collaborate with more local artists. 
Fun fact: Danao has also worked with other female vocalists like Clara Benin and Kat Agarrado. 
Share this story with your friends!
---
Help us make Spot.ph better!
Take the short survey
More Videos You Can Watch
Load More Stories