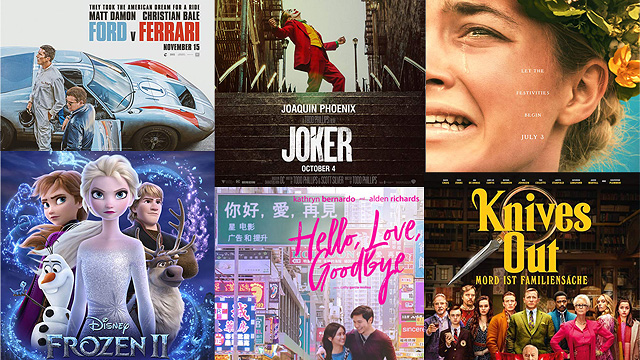 (SPOT.ph) 2019 was a notable year in Philippine and world cinema in that we saw new films take the crown of biggest box-office successes—globally in Avengers: Endgame and locally with Hello, Love, Goodbye—and a couple of major blockbuster films closed off at least a chapter of their franchises with Star Wars: The Rise of Skywalker and again, Avengers: Endgame. It was an incredibly memorable year for cinema, with amazing films of every genre making a splash in theaters. From the blockbusters to the indies all the way to streaming, here are 25 of the best films to come out of 2019.
This list is unranked and focuses on films released theatrically in Philippine cinemas, local film festivals within 2019, and streaming services.   
Here are the best movies in 2019:
Us
Directed by: Jordan Peele
Release date: March 20
Jordan Peele made waves after his massive 2017 hit Get Out, so the pressure was on to deliver another masterpiece with his next film. All eyes were on his follow-up, and Peele more than stepped up to the challenge with a scarier, more brutal horror film in which a family is terrorized by their doppelgangers. In Us, Lupita Nyong'o—starring as both the protective mother Adelaide and the terrifyingly creepy Red—puts in one of the best performances of the year in this dark and twisted tale about how humanity's most haunting monsters are ourselves.
ADVERTISEMENT - CONTINUE READING BELOW
Shazam!
Directed by: David F. Sandberg
Release date: April 3
The DC Extended Universe or DCEU has had lots of ups and downs over the past years, with Batman v Superman becoming an unfortunate punchline to Wonder Woman being a beacon of hope, only for Justice League to a mess of it. Aquaman was a massive success overall, so it was up to Shazam! to deliver, and deliver it did. In the DCEU's funniest, most entertaining, and most narratively complete film to date, Shazam! opens up a lighter and more emotional side of the notoriously dark and cold franchise. When Billy Batson (Asher Angel) is chosen to imbibe the powers of the great Shazam, he is turned into a not-ready-for-it superhero (Zachary Levi) that must quickly learn how to use his powers to save his family.
Someone Great
Directed by: Jennifer Kaytin Robinson
Release date: April 19
Jane the Virgin's Gina Rodriguez stars in this Netflix rom-com about a music journalist who, after being dumped by her long-time boyfriend, calls up her best friends (Brittany Snow and DeWanda Wise) to join her in one last epic night in New York City before she moves to San Francisco. This charming and witty film about female friendship and growth was praised for its relatability and excellent chemistry amongst its talented trio of stars and is 100% that film you want to watch with your friends.
Avengers: Endgame
Directed by: The Russo Brothers
Release date: April 26
Over 10 years and 20-plus films in the making, Avengers: Endgame was promoted as the culmination of the Marvel Cinematic Universe or MCU's first saga of films (the "Infinity" Saga). After the shocking ending of Infinity War where half the population disappeared at the snap of a finger, Endgame focused on the original Avengers team in one epic final battle with the galactic god Thanos (Josh Brolin). Iron Man (Robert Downey Jr.), Captain America (Chris Evans), Thor (Chris Hemsworth), Black Widow (Scarlett Johansson), Hulk (Mark Ruffalo), Hawkeye (Jeremy Renner) and many, many more (including new cast member Brie Larson's Captain Marvel) join forces in a spectacular and emotionally resonant blockbuster that currently holds the record for the highest-grossing film of all time.
Always Be My Maybe
Directed by: Nahnatchka Khan
Release date: May 31
With the success of Crazy Rich Asians in 2018, it was wonderful to see more and more Asian talents or actors of Asian descent as well as uniquely Asian stories populate the film world. In the Netflix rom-com Always Be My Maybe, comedian Ali Wong stars with Randall Park as childhood friends whose bad break-up in high school causes them to become estranged. When fate brings the two together once again, old sparks fly, but Keanu Reeves playing a heightened version of himself stands in the way of the two leads getting together. Sweet, funny, and featuring a great cast, Always Be My Maybe is one of the strongest rom-coms of the year.
ADVERTISEMENT - CONTINUE READING BELOW
Toy Story 4

Directed by: Josh Cooley
Release date: June 20
The first three Toy Story films continue to be one of the best trilogies in film, telling the story of toys Woody (Tom Hanks), Buzz (Tim Allen) and the rest of the gang as they go through different adventures while their owner grows up. Toy Story 4 could've been an unnecessary cash grab at first, but instead it is a wonderful and surprisingly deep addition to the series. Toy Story 4 features the gang of toys embarking on a road trip with their new owner, and in this road trip, Woody is reunited with Bo Peep, and he befriends a toy made out of a spork and some googly eyes named Forky. Dealing with existentialism, life purpose, and bittersweet goodbyes, Toy Story 4 is a visual treat that comes with the tugging-at-the-heartstrings factor that Pixar is known for.
Midsommar
ADVERTISEMENT - CONTINUE READING BELOW
Directed by: Ari Aster
Release date: July 24
A couple travels to Sweden to visit a friend's hometown during a seemingly lovely midsummer festival, which turns into something sinister and mysterious in Ari Aster's follow-up to his horror hit Hereditary. Florence Pugh is excellent as college student Dani who is both dealing with a horrible tragedy that befell her family as well as struggling in a relationship with her boyfriend (Jack Reynor). Midsommar is an unpredictable and continuously surprising horror film that is also somehow visually beautiful and exquisitely made, and something that will stay with you long after you've seen it.
Hello, Love, Goodbye
Directed by: Cathy Garcia-Molina
Release date: July 31
Currently the highest grossing Philippine film, Cathy Garcia-Molina's Hello, Love, Goodbye was one of the most anticipated films in 2019. It brought together—for the first time—two of the most popular actors from different networks and loveteams. Kathryn Bernardo and Alden Richards teamed up in this touching and heartbreaking film about overseas Filipino workers trying to get through life and love in the bright and hectic city of Hong Kong. Plus, instead of going for the easy and kilig rom-com, Hello, Love, Goodbye tackles more serious and dramatic issues within its romantic story.
ADVERTISEMENT - CONTINUE READING BELOW
John Denver Trending
Directed by: Arden Rod Condez
Release date: August 2 (Cinemalaya)
2019 Cinemalaya Best Picture winner John Denver Trending is a timely and tragic story about the dangers of social media, cyberbullying, and online witch hunts. When a schoolboy named John Denver (first-time actor and Cinemalaya Best Actor winner Jansen Magpusao) is filmed beating up another classmate, the video goes viral. John Denver's life is turned upside down, targeted by harassment, vile rumors, and death threats from strangers. The video doesn't tell the whole story, however, and John Denver and his mother (a terrific Meryll Soriano) seek to clear John Denver's name. John Denver Trending is a well-acted and moving story that should be necessary viewing.
Parasite
Directed by: Bong Joon-ho
Release date: August 14
Shocking, layered, and beautifully made, Bong Joon-ho's Parasite remains one of the most exciting and thrilling films of 2019. A mash-up of genres from suspense, comedy, horror, and drama, Parasite has it all, yet never feels too overcrowded. Bong perfectly puts together this puzzle about class warfare and social injustice in a South Korean tale that has resonated with the rest of the world. In Parasite, a poor family infiltrates a rich household, but telling you more would spoil the fun. This film became the first Korean film to ever win the prestigious Palme d'Or at the Cannes Film Festival and is poised to make history at American award shows over the next year. Not only is Parasite dark, timely, and full of surprises, it's also a winner in its crafts with stunning cinematography, production design and more, making this one of the true masterpieces of the year.
ADVERTISEMENT - CONTINUE READING BELOW
Once Upon a Time… in Hollywood
Directed by: Quentin Tarantino
Release date: August 28
Quentin Tarantino's latest film is very much a Tarantino film through and through. It's influenced by the films of the past, it stunningly recreates a time period, it is sharply written, and it has an ensemble of magnetic performances from A-list actors like Leonardo DiCaprio, Brad Pitt, Margot Robbie, and more. In Once Upon a Time… in Hollywood, Tarantino revisits '60s Hollywood at the tail end of its "Golden Age" where wild celebrity parties and serial killers are all the rage. Multiple stories—including actor Rick Dalton (DiCaprio) and his diminishing career as well as Sharon Tate (Robbie) just at the start of hers and a stuntman's (Pitt) run-in with the Manson family—culminate in a typically Tarantino ending of blood, violence, and catharsis. 
Booksmart
Directed by: Olivia Wilde
Release date: September 3 (digital)
There are tons and tons of male buddy-slash-coming-of-age films around but very few female ones, and Booksmart attempts, quite successfully, to carve  out a place for itself in the genre of R-rated and wild coming-of-agers. Beanie Feldstein and Kaitlyn Dever star as high school best friends who have perfectly planned their futures by studying well and doing all the extra-curricular things you need to get into a good college. Because of this, they never partied. When they find out that their hard-partying peers got into great colleges like they did, the two seek out one last wild night before graduation, leading to a hilarious, well-written, and touching tale of friendship and high school.
ADVERTISEMENT - CONTINUE READING BELOW
Open
Directed by: Andoy Ranay
Release date: September 13 (Pista ng Pelikulang Pilipino)
Andoy Ranay's Open stars JC Santos and Arci Muñoz as a couple who find their relationship going stale after 14 years together. To spice up their lives, the two decide to have an open relationship with the one restriction that they cannot fall in love with the people they have sex with. This Pista ng Pelikulang Pilipino entry tackles the age-old stories of infidelity and love while setting it into a modern setting, adding new ideas to something we've seen in cinema time and time again. 
Ad Astra
Directed by: James Gray
Release date: September 20
Brad Pitt stars as an astronaut tasked with finding his father (Tommy Lee Jones) who was lost in space years ago during a mission to find another habitable place elsewhere besides Earth. Like Apocalypse Now but in space, Ad Astra is unlike any of the other "space films" in recent years, dealing instead with deep themes such as existentialism, loneliness, and toxic masculinity. Bolstered by incredible visual effects, beautiful production design, and a surprisingly quiet but effective performance from Pitt, Ad Astra is a great addition to the sci-fi hallways of cinema. 
ADVERTISEMENT - CONTINUE READING BELOW
Hustlers
Directed by: Lorene Scafaria
Release date: September 25
Hustlers is more than just stripper poles and glitter, surprising with one of the most empowering and touching films this year about female friendship while also being a smart and effective drama about the U.S. financial crisis of 2007. Hustlers is about Constance Wu's Dorothy (known by her stripper name Destiny) being taken in by veteran stripper Ramona, played by a magnetic and marvelous Jennifer Lopez. The two become great friends and Ramona becomes Destiny's mentor. When the financial crisis hits, Ramona, Destiny, and a few other girls hustle rich men to earn more money. Daring, powerful, and not just about strippers, Hustlers is one of the year's biggest surprises.
Joker
Directed by: Todd Phillips
Release date: October 3 
Joker gave viewers Todd Phillips' darker and more tragic take on one of the most famous villains in all of comic book history. Inspired by the '70s and '80s films of Martin Scorsese such as Taxi Driver and The King of Comedy, even bringing in Scorsese's muse Robert de Niro to play a part, Joker followed the birth of the Joker character in a deteriorating, pre-Batman, 1980s Gotham City. Joaquin Phoenix gives a mesmerizing performance as Joker/Arthur Fleck, a clown who turns to murder when the world keeps turning its back on him. It's a tough film to watch, with the toxicity of society causing a man who was simply dealt a bad hand to become a villain—something far too common in the world today. 
ADVERTISEMENT - CONTINUE READING BELOW
Cleaners
Directed by: Glenn Barit
Release date: October 13 (QCinema)
QCinema's top prize winner Cleaners was an ambitious undertaking for its director Glenn Barit and his team. They shot the film, printed out frames from it, photocopied each one in black and white, and then, as if this was a film from the 1890s, colored the frames by hand via highlighter to give emphasis to the characters in each of Cleaners' funny anthology stories about being a high schooler in the late-2000s. What could've just as easily been a gimmick film turns into something more, and is instead a heartfelt film that acts as a flowing collection of memories steeped in nostalgia.
Isa Pa, With Feelings
Directed by: Prime Cruz
Release date: October 16
Effortlessly romantic, Isa Pa, With Feelings does away with the infidelity and the big over-the-top fights, instead giving viewers a grounded, modern love story that is built on the charm of its leads Maine Mendoza and Carlo Aquino, and Prime Cruz's beautiful direction. In Isa Pa, With Feelings, a woman (Mendoza) falls in love with a deaf man (Aquino) as she takes sign language lessons from him. She's drawn into his world as  he's brought out of his, and with a creative script and excellent chemistry, the film succeeds in what it set out to do—make audiences swoon.
ADVERTISEMENT - CONTINUE READING BELOW
The Farewell
Directed by: Lulu Wang
Release date: November 12 (digital)
Based on her own life, Lulu Wang's The Farewell is about a family whose matriarch grandmother (a lovely Zhao Shuzhen) gets a cancer diagnosis, but everyone decides not to tell her. Instead, the family cooks up a fake wedding so that everyone can come see and spend time with the grandmother one last time. Awkwafina plays Billi, a young woman who is very close to her grandmother and is the one most conflicted about lying to her. Awkwafina, who is best known for her brash comedy, holds back a lot here, giving a soft, sad performance so out of character that it's almost surprising how well she executes it. The film overall is a funny yet emotionally resonant story about family that brings both laughs and tears.
Ford v Ferrari
Directed by: James Mangold
Release date: November 13
Fast-paced and packed with all the racing action one could ask for, Ford v Ferrari tells the story of how a daring and ambitious British race car driver (Christian Bale) and an American automotive designer (Matt Damon) changed the world of racing, bringing car manufacturer Ford into direct competition with the, at that point, unbeatable Italian brand Ferrari on the racecourse. James Mangold (Logan) directs a cinematic experience that really throws viewers into the heat of the race. Bale and Damon put in top-notch performances, and so does the supporting cast that includes Tracy Letts and Noah Jupe. Ford v Ferrari is a substantial and effective sports drama, packed with power and style. 
ADVERTISEMENT - CONTINUE READING BELOW
Frozen II
Directed by: Jennifer Lee and Chris Buck
Release date: November 20
Elsa, Anna, Olaf and the gang are back for a sequel that goes deeper and more daring than its hugely successful predecessor. With catchy new songs, more hilarious segments, and a story that deals head-on with growing up, maturing, and finding the true spirit of one's self, Frozen II challenged its young viewers by embracing complex themes and complicated storytelling, a concept rarely seen in Disney animation. While it may not be as strong as the first, it's still a worthy sequel that makes Elsa an even more three-dimensional character as she goes out "into the unknown" to find the source of her power. 
Knives Out
Directed by: Rian Johnson
Release date: November 27
Coming out of the controversial The Last Jedi, Rian Johnson bounces back with this hilarious, expertly directed mystery-comedy about a family who all become suspects to the murder. When the Thrombey family patriarch (Christopher Plummer) dies mysteriously, detective Benoit Blanc (Daniel Craig) is brought to the old family mansion to solve the case. This kooky family is portrayed by an amazing ensemble led by Jamie Lee Curtis, Chris Evans, Ana de Armas, Toni Collette, and many more. Full of wit, excitement, and twists and turns, Knives Out took the murder mystery genre that Agatha Christie made so famous, and turned it on its head.
ADVERTISEMENT - CONTINUE READING BELOW
The Irishman
Directed by: Martin Scorsese
Release date: November 27 (Netflix)
Martin Scorsese's over-three-hour epic about a truck driver-turned-hitman for a crime family is like a Scorsese Greatest Hits album. Not only is it a genre he's well-versed in, but it brings together two of his favorite past stars in Robert de Niro and Joe Pesci, and is a New York-set piece that takes place over decades and is about a man reflecting on his life. Much noise was made about The Irishman's de-aging CGI and visual effects, as the film follows the characters from their youth in the 1950s to their old age in the 2000s, and while that is a landmark in technology, it's Scorsese's passion and eye for genuine emotion that makes The Irishman his true magnum opus.
Dead Kids
Directed by: Mikhail Red
Release date: December 1 (Netflix)
Dead Kids is the first Netflix original from the Philippines and that in itself makes it worth watching, but other than that, this is a stylish and effective thriller about rich kids and misfits and the bad things they get themselves in. This film is from wunderkind director Mikhail Red, who also directed Eerie this year, and stars a slew of young stars like Khalil Ramos, Sue Ramirez, Markus Paterson. Keeping viewers guessing and on their toes, Dead Kids plays around with the teen thriller genre to maximum effect. 
ADVERTISEMENT - CONTINUE READING BELOW
Marriage Story
Directed by: Noah Baumbach
Release date: December 6 (Netflix)
There have been several divorce stories told in film, but they often tell the story at a point where people are no longer in love. In Marriage Story, the love is still very much there, but the cracks have begun to show and there's no other way to get out but through divorce. Emotionally powerful, genuine, and raw, Marriage Story is a stunningly crafted drama from Noah Baumbach that will blow you back with its honesty and portrayal of how awful yet often necessary divorce is. It's also a tale of two ex-lovers who grow in a relationship that is about to end. Adam Driver and Scarlett Johansson play the married couple and they both turn in excellent performances.
Star Wars: The Rise of Skywalker
Director: JJ Abrams
Release date: December 20
While it may not be the best Star Wars film of the series, it is the one that feels the most like the original trio of films. Fights in the sky, epic lightsaber battles, massive reveals, and stunning and surreal locations, The Rise of Skywalker closed out 40-plus years of the Skywalker saga as best as it could, giving fans something to cheer about and also continuing to be one of the most expertly crafted blockbusters in terms of production design, visual effects, and more. Its cast also gives it their all, with Daisy Ridley putting in her best work yet in the series, and a solid arc with Adam Driver's Kylo Ren.
ADVERTISEMENT - CONTINUE READING BELOW
Share this story with your friends!
---
Help us make Spot.ph better!
Take the short survey
More Videos You Can Watch
Load More Stories