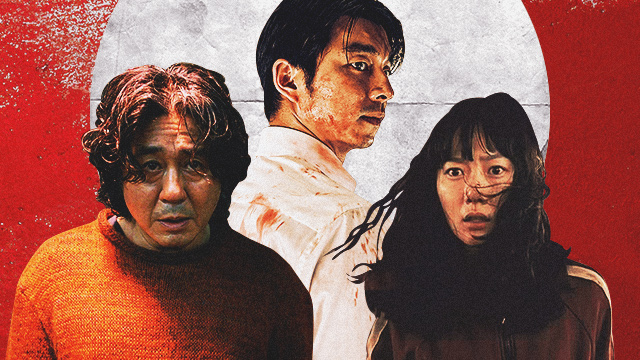 (SPOT.ph) We can't quite put our finger on it, but there's something about 2020 that makes us think about the end of the world as we know it. If Netflix's Top 10 list is anything to go by, it looks like Pinoys are definitely riding the action-filled apocalypse train, too. South Korean blockbuster hit #Alive has been reigning supreme at the top spot these past few days and if you've got a hankering for more blood-pumping, adrenaline-filled films, we have you covered. There's no lack of epic thriller films from South Korea and we list down a few that deserve to be on your must-watch list.
Also read:
10 Gripping Zombie Films You Can Stream on Netflix
10 Korean Movies to Watch If You Liked Kingdom
10 Underrated Asian Psychological Horror Flicks Worth Binge-Watching
ADVERTISEMENT - CONTINUE READING BELOW
Ready your nerves: Here are more South Korean films to put on your watch list:
Oldboy (2003)
Trust us: No one is ever ready for this psychological thriller. Park Chan Wook's 2003 film is yet to be matched in terms of perfectly laid out revenge plans—but who is seeking vengeance on whom and more importantly, what for, we'll leave you to find out. Oh Dae Su (Choi Min Sik) is your South Korean average joe who is taken and imprisoned in a motel-like room for 15 years for no apparent reason. He is finally released just as abruptly as he was kidnapped, leaving him to follow a strange trail of carefully laid out clues to his captors.
The Host (2006)
Before Bong Joon Ho blessed us all with Parasite in 2019, he directed this blockbuster hit about a monstrous river creature attacking townspeople. Gang Du (Song Kang Ho) is a snack vendor whose only child, Hyun Seo (Go Ah Sung), is taken by a monster that emerges from the nearby river. Amid the military and government trying to kill the massive creature, Gang Du and his family go on an epic suicide mission to save Hyun Seo.
The Chaser (2008)
If you're in it to really feel, well, alive, then check out The Chaser. This action flick follows disgraced cop-turned-pimp Joong Ho (Kim Yoon Seok) whose prostitutes have gone missing one by one. He unwittingly sends one of "his girls," Mi Jin (Seo Young Hee) to the psychopathic serial killer behind the recent crimes, setting off a race against time to save her. Joong Ho tries to use his old contacts in the police force to capture the killer in this wild chase.
ADVERTISEMENT - CONTINUE READING BELOW
Recommended Videos
The Man From Nowhere (2010)
Before John Wick, there was Cha Tae Sik (Won Bin). Tae Sik is the low-key owner of a small pawnshop—with one heck of a dangerous and mysterious past. He becomes entangled in the crimes of a syndicate, leading him to go on a bloody epic hunt while evading the police to save the one person that means anything to him: his only friend, So Mi (Kim Sae Ron), the young daughter of a go-go dancer. Fun fact: Much like #Alive when it was shown on theaters, The Man From Nowhere holds the distinction of being the highest-grossing film of 2010 in South Korea.
I Saw the Devil (2010)
You may want to be sure you're in an emotionally stable place before watching this film. Kim Soo Hyun (Lee Byung Hun) is an intelligence officer happily engaged to Jang Joo Yun (Oh San Ha)—until she becomes the latest victim of brutal serial killer Jang Kyung Chul, played by Oldboy's Choi Min Sik. A devastated Soo Hyun vows to get revenge. As the cat-and-mouse game ensues, Soo Hyun manages to capture his lover's killer, tortures him, then lets him go again—starting a bloody game that really makes you question which one is supposed to be the devil.
Train to Busan (2016)
We can't possibly make a list of South Korean thrillers without including the 2016 movie that gained global popularity (it did not premiere at that year's Cannes Film Festival for nothing). In this zombie apocalypse film, Gong Yoo plays a workaholic businessman named Seok Woo. He and his estranged daughter, Su An (Kim Su An), are on a, well, train to Busan to meet his ex-wife—only that a fast-spreading disease has hit South Korea turning the inflicted into zombies. Seok Woo and his daughter are now on a train filled with people turning into zombies, leading him on a battle to get his daughter to safety while realizing that he may have had a hand in the epidemic due to his business. A sequel, Peninsula, was also released in 2020, in case you still can't get enough (and you can catch it in drive-in cinemas in the Metro).
ADVERTISEMENT - CONTINUE READING BELOW
Pandora (2016)
In this apocalyptic disaster film, Kang Jae Hyok (Kim Nam Gil) is your average South Korean worker at a nuclear power plant. Things take a turn for the absolute worst when his coworkers notice something amiss in the plant, with their protests and warnings totally ignored. When a nuclear disaster finally nears, it is up Jae Hyok and a few others to save the day.
The Wailing (2016)
The usual response to tales of a town beset by a horrifying illness causing the inflicted to murder their loves ones is to run away—but when the said terror falls on your daughter, you have little choice but to solve the mystery. Jong Goo (Kwak Do Won) is a police officer in a small Korean town. When his daughter becomes infected by the strange and murderous outbreak, he becomes suspicious of the Japanese stranger who came to their place before all the ill happenings began. What ensues is a horrifying mystery as Jong Goo discovers that he may in fact, be up against an actual demon.
The Villainess (2017)
All her life, Sook Hee (Kim Ok Vin) has trained and lived as a deadly assassin. She jumps at the chance for a normal life when South Korea's intelligence agency recruits her as a sleeper agent, taking on a new identity as Chae Yeon Soo. As she tries to adjust to normalcy, her old life, and her old enemies return for one final showdown—but nothing and no one is as they seem.
ADVERTISEMENT - CONTINUE READING BELOW
Rampant (2018) 
See Hyun Bin in a new light! In this period film, Hyun Bin plays Lee Chung, a king during the Joseon Dynasty. Amid civil unrest brought about by their powerful neighbor, China, a zombie outbreak occurs. What ensues is a high-stakes bloody and over-the-top battle as Lee Chung fights back against both the fast-spreading zombies and his unruly government. Watch it for Hyun Bin, but stay for the epic and borderline absurd fight scenes.
Share this story with your friends!
---
Help us make Spot.ph better!
Take the short survey
Load More Stories