(SPOT.ph) If you've always wondered what life in the future would be like, this Korean sci-fi film offers one possibility: Year 2092, where Earth is almost inhabitable, and an alternative habitat has been made in space for a percentage of a population called UTS citizens. There are non-citizens—the working class—of course, who will have to clear the space junk flying in outer space?
This film by Jo Sung Hee (A Werewolf Boy) marks the return of Song Joong Ki after his 2019 fantasy drama Arthdal Chronicles. Here, he plays Kim Tae Ho, a genius pilot who's part of the Victory spaceship crew together with fellow space sweepers: ex-space pirate Captain Jang (Kim Tae Ri), spaceship engineer Tiger Park (Jin Sun Kyu), and a reprogrammed military robot Bubs (Yoo Hae Jin). After snatching a space shuttle in a debris chase, they discover a seven-year-old girl named Dorothy (Park Ye Rin) inside, who happens to be a human-like robot wanted by the UTS Space Guards. The crew decides to demand ransom in exchange, but things don't exactly go as planned.
ADVERTISEMENT - CONTINUE READING BELOW
We caught up with the space sweepers themselves and here are things you should know about this Song Joong Ki film on Netflix:
The space sweepers are misfits that end up saving the world.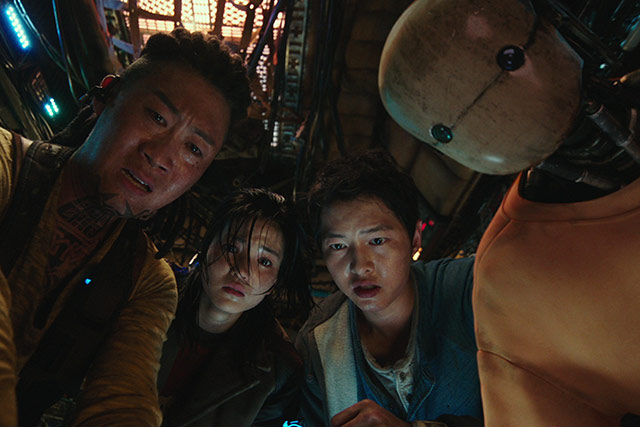 "The English title is Space Sweepers, literally meaning that people who sweep away the debris in space. So, we live in 2092, you could say that we are not the strongest of people," Joong Ki explains in the virtual press conference for the movie. "We're kind of an unusual crew, you could say that we're misfits. And we come across a special event, and we end up saving the world."
Space Sweepers is a decade in the making.
"I heard about these stories about space and space sweepers and from friends, so this was an idea that we [have] tried to develop since then," says director Jo. "I actually heard way back then that he was planning to create this kind of a space sci-fi movie and I thought it would be really interesting and amazing," tells Joong Ki. When the director proposed the role, "I immediately thought I would definitely do it."
First thing that came across to Joong Ki's mind for Tae Ho? "Devastated."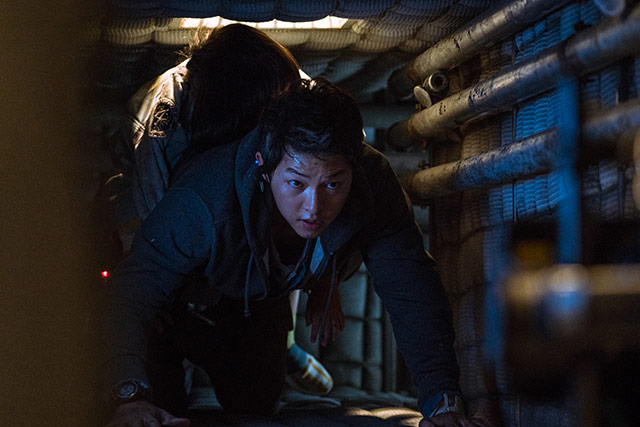 ADVERTISEMENT - CONTINUE READING BELOW
"When I first read the script and when I tried to interpret Tae Ho, I thought of the word 'devastated' because he's lost all hope in his life," he shares, and adds, "while I was filming the movie, I think I was in a similar state to Tae Ho." His character manages to put himself together with the help of his spaceship crew, helping Tae Ho "pull himself together and get back on his feet."
One of the Victory crew members is a robot…with a heart.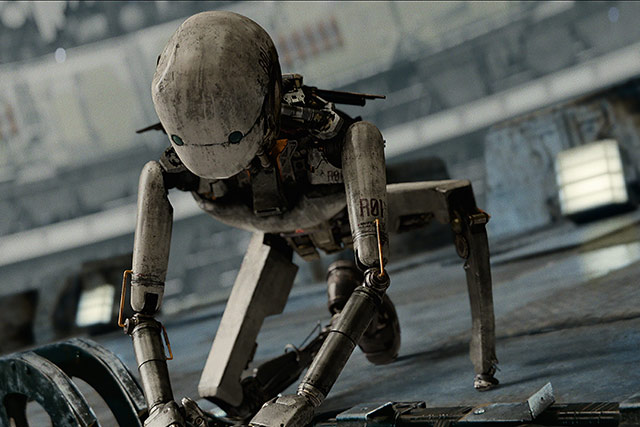 ADVERTISEMENT - CONTINUE READING BELOW
Is this even a sci-fi movie without robots? Unlike most robots in pop culture that seem to be highly advanced and almost infallible, Bubs takes a more realistic route. Hae Jin describes Bubs as "the accounting manager" of the Victory crew, who's "not so savvy with the numbers." We're not sure how that's supposed to work, but for a robot, "he's also very warm hearted, almost like a human being." Plus he's skilled with using a spear as a weapon.
They had to shoot scenes with Hae Jin's Bubs twice.
"Obviously he is a machine and is made of metal, but I approached him as a living thing with a heart," tells Hae Jin. To make his portrayal as realistic as possible, sensors were attached to Hae Jin for motion-capture acting. "We shot every scene twice so once with him in it and then once without him," shares Tae Ri.
ADVERTISEMENT - CONTINUE READING BELOW
Sun Kyu had to film in a real engine room.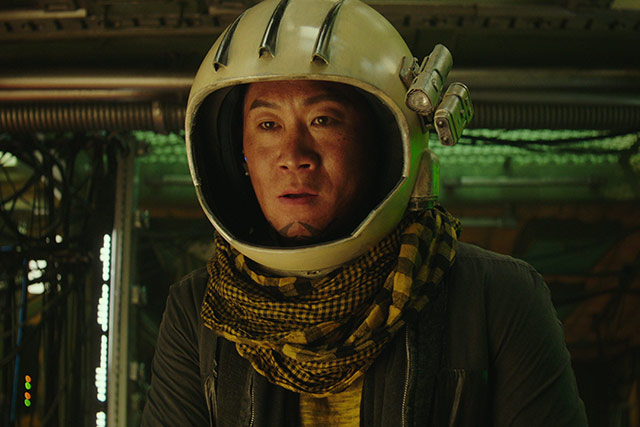 As the spaceship engineer of the Victory crew, Jin Sun Kyu's Tiger Park had plenty of scenes in an engine room. He shares, "I really filmed in an engine room at a ship that was stuck at the port." He recounts that everyone had a hard time because it was very loud in the engine room, and that the engine had to be running even when it was docked. "So, you can't even hear the director shouting action or cut, because it was so loud so I just had to rely on my instinct that maybe I should stop," he adds.
ADVERTISEMENT - CONTINUE READING BELOW
Space Sweepers is director Jo and Joong Ki's second project together.
When asked about what it was like to work with director Jo again, Joong Ki says, "I don't think anything was completely new or different." "In A Werewolf Boy, I played the role of Chul Soo. And sometimes people ask me, 'Where do you think Chul Soo is today?' Some people ask me that because that's a character that is alive in our hearts, and I think director Cho is like that to me. It's been 10 years but he's always been there for me." He adds, "He's still as quiet as ever, and yet, so fun to work with." Director Jo echoes Joong Ki's statement, saying, "He (Joong Ki) continues to be such a friendly person, a leader on set. And I may make mistakes sometimes but he's always very understanding."
Tae Ri had fun shouting at her crew members.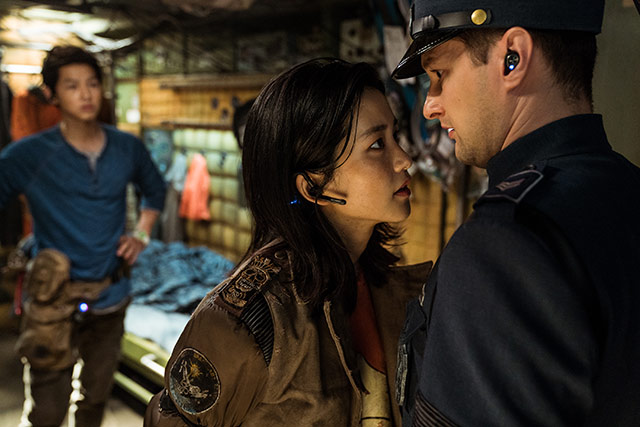 ADVERTISEMENT - CONTINUE READING BELOW
While she played the role convincingly, she's actually the opposite in real life, though the rest of her cast mates think otherwise. "I'm a clumsy person," she admits. She had a different kind of visual for Captain Jang that she even asked director Jo why he wanted her to play the role. Director Jo then told her that "there's great power in avoiding the obvious." And that shows in Captain Jang's T-shirt with cute prints and in how she's the youngest and not as big in terms of physique yet gets to boss the crew around. And one of the cool parts of playing the tough cookie Captain Jang? "I got to shout at all the other crew members, and I was given very good direction so I had a lot of fun."
The tough Sun Kyu has a soft spot for kids.
Tiger is the first person from the Victory crew who gets along with Dorothy, the human-like robot. When we asked him why he thinks he is the first character to do so during a roundtable interview, he attributed it to his character's "heart." "He appears to be this tough guy on the outside but a softie and a warm hearted person on the inside," tells Sun Kyu. "And also I actually have two kids so I was able to really get right into the role."
ADVERTISEMENT - CONTINUE READING BELOW
Even with other choices, Joong Ki would still prefer to be a space sweeper.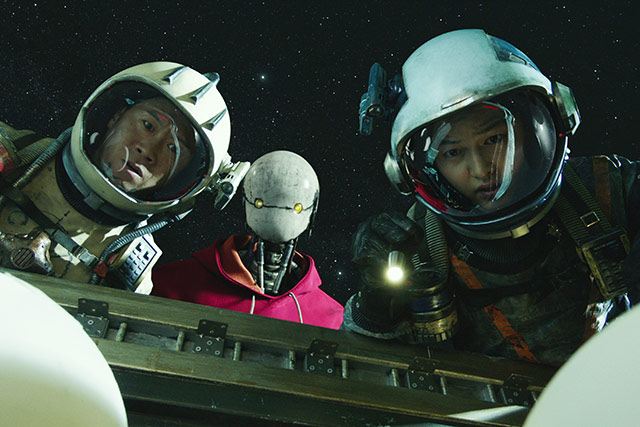 Tae Ho's character goes through different life stages in the movie that it got us wondering if he'd like to be a UTS citizen, a Space Guard, or remain a space sweeper. "I like the way it is now, hanging out and living life with the crew," he says during our interview. "I think that they would always just be together; the four of them just always bantering and fighting like they always do and just living together, so I'm very happy with being a space sweeper."
ADVERTISEMENT - CONTINUE READING BELOW
Space Sweepers is now streaming on Netflix. Photos courtesy of Netflix.
Hey, Spotters! Check us out on Viber to join our Community and subscribe to our Chatbot.
Your guide to thriving in
this
strange new world.
Share this story with your friends!
---
Help us make Spot.ph better!
Take the short survey
More Videos You Can Watch
Load More Stories