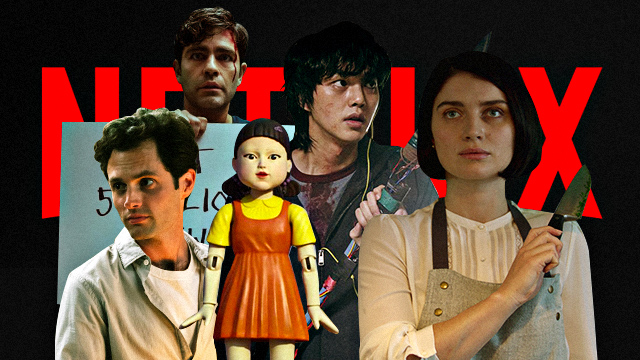 (SPOT.ph) Don't lie: Your entire body seizes up when you're watching someone in a life-or-death situation on screen—and that includes your derriere. We're sure you know that awesome sigh of relief you let go of once your fave character makes it safely past an obstacle. If you're part of the group that likes to get stressed on purpose by watching stress-inducing shows, then we got you. We listed down the best suspense and thriller series to stream on Netflix—from dark fantasy to psychological ones and more—then ranked them from least to most intense.
ADVERTISEMENT - CONTINUE READING BELOW
Also read:
Netflix's Buzzy The Guilty Was Shot While the Director Was in Isolation
Who Is the Killer? The Strange Ending of Mr. Harrigan's Phone, Explained
Keep your blood pressure in check when you watch these psychological thrillers on Netflix:
10. Behind Her Eyes
The gist: A single mom flirts with a cute guy at a bar one night, only he turns out to be her new boss, who is also BTW, married. She then enters a wild world of twisted mind games when she plays third party—and ends up befriending the mysterious wife.
Ready your buttholes: This one amps up the suspense and has a little less of the action thrills. So while you may not sweat your butt off while watching, your brain cells will definitely get a work-out. You probably heard of that insane twist when the series first dropped, and if you haven't already, then we say it's worth checking out.
9. Black Mirror
The gist: Technology = bad. People are so not ready for where it could take us.
Ready your buttholes: We couldn't not include one of the OG thrillers that changed the game for TV series! Black Mirror manages to get at least one gasp for each episode in the anthology series, and the butt-clench factor really depends on which one you're watching. At this point, we're sure you've watched at least one story from this series, whether the first two seasons produced by the U.K.'s Channel 4 or from all the expanded versions Netflix made when they picked it up in 2016.
8. You
The gist: A New York City bookstore-owner has a murderous obsession over a stranger in the first season, then things get switched in the second! No spoilers here, don't worry.
Ready your buttholes: Who'd have thought Gossip Girl would make an excellent stalker-slash murderer? Wait, actually, it does make sense. Penn Badgley makes for an excellent Joe Goldberg, your not-so-ordinary joe, and in You, he keeps the thrills by giving us Gossip Girl once more, but this time, the genuinely dangerous kind. Definitely the series to watch if you like your bad guys.
ADVERTISEMENT - CONTINUE READING BELOW
7. Sweet Home
The gist: People trapped in an apartment block fight to survive other humans that have turned into monsters.
Ready your buttholes: Ah, the end-of-the-world trope seems to be ringing even louder lately, and the popularity of Sweet Home is part of the proof. Aside from the A+ CGI and the literal fight-or-die situation the characters have to face, this series hits even harder when you realize that this isn't your ordinary zombie situation; the humans are literally manifesting into their worst traits or desires. How's that for facing your inner turmoil?
6. Clickbait
The gist: A seemingly nice guy gets kidnapped—and the moments leading to his demise are streamed online. This sends his sister, his wife, and of course the police, on a wild trail to find out who is behind the kidnapping and save him, all while trying to find out if he really isn't as nice a guy as they thought.
ADVERTISEMENT - CONTINUE READING BELOW
Ready your buttholes: Okay, so terrible title choice aside, this show delivers far better than any actual clickbait content ever could. The series keeps a fast pace as we spin in and out the online web the kidnapped Nick (Adrian Grenier) has unwittingly, or wittingly, become trapped in. Lots of suspicious characters, enough to keep you guessing until that unexpected finale.
5. The Haunting of Hill House
The gist: A family returns to a house they lived in decades ago—where yup, terrible things happened—after another tragedy forces them to finally face their deep-seated wounds.
Ready your buttholes: And you thought your family was dysfunctional. This series veers away from the usual slasher-gore horror the U.S. is known for and tells a surprisingly affecting story about a family that just can't seem to get away from their individual and collective traumas—all while keeping the haunted house trope very, very much alive. Prepare to be drawn in emotionally, and then scared shitless at the most unexpected moment. We recommend just keeping it clenched the entire time you're streaming.
ADVERTISEMENT - CONTINUE READING BELOW
4. Kingdom
The gist: It is the Joseon Dynasty and a mysterious disease is ravaging the erm, kingdom, turning its citizens into zombies.
Ready your buttholes: Kingdom is an entire full-course meal in one series. There's suspense and mystery from the disease, political intrigue surrounding the Crown Prince, complicating his investigation, and countless characters to fall in love with, and who will most probably die. Not to mention the excellent cinematography and effects! You're sure to get wrapped up in this world.
3. Money Heist
The gist: A motley crew execute the biggest heists Spain has ever seen.
Ready your buttholes: A lot happens in the past four seasons. A lot. With so many central characters, and so much at stake, this Spanish series does get complicated with more than enough things to keep you in a twist the entire time. Add in our fave unreliable narrator Tokyo (Ursula Corbero) and you'll never guess how things turn out—or even who survives. And to get you extra-stressed, the series finale drops in December, giving you lots of time to wonder how it all ends.
ADVERTISEMENT - CONTINUE READING BELOW
2. Alice in Borderland
The gist: A gamer finds himself transported to an alternate reality of Tokyo where folks must fight in complex and dangerous games in order to survive.
Ready your buttholes: If you're into puzzles—not necessarily the type where you die if you don't get it—then this is the series for you. Each episode escalates, in terms of the game being played and the clues leading to who, or what, is really behind this brutal game-world. Arisu (Kento Yamazaki) manages to use his skills as a player to advance in the game and get at the masters, only to realize that there's something much bigger at play. We only have one season so far so prepare for a cliffhanger!
1. Squid Game
The gist: Hundreds of cash-strapped folks are lured into playing brutal versions of childhood games where the stakes are very, very high: win a ton of money or die.
ADVERTISEMENT - CONTINUE READING BELOW
Ready your buttholes: The similarities have led to a lot of comparisons online but we think Squid Game comes out on top when it comes to the stress-inducing, general uneasiness factor! While Alice in Borderland feels more like it could be a massive open world RPG, something about Squid Game just feels real. The connections—and the betrayals—between the characters hit hard, and don't even get us started on the idea of the rich preying on the poor.
Your guide to thriving in
this
strange new world.
Share this story with your friends!
---
Help us make Spot.ph better!
Take the short survey
More Videos You Can Watch
Load More Stories