(SPOT.ph) Boy meets girl in uni, they get to know each other better, turns out they have a lot in common, and bam, the next part should be obvious. It's almost a perfect recipe for a power couple—except they're not really a couple. They're more of a pair with a very close-knit friendship. All those promises but without "the commitment" to stay together until the end. We know you know it. This more-than-friends setup where neither says anything about where exactly they lie in each other's lives. Not an attack, we promise. Now if you're a music lover who has gone through a lot of situationships (again, not an attack) and hugot-worthy moments, Ngayon Kaya may be right up your alley. This Paolo Avelino and Janine Guiterrez match-up has been making waves on Netflix. We round up what you need to know about this show if you're still having second thoughts whether to give this movie a watch or do a hard pass. We promise it won't hurt you that bad, at least not as bad as all your almost-lovers did. Whoops.
ADVERTISEMENT - CONTINUE READING BELOW
Also Read: 
ICYMI: This New Movie Is All About That Ambiguous Stage Between Friends and More-Than-Friends
The Yummiest Music in Town: 20 Pinoy Bands Named After Food
10 Pinoy Bands We Miss
Hit Indie Rom-Com I'm Drunk, I Love You Is Getting a Sequel
Ngayon Kaya: Everything You Need to Know
What's the movie about?
The story revolves around college classmates AM Fernandez (Janine Gutierrez) and Harold Coquia (Paolo Avelino) who formed their friendship because of a common passion: music. They stayed in that same platonic relationship until Harold decided to work abroad to support his family shortly after graduation. A few years later, he went back for a quick visit to the Philippines to attend his friends' wedding. AM happens to be in the same event because she's also their friend. From there, the duo started reconnecting and revisiting the past of what-ifs and what-could-have-beens.
What makes it worth the watch?
There are so many layers that you can find in this movie, but there are at least three that stand out throughout the show.
ADVERTISEMENT - CONTINUE READING BELOW
Recommended Videos
When it comes to relationships of any kind, the movie portrayed that differences in family backgrounds can directly or indirectly make an impact on the dynamics you have with other people. We can see this in the way AM considers Harold's feelings when confronted with different constraints (we don't want random spoilers so we'll leave it at that). Another point that Ngayon Kaya portrayed beautifully is the fact that not everyone comes from the same background not has the same circumstances. It's a good thing to communicate your thoughts and feelings well to the other people involved and not keep them guessing or making them worry. Yeah, you can say that louder for the people in the back. The movie also does a good job of being a reminder to keep in touch with the people who matter to you the most.
Songs to draw out the angst and nostalgia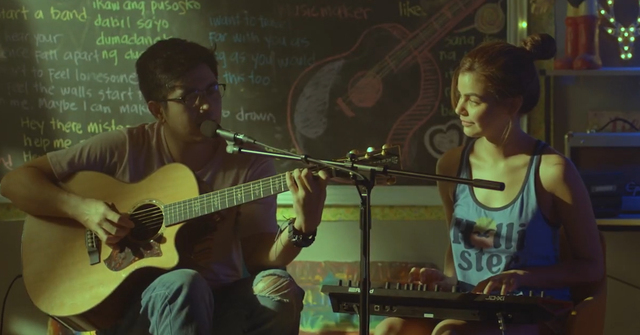 ADVERTISEMENT - CONTINUE READING BELOW
The featured bands and songs in Ngayon Kaya are well-thought-out that specific lines of each song are very much fitting of the scenes and the situations that the main characters are in. Some of the noteworthy songs we can hear in the movie include "Will You Ever Learn" by Typecast, "Jopay" by Mayonnaise, and "Bakit Part 2" by Mayonnaise.
The movie also featured a song from AM/PM (AM and Harold's two-man band) titled "Pahintulot." It's a love song, but it wasn't clear who the song is written for. You'll get some hints when you watch the movie, though.
Relatability hits
Some scenes in the movie imply that people sometimes grow apart after significant events in their lives, such as graduation or a career shift. But it doesn't have to stay that way. They can rekindle what they had by reconnecting with these people—sometimes, to start anew and sometimes, to just go for that closure that they're looking for the last few years since these people grew apart.
ADVERTISEMENT - CONTINUE READING BELOW
The movie also raised one of the most common issues that yuppies usually had to go through. The question "Which is more important, bringing food to the table or following your dreams?" has not been asked throughout the show but the events surroundings the characters' lives hint on this long-time dilemma.
If starting anew is your cup of tea, then the movie tips on not letting things be left unsaid as much as you can to avoid future regrets. Also, it gives the message to go for the things that will make you happy in the end without hesitation or fear of what other people may think. After all, you miss 100% of the chances that you don't take, so why not make the most of what you have?
Your guide to thriving in
this
strange new world.
Share this story with your friends!
---
Help us make Spot.ph better!
Take the short survey
Load More Stories