What Celebs Said About the Final PiliPinas Debate
Local celebs tuned in to the last presidential debates, and they had a lot to say.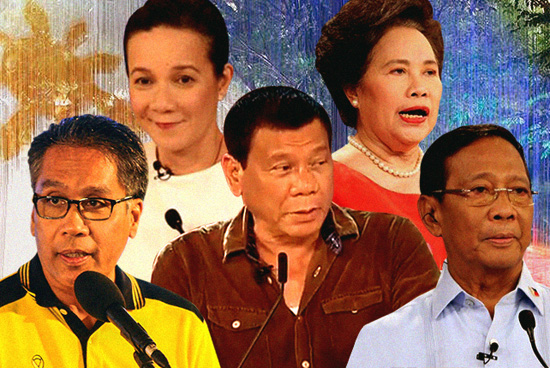 (SPOT.ph) The third and final PiliPinas Debates 2016 shed light on plenty of important issues, including Metro Manila traffic, healthcare, education, and the Scarborough Shoal. Naturally, the Internet had a lot to say—including local celebrities, who voiced out their reactions via social media. Some declared their support for their chosen candidates, while others didn't seem very pleased at their answers.
ADVERTISEMENT - CONTINUE READING BELOW
CONTINUE READING BELOW
Recommended Videos
First, there were general reactions to the debate, which ranged from the boisterous crowd (we can still hear the "on-ly Bi-nay" chants) to advice about voting:
— Dingdong Dantes (@iamdongdantes) April 24, 2016
Dingdong Dantes, actor
— Dawn Zulueta (@DawnZpost) April 24, 2016
Dawn Zulueta, actress
— Alfonso Miranda Jr (@chitomirandajr) April 24, 2016
Chito Miranda, musician
— Ethel Booba (@IamEthylGabison) April 24, 2016
Ethel Booba, comedieene
There were also reactions to issues, from contractualization (which all candidates vowed to eliminate) to traffic:
— jose marie viceral (@vicegandako) April 24, 2016
Vice Ganda, TV host
— Jim (@Jimparedes) April 24, 2016
Jim Paredes, musician
— Anne Curtis-Smith (@annecurtissmith) April 24, 2016
Anne Curtis, actress and TV host
— Tim Yap (@officialTIMYAP) April 24, 2016
Tim Yap, celebrity
Plenty of celebrities also declared their support for candidates. Others, on the other hand, expressed their annoyance. Here's what some said about Rodrigo Duterte:
— kim chiu (@prinsesachinita) April 24, 2016
Kim Chiu, actress
— SaabSaabSaabSaabSaab (@saabmagalona) April 24, 2016
Saab Magalona, musician
— Mariel T. Padilla (@marieltpadilla) April 24, 2016
Mariel Rodriguez-Padilla, TV host
They had a lot to say about Vice President Jejomar Binay:
— Bianca Gonzalez (@iamsuperbianca) April 24, 2016
Bianca Gonzalez-Intal, TV host
— Kimpoy Feliciano (@kimpoyfeliciano) April 24, 2016
Kimpoy Feliciano, musician
— SaabSaabSaabSaabSaab (@saabmagalona) April 24, 2016
Saab Magalona, musician
— Tonette, Tonette (@tonetjadaone) April 24, 2016
Antoinette Jadaone, filmmaker
— Francesca Litton (@CheckLit) April 24, 2016
Cesca Litton, TV host
A lot of them expressed concern and admiration for Sen. Miriam Defensor-Santiago:
— Mary Jean Lastimosa (@MJ_Lastimosa) April 24, 2016
Mary Jean Lastimosa, beauty queen
— Gang Badoy Capati (@gangbadoy) April 24, 2016
Gang Badoy Capati, Rock Ed Philippines founder
ADVERTISEMENT - CONTINUE READING BELOW
>— Mark Bautista (@iammarkbautista) April 24, 2016
Mark Bautista, singer
— johnoy danao (@johnoydanao) April 24, 2016
Johnoy Danao, musician
Meanwhile, other celebrities also had words to say for Sen. Grace Poe:
— Lovi Poe (@lovipoe) April 24, 2016
Lovi Poe, actress
— Jane Oineza (@itsJaneOineza) April 24, 2016
Jane Oineza, actress
— IG : @Ricochismoso (@ricorobles) April 24, 2016
Rico Robles, radio DJ
— johnoy danao (@johnoydanao) April 24, 2016
Johnoy Danao, musician
And here's what some celebrities had to say about Liberal Party bet Sec. Mar Roxas:
— carlosceldran (@carlosceldran) April 24, 2016
Carlos Celdran, cultural activist
— Juan Miguel Severo (@TheRainBro) April 24, 2016
Juan Miguel Severo, spoken word poet
— rufamaequinto (@imrufamaequinto) April 24, 2016
Rufa Mae Quinto, comedienne
— John Lapus (@KorekKaJohn) April 24, 2016
John Lapus, comedian
— KATH (@bernardokath) April 24, 2016
Kathryn Bernardo, actress
Also read: 15 Most Entertaining Moments in the Final PiliPinas Debate
Load More Stories