Good Food Sundays at Uno Morato
SPOT.ph blogger Yvette Tan's current favorite haunt is a tiny weekend market in Quezon City.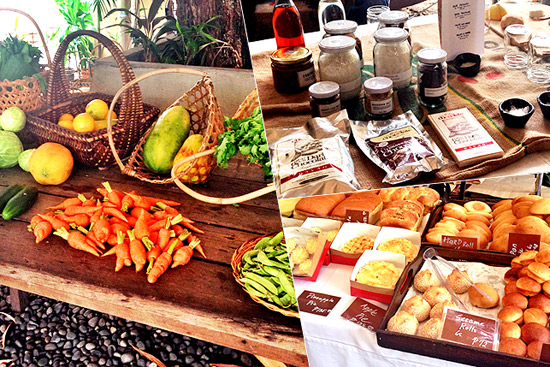 (SPOT.ph) I'm a huge fan of weekend markets. They're airy, clean, and filled with all sorts of tasty things that you can take home or eat on the spot. Manila is spoiled for choice when it comes to weekend markets. The ones in Salcedo and Legazpi Villages, for example, are always well-attended.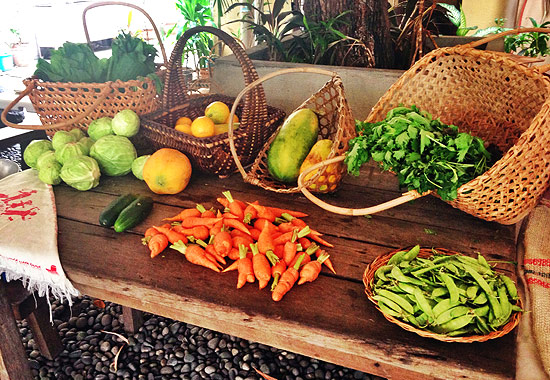 ADVERTISEMENT - CONTINUE READING BELOW
Like a small-scale version of your every-weekend market
The one that I find myself frequenting the most, however, is this tiny weekend market in the yard of the building on the corner of E. Rodriguez and Tomas Morato streets in Quezon City. Good Food Sundays is a collaboration between Uno Morato and Good Food Community, a social enterprise that connects farmers and consumers through projects like organic vegetable subscriptions and community-shared agriculture programs. "We found that what's missing is a connection with people," says Char Tan, Good Food Community's CEO. "The market seemed like a good idea to just meet face to face and share where its from, and that's how it came together. We found other people who have a sense of responsibility in their production, their ingredients. That's why we're here."
Uno Morato itself is worth checking out. On the days that it isn't running a weekend market, it's a bookstore, a restaurant, a bar, and an events space that hosts press conferences, musical performances, stand-up comedy, writing workshops, art exhibits, gaming nights, and even a small press festival. "It's essentially supposed to be a hub for Filipino culture. It highlights Filipino art in cultural and literary production...We've all been thinking about how there needs to be kind of a physical space that allows for a highlighting of Philippine culture," says co-owner Carljoe Javier.
Uno Morato's Good Food Sundays started in October 2014. The space is tiny, with each vendor selling a different product. This is intentional. "We began with an idea of what we wanted our Sunday mornings to be like, the kind of food that we wanted to be there," Char says.
ADVERTISEMENT - CONTINUE READING BELOW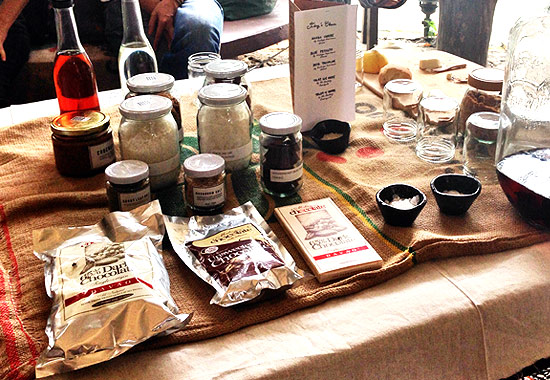 Spot the dark chocolate!
Thus, you can buy single-origin coffee from Benguet care of Kalsada Coffee, various bread and pastries from Manila Bake (they make a highly addictive honey cake), organic pork and chicken from Sambali Farms, Good Food Community's organic vegetables that vary week to week depending on what's in season, organic legumes from the Episcopal Church that Good Food Community works with, locally sourced condiments like salt and vinegar from Ritual, different cheeses from Davao-based Malagos farms (their mango chevre, sweet with the barest hint of tartness, is a must-buy) and Dumaguete-based The Goatery (Camambert, anyone?), and a variety of handmade foodstuffs like onion jam and calamansi curd (both part of my bi-weekly must-buy list), as well as the occasional grilled chicken salad from The Wandering Chew, among others. Uno Morato's restaurant is also open for silogs, calamansi pie (from Earnest Bakes, who sometimes makes an appearance alongside Chili Asylum, where you can find excellent chili jam), and the like. Everything is local or locally made, with a focus on sustainability.
ADVERTISEMENT - CONTINUE READING BELOW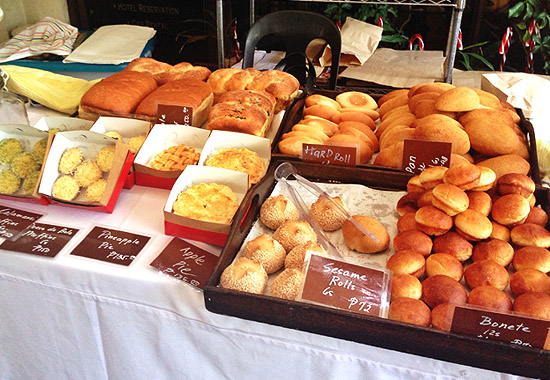 Glorious bread
I drop by twice a month, sometimes more, to stock up on essentials: salt, coffee, bread, jam, veggies, and to hang out with whoever is there. A small community has grown around the market; the vibe is friendly and more importantly, welcoming to introverts like myself. The vendors are knowledgeable about their products, and will regale you with stories and recipes, and even invite you to check out the farms the produce were grown in. "Our dream is to hopefully have cooking here as well, aside from the grilling. Have people learn how to prepare their food hands on," Char says. "We also want this place to be a platform for food makers to introduce the stuff that they've worked on and where they can share about the process. I also want to have a seed festival one time, like people bring their seeds and we can barter, that would really be fun and really educational."
ADVERTISEMENT - CONTINUE READING BELOW
Both Uno Morato and the Good Food Community place a premium on local labor, be it food, products, or ideas. "Kasi laging may event dito, lagi kaming nagugulat na ngayon lang nagkikita 'yong mga matagal nang 'di nagkikita... (at) posible pala mag-survive ang isang bookstore," co-owner Harris Guevarra says.
Adam David, another co-owner adds, "Posible pala maging isang retailer...na hindi ka nandedehado ng tao na masama...na more or less fair 'yong pinapatakbo niya for everyone concerned."
Check out Good Food Sundays at Uno Morato, Garden Area GYY Building, 1 Tomas Morato Avenue, Quezon City. Open every third Sunday of the month (8 a.m. to 2 p.m.).
Load More Stories