This chef is your go-to for potluck and small catering needs
Plus, SPOT.ph blogger Yvette Tan asks Chef JJ Viel about what it's really like to be in this tough industry.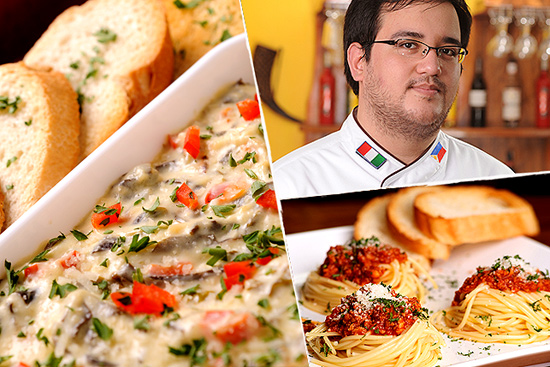 (SPOT.ph) You can take a chef out of the restaurant, but you can never take the restaurant out of the chef.
JJ Viel is a chef whose former restaurant, Cucina Rusticana Italian Restaurant, served delicious home-cooked Italian dishes, some of them heirloom from his dad's family. Sadly, the restaurant had to close, but Chef JJ managed to bounce back via Chef Giuseppe Commissario, his home-based commissary kitchen that offers party trays good for as small as six people and as big as 100, and Chef Joseph Viel Italian Street Food, a booth in the Calle Lila Street Market in Marikina, where he serves Italian street fare. He also supplies food businesses with Italian staples like fresh pasta and homemade Italian sauces.
We've all heard stories about how hard working everyone in the food industry is, and how running a food-based business can sometimes be a soul-sucking experience—though everyone is always quick to add that it's one laced with fulfillment and joy. Though the glamorization of the culinary industry has resulted in an influx of starry-eyed folks who want to try their luck in the kitchen, eventually, only the strong remain. Chef JJ managed to parlay his hotel training and restaurant operating experience into successful food businesses. They may not have the brick and mortar presence that a restaurant has, but as the chef explains, they all require the same amount of patience, grit, imagination, and heart, and the return in terms of customer satisfaction is just as sweet.
ADVERTISEMENT - CONTINUE READING BELOW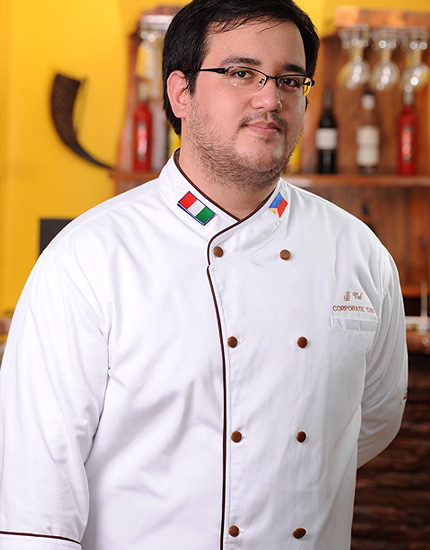 CONTINUE READING BELOW
Recommended Videos
What made you decide to leave the restaurant business and go into catering and bazaars?
It has always been my dream to start something of my own.
I achieved that dream when I opened Cucina Rusticana Italian Restaurant (in 2012). Sadly, (it) didn't last as long as I hoped it would due to internal issues. If there is one thing I learned from Cucina Rusticana, it would be that in business, one's color can change in a heartbeat.
I got into the bazaar scene mainly because after all my investments with Cucina Rusticana, I was left practically broke. I had a truckload of equipment but no cash to rebuild what was lost. So I looked for my next best opportunity. I needed a platform that could help me launch myself. That was the bazaars and party trays. My dream now is for this line of business to launch me further until I can rebuild my restaurant once again.
ADVERTISEMENT - CONTINUE READING BELOW
How is running a restaurant different from running a catering business and/or a bazaar stall? Is one easier than the other?
In terms of difference between the restaurant and a bazaar setting, I would have to say that it would just be your location and your ambiance. A restaurant offers you the pleasure of dining in an air-conditioned room with servers serving you and giving you a little special attention. The bazaar, however, is a simplified concept with (diners) going around and you doing your best to catch their attention since everyone next to you has something different to offer which could or could not tickle a customer's fancy.
As for which one is easier, amazingly, they are both equally difficult, in my opinion. The kitchen prep work remains the same, the sacrifices are the same, managing your staff is still the same. I don't think it would be fair to say that one is easier than other. It all boils down to how well you can keep your quality at its highest standards. Regardless if it is a Michelin star restaurant or a simple kiosk, good food equals returning customers. That's what makes this business difficult.
ADVERTISEMENT - CONTINUE READING BELOW
Spinach Capsicum Cheese Dip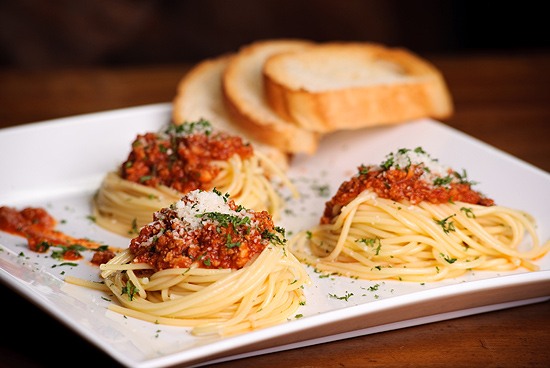 Spaghetti Bolognese
Did running a restaurant prepare you for catering and bazaars?
I believe that it did. If you can run a restaurant, then you can run a catering business or a bazaar kiosk/food-stall. As I mentioned earlier, every line of work in the F&B industry—be it a restaurant, a catering service, or a food stall in a bazaar—is equally difficult on their own terms. But setting aside the small differences, running a restaurant prepares you for the catering and bazaar life because you learn how to master your craft. You learn how to work with others and value the camaraderie that you develop in the kitchen. You learn the meaning of speed and discipline. When you have hungry customers waiting, they don't want to see a chef moving slightly faster than a turtle, if you know what I mean.
You will live by the words "Perfection in every dish sent out." That will become your mantra and if you fall short or even allow that you go below the set standards of your restaurant, then you should whip yourself for doing so. A restaurant seeks perfection and accepts nothing more than that. That is why they become known for what they specialize in. The constant aim for perfecting that dish every day is what a restaurant taught me. And that's just the kitchen side of things. Imagine working in the dining room and the administrative sector. And with all of that, I applied it to what I do now and so far, so good.
ADVERTISEMENT - CONTINUE READING BELOW
What have you learned from the experience?
The restaurant built my bones. It was like a trial by fire and afterwards, my respect for those who worked or works in the F&B industry skyrocketed.
Working in the hotel and catering sector of the industry taught me to work even faster and gave me a new set of kitchen management skills. You'd have to get used to the feeling of cooking with high-powered stove burners, lifting pots that feels like it weighs about 20 pounds, and making sure that you won't spill the hot boiling soup on yourself and others as you make that needed transport to its destination.
Lastly, working in a small kiosk in the multiple food bazaars that I have joined has taught me to be humble. What you have to understand is, normally, a chef is associated with the restaurant that they made famous. A chef is associated with the hotel that they run as the executive chef. A chef is normally associated with the catering services that everyone would pay a limb and more just to have them cater their event. These are the common things that come to the minds of many when the word "chef" is uttered. But hardly are chefs associated with a kiosk, food stall, or food truck even. And that is where and when I began to eat my humble pie. For all my mistakes in the past, it was and is through my small booth that I learned this and I reckon am still learning. I say this because some chefs, food writers, or "foodies" tend to look down on those starting from the bottom again, especially those who were once going up but fell back down. But as the French would say, "ces't la vie." Here's another slice of that pie.
ADVERTISEMENT - CONTINUE READING BELOW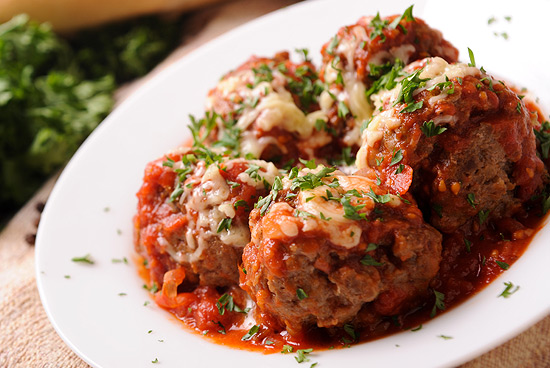 Polpette con Ragu
Please tell us about your bazaar stall and catering services.
Chef Joseph Viel Italian Street Food is located at the Calle Lila Food Market at Lilac Street, Barangay Concepcion 2, Marikina City. My dishes there are mostly Italian Street Food ranging from Arancini (Risotto Balls with Pomodoro Sauce), Potato Croquettes, various pasta dishes and desserts like the Tiramisu and various flavored Panna Cottas. Calle Lila Food Market is open daily now. The schedule is Sunday to Thursday (12 p.m. to 10 p.m.), then Friday to Saturday (12 p.m. to 12 a.m.).
Chef Giuseppe Commissario, on the other hand, is my home-based commissary and I take on party trays ranging from six people to 100 people. Please do not confuse this with a full service catering as I only provide you food packed in aluminum foil pans and are good to go. This kind of service is ideal for Christmas parties, small gatherings or get-togethers. If you need to bring something to the table, I'm the guy to contact! I do, however, require that customers pre-order at least 24 hours in advance and no more than three days beforehand with a 50% deposit for orders larger than 30 pax. The food is strictly for pick up at my residence as of the moment and I send my menu through e-mail.
ADVERTISEMENT - CONTINUE READING BELOW
(I mostly offer) Italian-themed dishes varying from appetizers, main courses, pasta dishes, and desserts, but I am still working on making the menu more diverse featuring dishes from around the world which is yet to be released.
You draw on your Italian heritage a lot when it comes to the food you serve. Are any of the dishes heirlooms?
Yes I do very much. Some of our bestsellers are heirloom recipes, like my Spaghetti Bolognese, Lasagna Al Forno, Linguine Al Pesto, Pollo Alla Crema, Saltimbocca or "Scappati."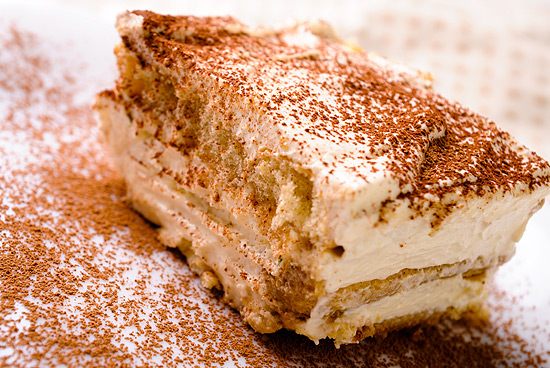 Tiramisu
Why did you choose Calle Lila Food Market?
I studied the market and was surprised at the potential it presented. Many were saying that it is the "Maginhawa" of Marikina and during a food festival held a few months back, it truly lived up to its name. The people here love to eat and Lilac apparently has earned the reputation of being the eat street of Marikina City. Marikina is not just a shoe capital anymore. Even under the rain, people would still come out and eat. Awesome.
ADVERTISEMENT - CONTINUE READING BELOW
You've had some interesting experiences as a bazaar vendor. Care to tell us the one that stands out the most?
Personally, it would have to be the rude customers. They never cease to amaze me. Some (of them) can be really cruel at times. And it would have to be these guys that made my experience more colorful (and painful) in the process of eating my humble pie. (Some of them have) a degree of pretentiousness that amazes me, yet you'd be surprised at how they'd question me why my Spaghetti Pomodoro tastes sour, and how apparently I have failed them as a chef since it should be sweet.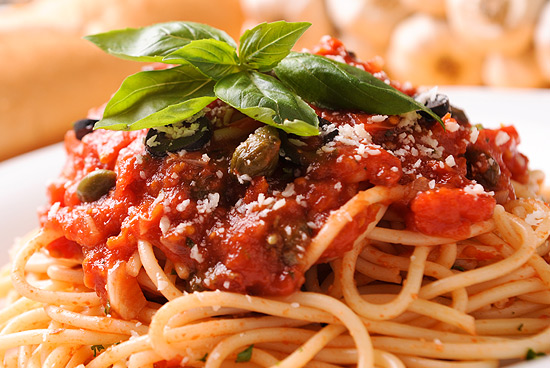 Spaghetti Puttanesca
Any advice to future vendors on choosing the right bazaar to join?
Know your product well and know the market that that bazaar would pull in. I highly encourage that you visit the bazaar that you wish to join and study all your competitors. Notice the price range, notice the setup of their booth/stalls, notice everything that your eyes can see. See if they have ample parking, see if they have any marketing strategies, notice if the crowd is just there to enjoy the place or is there to actually buy something. Buy a snack or two from one of the vendors. Observe, observe, then observe even more. More often than not, my mistakes back then were joining the bazaars half-baked and misinformed. Just because there are people, doesn't necessarily mean that they will buy from you and just because there's a crowd, doesn't mean they will remember you either. So many customers won't even remember your name, more so if it is in the wrong crowd. So know your product well and see what crowd would take interest in it.
ADVERTISEMENT - CONTINUE READING BELOW
How can people contact you for orders?
Please feel free to contact me through 0917-894-9945; chefjohnjosephviel@gmail.com; and the Facebook pages of Chef Giuseppe Commissario and John Joseph Viel.
Ordering through Chef Giuseppe Commissario needs at least a 24-hour lead time and three days for bulk orders (30 pax and above). The reason for doing so is because we only cook upon order and do not stock on ingredients to maintain the highest quality of food possible.
Yvette Tan is a lifestyle writer by day, horror writer by night. Pick up her books Waking the Dead and Kaba at select establishments. Find her on Twitter and Instagram (@yvette_tan).
---
Help us make Spot.ph better!
Take the short survey
Load More Stories