Noche Dine in the Dark shows you what it's like to eat without your sense of sight
SPOT.ph blogger Yvette Tan looks into Manila's first dine-in-the-dark restaurant.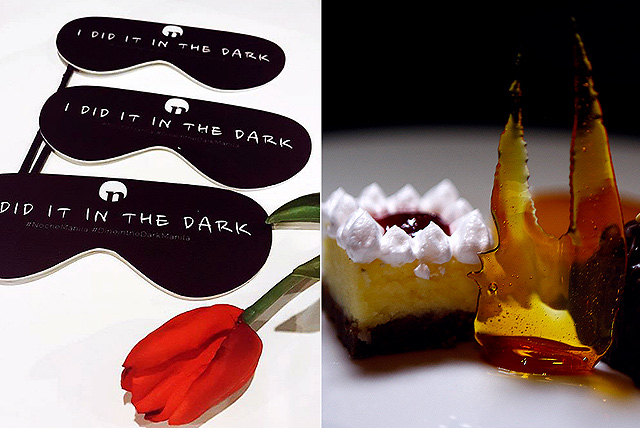 (SPOT.ph) The idea of dining in the dark isn't new overseas, but it's still a novelty here in Manila. The concept is straightforward: You eat dinner in total darkness. Of course, certain challenges are expected, like finding out what you're eating, or even making sure that what you're stabbing with your fork is a piece of meat and not thin air. On the bright side (see what I did there?), no one will see your faux pas.
Noche, Manila's first dine-in-the-dark restaurant, was inspired by proprietor Kay Lacap's dine in the dark experience in Amsterdam.
Noche is a pop-up open for dinner every Friday to Sunday at the Berjaya Hotel along Makati Avenue. Guests can choose from a two-course meal (P799), a three-course meal (P1,199), and a five course meal (P1,699). The meals are divided into three themes: meat, vegetarian, and Chef's Surprise. There are two services: 6 p.m. and 9 p.m. Diners pick the theme and number of courses they want, as well as any preferences or allergies they might have. They leave the rest up to the chef. I picked the fish dish, my friend picked the Chef's Special. Reservations are made online, though walk-ins are now welcome.
ADVERTISEMENT - CONTINUE READING BELOW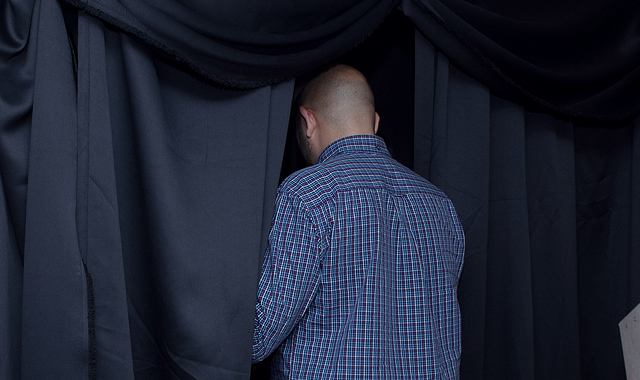 CONTINUE READING BELOW
Recommended Videos
Dining in the dark is an exercise in surrendering to the unknown. The first thing that happens when you arrive at the venue is a brief introduction on the concept. You are also told beforehand where your utensils will be. You will not know what you are eating except for what course it is, and you will have to pour your own water, 'as part of the challenge.' You are asked to pocket or turn over anything that glows in the dark. You are not allowed to use your cellphone. Noche employs a visually impaired staff. "Eight out of nine of our staff are legally blind," says supervisor William Ponce de Leon. "Most of us don't have any experience with F&B. Initially, the challenge was how to make it safe for the customers because unlike other dine in the dark places, we don't use special instruments to see inside."
ADVERTISEMENT - CONTINUE READING BELOW
You are then escorted into the dining area by holding on to your server's shoulder with your right hand and their elbow with your left, your companion doing the same to you. You go through three blackout curtains to get to the dining area, which is pitch black. You are led to your seats. Dinner begins shortly.
Noche is all about the experience. You realize that dining in total darkness is a bigger challenge than expected. For example, my head began to ache, the pain subsiding once I took off my glasses and kept my eyes closed. My unscientific guess is that my brain couldn't handle my eyes being open and seeing darkness, so it began to overload until I closed my eyes.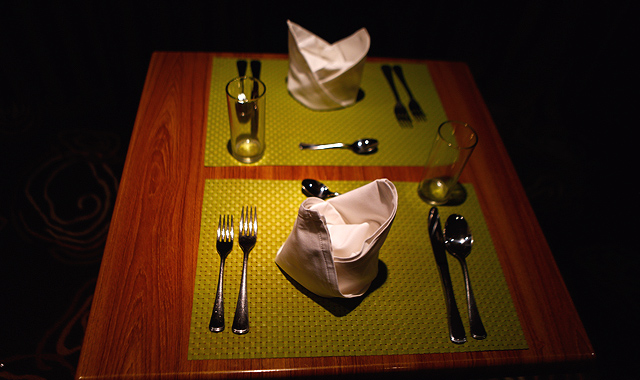 We were told that our senses might heighten, but what was unsaid was how they would go into disarray first. You fumble around, finding where everything is placed on the table. When the food comes, you strain to feel where the plate is, and what's in it. Using utensils takes practice—you don't know what you're picking up. Is it hard or soft? Should you be using a spoon or fork? Should you cut it beforehand?
ADVERTISEMENT - CONTINUE READING BELOW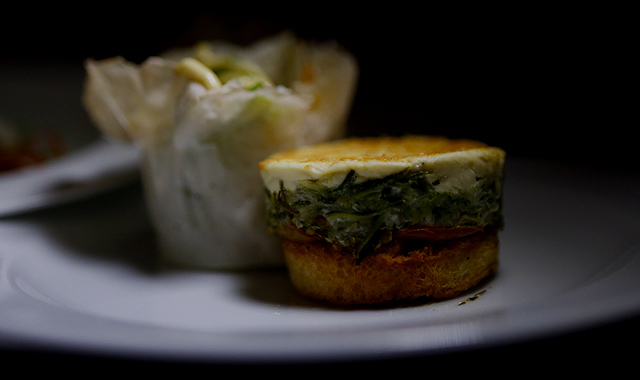 When my appetizer arrived, I used my hands—a copout, I know. It was a fried shrimp cake with sweet and spicy dipping sauce—basically street food—so I didn't feel like I was cheating too much.
The main course was grilled fish with buttered vegetables and, strangely, no starch. I tried my best to use my utensils, and while I did a good job of cutting the fish with my knife, I still had to use my hand to take the pieces and spear them onto the fork. Hey, baby steps.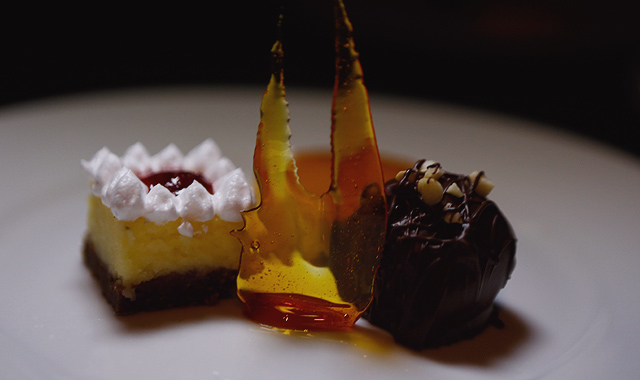 ADVERTISEMENT - CONTINUE READING BELOW
Dessert, as far as I could tell, was cake with leche flan (It would later be revealed to be mango cake, chocolate mousse, and leche flan). The mango cake would have benefitted from a splash of liquor, and a cup of coffee would have really enhanced the experience for me.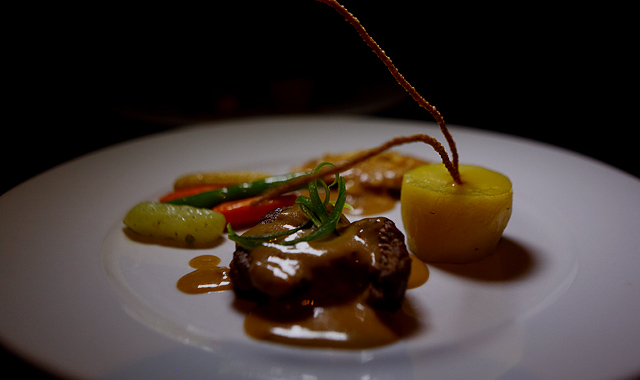 The food, which is prepared by the hotel, presents a moderate enough challenge in the dark. The menu changes every two weeks. Noche's real draw is the experience it offers. It is an experience meant to be shared with someone you are close with, as evidenced by all the happy couples that almost exclusively make up the clientele. "At first it was only supposed to be good for three months, until December; but now, we're accepting reservations until February and we're also planning to extend and open in a different site," says Ponce de Leon.
ADVERTISEMENT - CONTINUE READING BELOW
The most challenging part of the meal was not being able to look through our cellphones. My friend and I like to spend time phubbing, where we hang out physically, but concentrate on our gadgets—it's one of the hallmarks of this particular introverted friendship. This is probably why Noche is best experienced with a significant other—the walls inevitably weakened by not being able to rely on technology to keep them up can be unnerving. On the flip side, it's also a great way to get to know someone. They say that the common experience of uncertainty helps build bonds, and what better and safer way to let down your inhibitions than by having dinner in the dark, where both of you are forced to be awkward? I imagine that it would take a lot of pressure off a date, and judging by the happy smiles of the couples having their photos taken with "I survived dining in the dark" eye masks, there's a big chance that I'm right.
Ponce de Leon says that Noche has also been a good experience for him and the rest of the staff. "If you're a PWD, (people think) you cannot do a lot of things, especially serve people. If you think about it, even in a regular restaurant setting, people tend to make mistakes. Our waiters rarely make mistakes, so people are very impressed about that," he says. "The best part for us PWDs is making people realize that even if most of us really cannot see that well anymore, we can still do things that they thought was impossible before."
ADVERTISEMENT - CONTINUE READING BELOW
This part of Noche has not been lost on some of the customers. "At first they're just here for the adventure, just to experience dining in the dark room, but some of them get emotional inside. Some actually come out looking like they were crying because they realized how lucky they are that they don't have to eat like that every day," Ponce de Leon says.
If you're looking for a unique date idea, consider trying Noche. It'll give you both something to talk about, and something to remember.
Noche Dine in the Dark is at Berjaya Hotel, 7835 Makati Avenue corner Eduque Street, Makati City. For more information, log on to Noche Dine in the Dark Manila's website and Facebook page.
Photos courtesy of Noche Dine in the Dark Manila
---
Help us make Spot.ph better!
Take the short survey
Load More Stories