Laing Pasta and Mayon Stuffed Pizza Put This Bicolano Fusion Restaurant on the Map
SPOT.ph blogger Yvette Tan checks out the buzz behind Small Talk Café.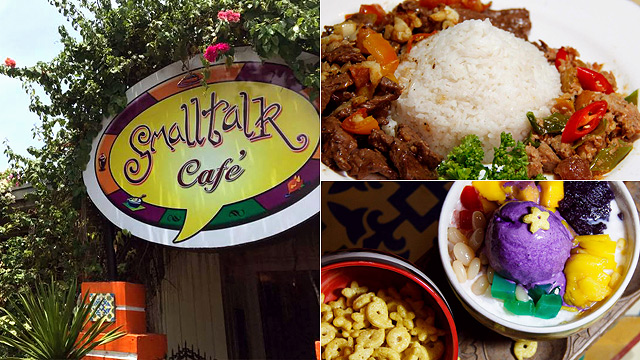 (SPOT.ph) When visitors to Legazpi City, the capital of Albay, ask where the best place to eat is, they will inevitably be directed to Small Talk Café.
Opened in 1999, the café is now an institution, a favorite hangout for locals as well as a pioneer in Bicolano fusion cuisine.
"The café started as an accident. I came home because my dad died and it was my grieving stage and I couldn't get over it, so I decided to come home to Albay. I worked with a local fast-food company here but I wasn't so happy and it was difficult to go back to Manila after being away from the corporate world for so long," says owner Dideth Peralta Factora. "I'm a food tech graduate. I worked with URC after I graduated from college...so my siblings suggested that we open a restaurant."
ADVERTISEMENT - CONTINUE READING BELOW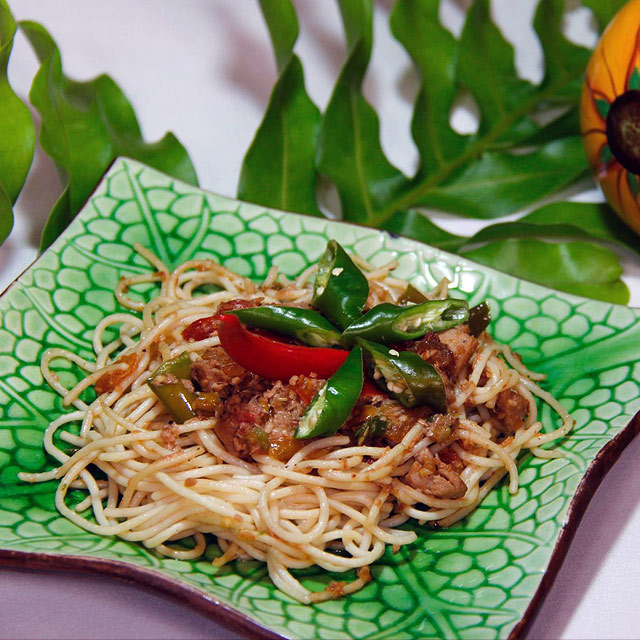 CONTINUE READING BELOW
Recommended Videos
Bicol Express Pasta
The Café was named after two things: The first, what they hoped to encourage within its walls, and the second, Factora's brother's college pen name. "When I opened this restaurant, what was on my mind was to serve the locals, people like me who was looking for a semblance of [the restaurants from] Manila because before, when I came home [in 1993 to 1994], almost all they had were here were videoke bars," she says. "What I wanted was a café without videoke, that wasn't noisy, and where you can just sit down not just for small talk, but for long talks as well. I also wanted to serve food that you couldn't find in Albay."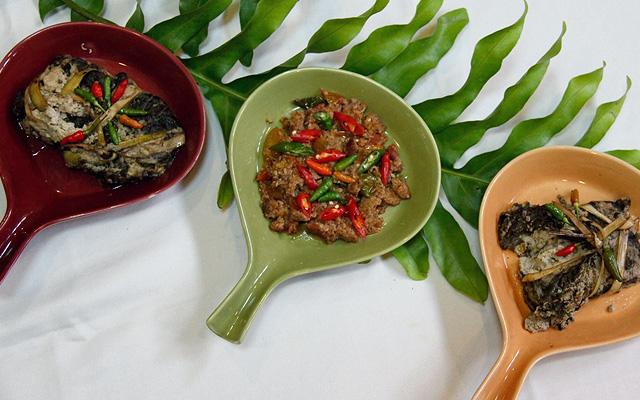 ADVERTISEMENT - CONTINUE READING BELOW
Pinangat or Laing, Bicol Express, and Tilmok
Factora was so dedicated to giving her customers a unique experience that she even used to buy beans from Starbucks to serve in the café. Back then, all the café served were Continental dishes. This changed in the early 2000s, when air travel was getting cheaper around the same time the then administration was fond of declaring a lot of holidays and long weekends. It was also the era when the area's whale sharks were slowly reaching public consciousness. "There were a lot of tourists, and we thought that we also had to capture that market," Factora says. "And since we didn't want to be a [purely local] restaurant, we thought of serving fusion dishes."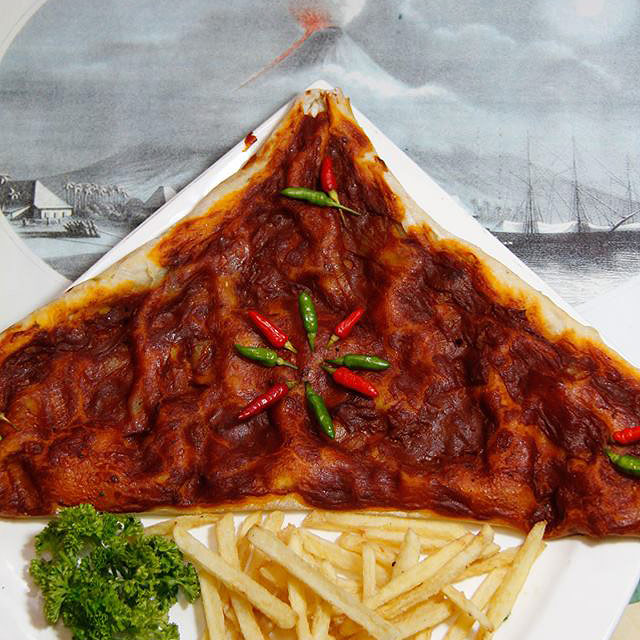 Mayon Stuffed Pizza
It was their laing pasta that put Small Talk—and the possibilities of Pinoy fusion—on the food map. The first interview came from the Philippine Daily Inquirer. After that, more interview requests came pouring in, and with that, more customers. The response inspired Factora and her siblings to create more fusion dishes, with Bicol pride front and center. Factora recommends the Mayon Stuffed Pizza, a Mayon volcano-shaped calzone stuffed with Bicol express pasta and gata that takes some time to prepare. "I call it Albay flavors in one pizza," she says.
ADVERTISEMENT - CONTINUE READING BELOW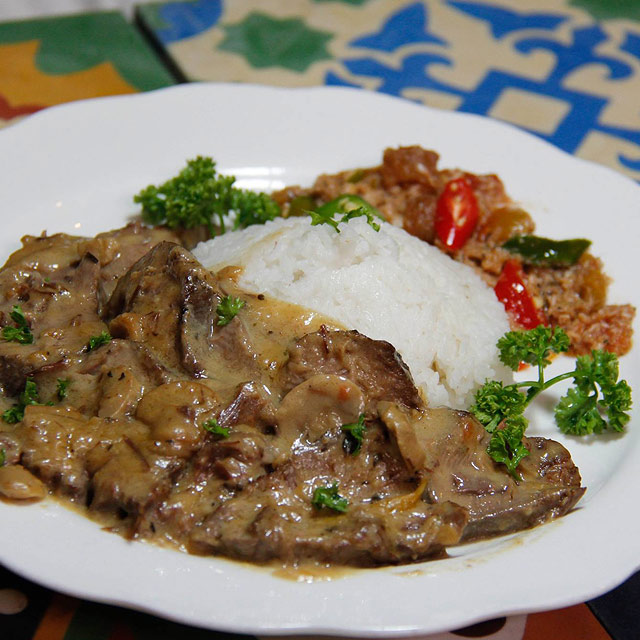 Ox Tongue With Mushroom Sauce
With the constant flow of tourists, Small Talk has decided to serve Bicolano specialties as well. Factora is especially proud of their pinangat, adobong manok sa gata, and Bicol express. "We have a local version of bopis, which we call kandinga. It's pure meat and the vinegar that we use comes from Camalig, a nearby town," she says.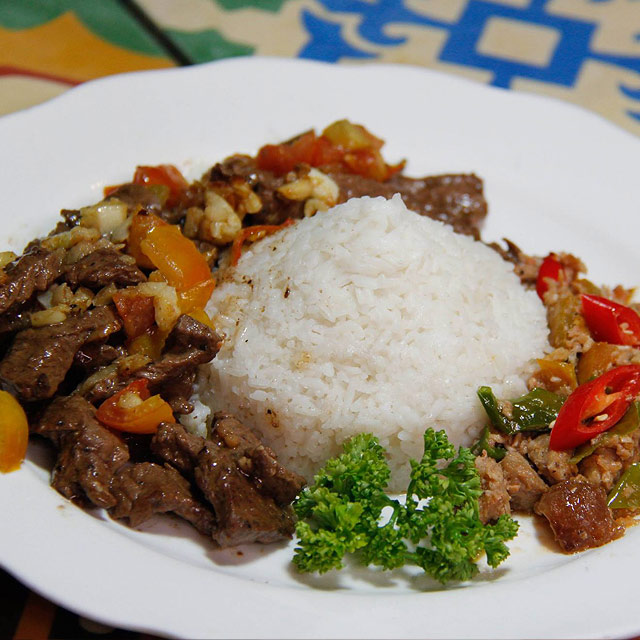 ADVERTISEMENT - CONTINUE READING BELOW
Beef Salpicao
Even though Small Talk is one of the most successful restaurants in Legazpi, Factora admits that it comes with its own set of challenges, which, thankfully, are nothing compared to its many blessings and opportunities. "Honestly, it's not much of a financial gain. I could have gained more [if I stayed in the] corporate world," Factora says. "But [someone once told me that] the reason I opened Small Talk was to make people happy. I think that's the biggest reward."
With Legazpi fast becoming a food hub, Factora is both worried about keeping afloat and confident in Small Talk's place in the local's hearts. "People think of Small Talk's dishes as comfort food," she says. "That's what assures me that we can still continue."
Small Talk Café is at 051 Doña Aurora Street, Legazpi, Albay. For more information, log on to Small Talk Café's Facebook page.
Share this story with your friends!
---
Help us make Spot.ph better!
Take the short survey
Load More Stories