Lawyer says Halili gave Kho drugs, knew of filming; Halili denies both
Katrina Halili denied allegations of Hayden Kho that she knew she was being filmed, or that she gave him the drugs he said he took while filming her.
<>Hayden Kho's lawyer Lorna Kapunan said in an interview aired on "StarTalk" yesterday, "The public is only showing the side of Miss Halili as a victim. Hayden himself is that other individual in that video who has a right to privacy. And he certainly didn't consent to his private parts being shown in public," reports gmanews.tv. Kapunan clarified, however, that she told Kho it was wrong to make the sex video because "it exploits the intimacy between two individuals."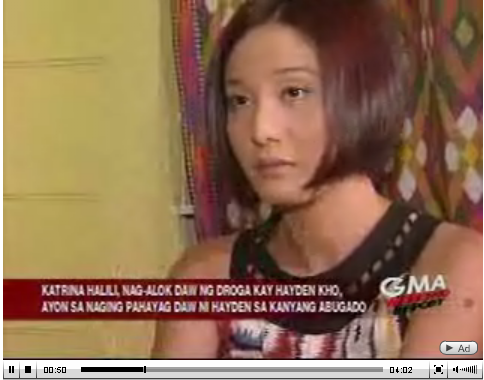 Meanwhile, Katrina Halili, through her lawyer Raymond Palad, denied allegations of Kho through his lawyer Kapunan that she supplied the drugs Hayden admitted he took while filming the video, or that she was aware of being filmed. Said Kapunan in an interview aired on The GMA Weekend Report, "He said it was Katrina that was providing him during their…when they were together, it was Katrina who brought the drugs and that it was consensual or at the very least that there was knowledge." Halili's lawyers Palad and Mamyrlito Tan said these allegations were just part of the "squid tactics" they were expecting Kho's camp to come up with. Reporter Arnold Clavio quotes Halili's lawyers as saying, "Walang matinong babae ang papayag na makunan sa ganitong kaselan sitwasyon. (No decent woman would ever agree to be filmed in such a delicate situation.)" Atty. Tan said in the GMA interview, "Pinabubulaanan po naming [ito]. Hindi po nagdrodroga si Katrina. Malinaw naman na bago dumating si Katrina e sinesetup na niya yung vbideo yung camera malinaw naman na hinaharap niya si Katrina sa camera, hinihila pa nga e so malinaw na walang kaalam alam yung babae. (We refute the claim that Katrina provided the drugs. She does not take drugs. It is clear that even before Katrina [appeared in the frame], that Hayden was setting up the video. It is clear that he was positioning her towards the camera–he was even pulling her towards it, so it is clear that Katrina did not have a clue.)" Dr. Vicki Belo is also a victim of these events, said lawyer Adel Tamano, who confirmed Friday night in a press conference the existence of a sex video involving Belo and Kho. "She had no hand in making these videos public. Tulad ng mga ibang babae dito, biktima din po siya, (Like the other women in the videos, she is also a victim),"he said.

ADVERTISEMENT - CONTINUE READING BELOW
Load More Stories