Zay hello to Zsazsa Zaturnnah
SPOT asks Zsazsa Zaturnnah who she really is under her...endowments.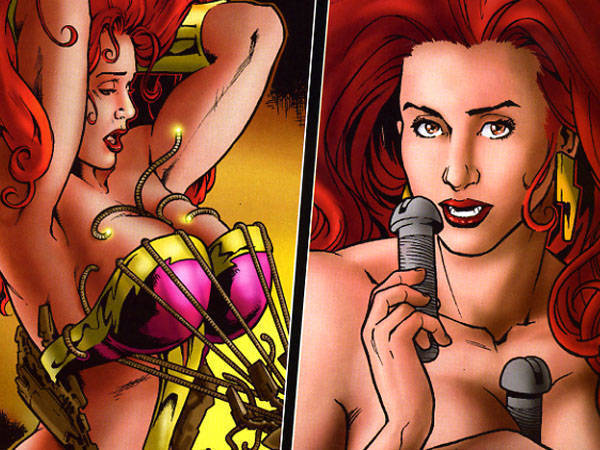 She's been played by two divas (not including the now-deceased Rustom Padilla) on both stage and silverscreen, but no one's ever asked her who she really is under her...endowments. This month, FHM Philippines uncovers Zsazsa Zaturnnah with an interview by B.A. Borleo. Here's an excerpt:
For the benefit of those who are not familiar with you, exactly where did you come from?
Ako po si Zsazsa Zaturnnah. Bakla po ako sa totoong buhay. Pero kapag nilululon ko ang mahiwagang bato, nagiging babae ako. Kung ayaw mong maniwala, lumuhod ka't amuyin mo.
Do you have a nickname? What's your full name?
Ang totoo kong pangalan ay Adrian. Pero Ada ang madalas ngayong itawag sa akin. Tapos, kapag superhero ako'y Zsazsa Zaturnnah. O kaya Zsazsa. O Zhazhing.
How do you keep your costume on while flying at breakneck speed? Have you ever suffered any wardrobe malfunctions?
Mukhang lalaki itong costume ko. Ang lakas ng kapit.
For the entire interview, check out the June issue of FHM Philippines. Meanwhile, SPOT.ph tracked down Zsazsa creator, Carlo Vergara, and asked him a few questions:
How did Zaturnnah come about?
The story really started with a "vision" of a man swallowing a large stone. Everything else just took off from there.
Why did you name her Zsazsa?
Zaturnnah didn't sound too complete a superhero name. It lacked zing. At the time I was gunning for an alliteration, a la "Peter Parker" or "Reed Richards" or "Bruce Banner," so I needed a name that started with a Z. "Zsazsa" sounded perfect with Zaturnnah. And it helped, too, that Zsa Zsa Padilla was regarded as a gay icon at one time.
ADVERTISEMENT - CONTINUE READING BELOW
Are you planning a sequel?
I've gone as far a plotting the whole story and creating 20+ pages of finished art, a sampling of which can be found on my blog (carverhouse.blogspot.com). But because I've been working on that sequel for the past five years, my creative juices have been aching to try something else. So the Zaturnnah sequel is indefinitely shelved. Artistically, the graphic novel has served its purpose for me. I'd like to believe I'll get back to it soon enough.
What's your favorite comic?
My all-time favorites include Enigma (Peter Milligan/Duncan Fegredo), Arrowsmith (Mark Waid/Carlos Pacheco) and the Chris Claremont-run on the Uncanny X-Men in the late '80s.
CONTINUE READING BELOW
Recommended Videos
What do you think a team-up between Zaturnnah and Wonder Woman would be like?
I think it would be a lot of fun, but I also think it would be a great platform to explore issues of gender. Wonder Woman was originally sent to the "world of men" as a diplomat for peace–she was an outsider on a mission, a foreigner who had to fit in and prove herself. Zaturnnah's alter ego is homosexual, also an outsider to a degree but wants to be left alone–she has no mission except that which her environment imposes on her. Wonder Woman is a hero driven by an ideal, Zaturnnah is a hero driven by obligation. So it would be interesting to see the dynamic between the two. However, given Wonder Woman's status, baka maging tsuwariwap lang si Zaturnnah.
Do you think Zaturnnah is who Ada wants to be, subconsciously?
Yes.
ADVERTISEMENT - CONTINUE READING BELOW
Paano ine-expel ni Zsazsa ang mahiwagang bato?
Isinusuka niya. It's unglamorous, pero gan'on talaga ang buhay.
Are you a gazillionaire now?
Naku, sa panaginip!
Illustrations by Carlo Vergara, from FHM Philippines June 2009
Share this story with your friends!
---
Help us make Spot.ph better!
Take the short survey
Load More Stories