This is a fake article
I had someone wiped off the face of the earth for just P250. Fast and clean--great value for money.
I had my most hated mentor killed for just P250. It was fuss-free and the customer service was excellent. An hour was all it took for the deed to be done; very little time for me to think twice.
What did he do to deserve this? Let's just say we had creative differences. I'm not going to type his name here, nor am I going to say exactly what he taught me. Past is past, as they say.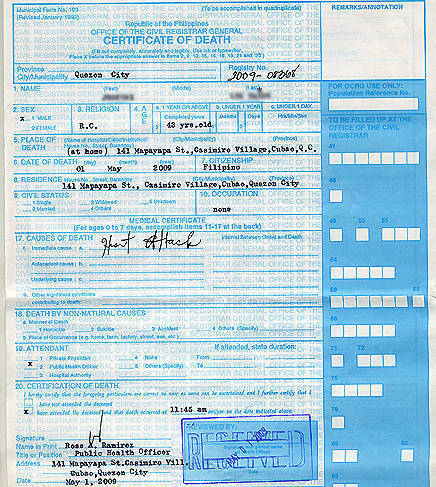 Actually, the real reason I can't divulge his identity is because he's still alive and spreading evil. I didn't chicken out; I did sign a hit on him but it was a fake one. Ah, the wonders of Recto.
Fake death certificates are just one of the treasures being peddled along Claro M. Recto Avenue. Our search for the perfect piece of forgery was like a creepy treasure hunt complete with stormy skies and eerie pirates. The fake documents were easy to find with vendor after vendor calling us over, but they turned cold when asked for permission to take a photo of their little stalls. That's when this tall, siga-looking guy popped up wherever my friend and I went. I was thinking, should I invoke parley? I don't want to be taken to the captain!
ADVERTISEMENT - CONTINUE READING BELOW
We'll never know if he was keeping tabs on us or not, but he did give us enough breathing room to ask around and buy. The most expensive ones are marriage certificates and diplomas with transcripts. Pity the marriage certificate was too expensive; I would've married Chuck Bass in an instant.
The birth certificates with baptismal certificates are about thrice the price of death certificates. Yeah, it's more expensive to be born than to die–fact of life. The death certificate I bought looks quite authentic and I even got a receipt! The receipt has no TIN, though, so who knows if there's an entire bunch of those receipts for sale at another stall?
CONTINUE READING BELOW
Recommended Videos
Recto also has driver's licenses, Professional Regulation Commission licenses and Bureau of Internal Revenue forms. Ironic that the PRC building is just around the corner, while the BIR building is just a few minutes away. The stalls also have company IDs, class cards and affidavits of loss.
We thought a fake document hunt would be exciting and dangerous, but apparently we were wrong. No raids (maybe our stalker was doing surveillance for a raid!). The vendors acted like buying fake stuff was normal and it probably is for them. They acted like a guy shadowing two girls was normal and it probably is for them too. We didn't encounter any other customers; maybe because we went on a weekday morning or because of the bad weather.
The fake documents may look authentic and cost cheap but they don't come with a get-out-of-jail-free card if you get busted. But they'll do if you just want harmless fun, e.g. death certificates that you know you'll only keep in a frame in your room, and harmless ego-tripping, e.g. marriage certificates proving the eternal love you share with Edward Cullen. Or Angelina Jolie.
ADVERTISEMENT - CONTINUE READING BELOW
Photo (homepage) from Laz'Andre Cawagas.
Share this story with your friends!
---
Help us make Spot.ph better!
Take the short survey
Load More Stories