Mourning in the time of Facebook: Yellow Ribbons for Tita Cory
Yellow fever took over Facebook as the nation mourned the passing of former President Corazon Aquino. PLUS: The monumental videos that marked the milestones in her life–and ours.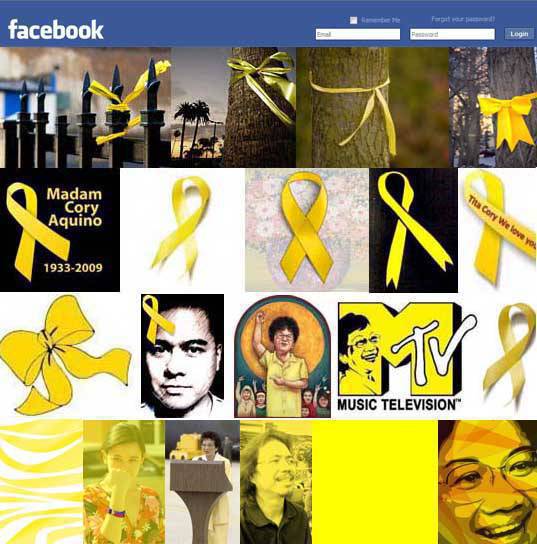 The country woke up Saturday morning to reports that former President Corazon " Cory" Aquino had died at 3:18 a.m. after a battle with colon cancer. The unassuming widow who brought a nation to topple a dictatorship led the country's first People Power revolution on February 25, 1986, that ousted then President Ferdinand Marcos from his 20-year regime. The first woman to hold the most powerful seat in the country discovered she had colon cancer in March 2008 and had been receiving treatments since then.
Immediately upon learning of Aquino's death, in an instantaneous outpouring of support in cyberspace, countless Filipinos uploaded the trademark Cory-Ninoy Aquino yellow ribbons onto their Facebook profiles and tinged their profile photos with shades of yellow to express mourning for the housewife who never thought she was a hero. In her speech at the U.S. State Department in October 1996 to accept the J. William Fulbright Prize for International Understanding, Aquino said in characteristic humility:
"I am not a hero like [Nelson] Mandela," she said, referring to the South African leader who spent 27 years as a political prisoner before becoming president. "The best description for me might, after all, be that of my critics who said: 'She is just a plain housewife.' Indeed, as a housewife, I stood by my husband and never questioned his decision to stand alone in defense of a dead democracy against an arrogant dictatorship enjoying the support of the United States."
"Housewife" was the occupation Aquino listed in her registration for candidacy when she ran against President Ferdinand Marcos in the snap presidential election he called in Feb. 7, 1986. When mocked by Marcos for her lack of experience, she admitted it, and said, "It is true. I have no experience in lying, cheating, stealing and killing. I offer you honesty and sincerity in leadership."
ADVERTISEMENT - CONTINUE READING BELOW
SPOT.ph zipped through Facebook and found many forms of expressions for the passing of "Tita Cory" (above). Videos marking the milestones of her life were also uploaded and shared:
Poem written by Senator Ninoy Aquino Jr. for Cory on October 1973.
The video that defined the 1986 People Power revolution.
The inauguration in 1986.
Former President Aquino's speech before the US congress in 1986.
Probe Productions' takes a peek into the life of Tita Cory, shown in July 2009.
Tita Cory's last interview in September 2008.

SPOT.ph wants to know: how did Tita Cory affect your life?
CONTINUE READING BELOW
Recommended Videos
Share this story with your friends!
---
Help us make Spot.ph better!
Take the short survey
Load More Stories