THE HIT LEAST #14: Your Cheat Sheet to the Hit Headlines
2. MALACAÑANG SAYS GMA's $20,000 DINNER AT LE CIRQUE PAID FOR BY REP. MARTIN ROMUALDEZ. Because we all know Leyte is one of the richest provinces in the country.
A roundup of the past week's lowlights in news and pop culture:
1. MANDATORY PERSONNEL HEAD COUNT CAUSES INADVERTENT WITHDRAWAL OF TITA CORY'S SECURITY DETAIL; AQUINOS BLAME MALACAÑANG. Poor Gloria. Venice could sink tomorrow and it would still be her fault.
2. GLORIA AND CO. SPEND $20,000 AT NY RESTAURANT DURING U.S. TRIP; MALACAÑANG SAYS LEYTE REP. MARTIN ROMUALDEZ FOOTED THE BILL. Because we all know Leyte is one of the richest provinces in the country.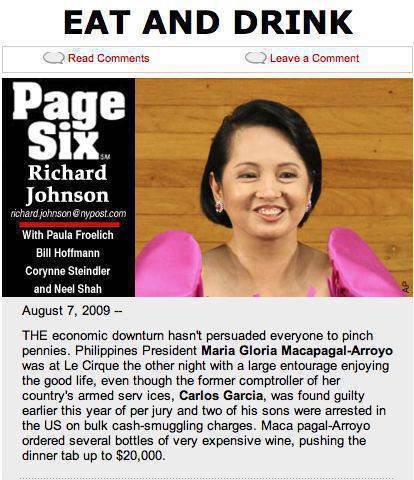 ADVERTISEMENT - CONTINUE READING BELOW
3. MAR ROXAS TELLS YES!: "SI KORINA LANG ANG NAGPATIGIL NG PAGKABINATA KO." If she can also stop those cheesy pedicab ads, I'll vote for her as President.
4. MAR ROXAS WANTS TO RENAME PARTS OF EDSA "CORY AQUINO AVENUE". Sen. Gil Puyat Ave. is still Buendia. Chino Roces Ave. is still Pasong Tamo. Maybe Mar should take his pedicab out for a spin and look for an idea that will…oh, I don't know…really help this country?
5. WILLIE REVILLAME DEMANDS THAT ABS-CBN STOP SIMULCASTING LIVE FEEDS OF TITA CORY'S FUNERAL CORTEGE WITH HIP-GYRATING GIRLS ON WOWOWEE! You know the world is coming to an end when even tactless Willie has a valid point.
CONTINUE READING BELOW
Recommended Videos
6. PAULA ABDUL OUT OF AMERICAN IDOL; CREATOR NIGEL LITHGOE SAYS "WHEN THE HISTORY BOOKS ARE WRITTEN, PAULA, SIMON, AND RANDY WILL BE THE HISTORY-MAKING TRIO OF AMERICAN IDOL." I thought history books were written about revolutions and heroes. Who knew they were about mindless reality shows and crazy judges?

ADVERTISEMENT - CONTINUE READING BELOW
7. 7-YEAR-OLD UTAH BOY HIJACKS FAMILY CAR TO SKIP CHURCH; FATHER FROM QUEBEC POSTS YOUTUBE VIDEO OF 7-YEAR-OLD SON DRIVING CAR WITH HIS FAMILY INSIDE. How cute. Now let's talk about getting a license to have kids.
7-year-old Utah boy hijacks car to skip church
7-year-old Quebec boy drives car while father films him
8. MICHAEL PHELPS AND BEIJING SECOND-PLACER MILORAD CAVIC, LANCE ARMSTRONG AND TOUR DE FRANCE WINNER ALBERTO CONTADOR ENGAGE IN SEPARATE WORD WARS. When did world-class athletes start acting like bitches?
9. DUBAI NIXES CHANCE TO STAR IN NEXT SEX AND THE CITY MOVIE. I'll have to side with Dubai on this one. Burkas and Blahniks do not go together.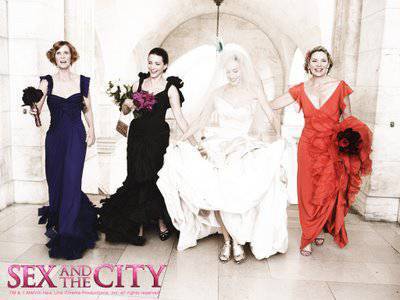 10. BILL CLINTON BRINGS TWO IMPRISONED JOURNALISTS HOME FROM NORTH KOREA. In another earth-shaking development, George W. Bush brings two books home from the library.
Share this story with your friends!
---
Help us make Spot.ph better!
Take the short survey
Load More Stories