THE HIT LEAST #16: Your Cheat Sheet to the Hit Headlines
8. MANNY VILLAR REPORTEDLY RECRUITING WILLIE REVILLAME FOR HIS SENATORIAL TICKET. Akala mo, coño, 'yun pala laking Tondo. Akala mo trapo, 'yun pala ka-tropa mo. Akala mo matalino, 'yun pala...BY ANDREW PAREDES
A roundup of the past week's lowlights in news and pop culture: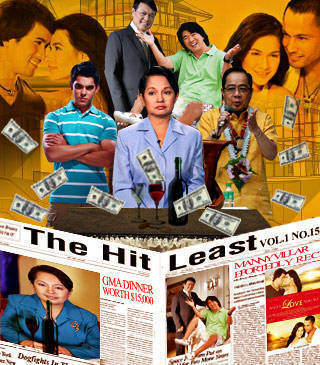 1. ANOTHER OPULENT GMA DINNER WORTH $15,000 IN WASHINGTON, D.C. EXPOSED. Obviously, nobody in this government is on a diet.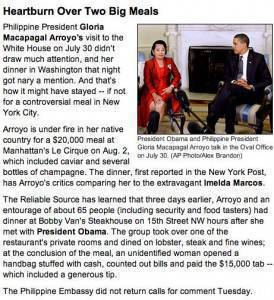 From the Washington Post, August 12, 2009
2. PHILIPPINE STAR QUOTES CERGE REMONDE IN ITS AUGUST 11 ISSUE: "WE WILL NOT GLAMORIZE THIS ISSUE ANY FURTHER. ONE, IT WILL IMPOLITE FOR THE FIRST COUPLE TO INQUIRE WHERE THEY WILL BE DINING AND WHAT WILL FOOD THEY WILL GIVEN BY THE ONE WHO INVITED THEM." Either Cerge had indigestion from his dinner the night before, or the Star's copy editors are starving.
ADVERTISEMENT - CONTINUE READING BELOW
3. STAR CINEMA PROTESTS SM'S ERRONEOUS COMPUTATION OF BOX OFFICE GROSSES, BARS SHOWING OF AND I LOVE YOU SO AT SM CINEMAS; BEA ALONZO MOVIE OPENS WITH TEPID P3.4 MILLION GROSS NATIONWIDE. Guess they should call the movie And I Love You So-So.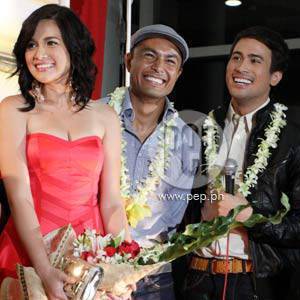 "And I Love You So" stars Bea Alonzo, Derek Ramsey and Sam Milby Photo by Noel Orsal for PEP.ph
4, DILG SECRETARY RONNIE PUNO SKIPS MIRIAM'S SENATE INQUIRY ON GOVERNMENT INFOMERCIALS AND GOES ON PANGASINAN SORTIE; SAYS NO ONE WILL SHOUT AT HIM THERE. It seems Pangasinan breeds good chickens.
CONTINUE READING BELOW
Recommended Videos
5. RICHARD GUTIERREZ TO CO-PRODUCE HORROR MOVIE WITH GMA FILMS. The working title is My Life With Annabelle.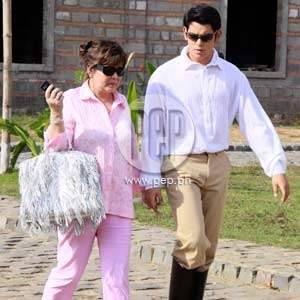 Annabelle Rama and son Richard Gutierrez. Photo from PEP.ph
6. THAI PRIME MINISTER ABHISIT VEJAJIVA PAYS PHILIPPINES A VISIT. Gloria can take a lesson from Abhisit: Your people can hate you, yet you can still rule your country. But you have to be cute.
ADVERTISEMENT - CONTINUE READING BELOW
Thai Prime Minister Abhisit Vejajiva meets President Gloria Arroyo in Davos, Switzerland
7. GMA HAS SPENT CLOSE TO P3 BILLION ON FOREIGN TRIPS SINCE 2003. Oh, c'mon! You didn't expect Gloria to split her trips between Pampanga and Lilliputia, did you?
8. MANNY VILLAR REPORTEDLY RECRUITING WILLIE REVILLAME FOR HIS SENATORIAL TICKET. Akala mo, coño… 'yun pala laking Tondo. Akala mo trapo… 'yun pala ka-tropa mo. Akala mo matalino… 'yun pala chismoso.
Senator Manny Villar's infamous infomercial
Villar guests on Wille Revillame's TV show "Wowowee"
9. BRAZILIAN LEGISLATOR AND HOST OF TRUE-CRIME PROGRAM ACCUSED OF COMMISSIONING MURDERS TO BOOST RATINGS. What? Manufacture the news to boost your popularity? That could never happen here…just ask our tabloid reporters!
News clip about Brazilian legislator/crime show host Wallace Souza
10. US WEEKLY OBTAINS VIDEO OF 19-YEAR-OLD CHANNING TATUM WORKING AS STRIPPER IN FLORIDA. Talk about the rise of the cobra! (Warning: Rated PG-13)
G.I. Joe: Rise of the Cobra star Channing Tatum in his early years
Artwork by Warren Espejo
Share this story with your friends!
---
Help us make Spot.ph better!
Take the short survey
Load More Stories