10 Questions for 2010's Hopefuls with Controversial Campaign Strategies
10 questions you've always wanted to ask the perpetrators behind 10 of the most cringe-inducing political gimmicks today.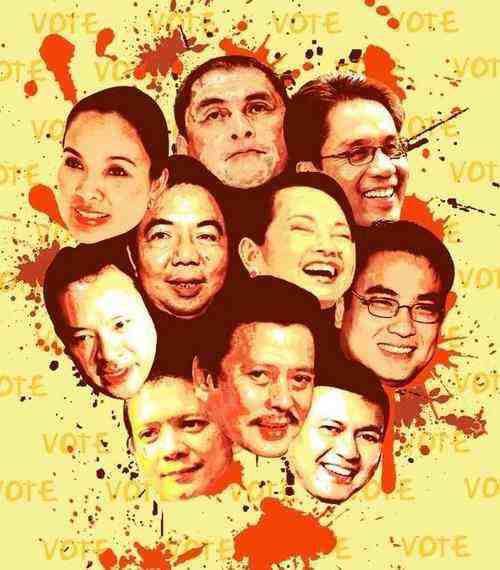 With the 2010 elections just around the corner, all sorts of publicity stunts are bombarding the airwaves, cyberspace and cellsites. Don't you just wish you could shoot these questions to the perpetrators behind 10 of the most cringe-inducing political gimmicks today?
1. Bayani Fernando
Strategy: Allegedly sends text messages to random people
"May BF ka na ba?" goes the campaign text which may or may not have come from MMDA Chairman Bayani Fernando (otherwise known as the man who turned Manila's streets pink) himself. Fernando said he wants to run for president in 2010 and even wished on his last birthday in July that his next birthday be in Malacañang. The campaign text ends with, "Sa political will, titino tayo."
The question: Are you planning to color the whole country pink?
2. Ed Panlilio
Strategy: Says God told him to do it
Priest-turned-Pampanga-Gov. Ed Panlilio says he's running for president because  God has called him to do so. Panlilio is currently on leave from the priesthood as governor of Pampanga. However, he will have to file for formal dispensation from the Catholic Church before he can file for presidential candidacy. He has said that he'd like to return to the priesthood if he loses, but Lingayen-Dagupan Archbishop Oscar Cruz says  Panlilio can never return once dispensed.
ADVERTISEMENT - CONTINUE READING BELOW
The question: You do know it's not nice to use God's name in vain, right?
3. Gilbert Teodoro
Strategy: Ride the Obama wave
Defense Sec. Gilbert Teodoro wants to do an Obama, reports inquirer.net. He launched Gibo.ph to use  cyberspace for his campaign for presidency. We're not sure what exactly he means by "do and Obama,"  but we know being allied with the administration and asking for Gloria's blessing can't be good.
The question: But who are you and what have you done to deserve being elected?
4. Mar Roxas
Strategy: Hijack a pedicab
"Anak itabi mo. Ako na," Sen. Mar Roxas tells a child pedicab driver in a commercial meant to make him  look like one of the masses. Roxas has also starred in a messianic commercial filled with overacting and underacting "real" people supposedly showing how he listens to the public. His most memorable  TV appearance entailed shedding actual tears after proposing to  broadcaster Korina Sanchez during one of the most shoot-me-now TV shows.
CONTINUE READING BELOW
Recommended Videos
Mar Roxas cries on Wowowee
The question: Will you cry in your next TV commercial?
5. Manny Villar
Strategy: Hire Boy Abunda to do a fake interview
The first of a five-part interview
In 2007, it was a ridiculous dance. This year, Sen. Manny Villar came out with a dramatic 15-minute interview complete with faraway looks by the window and poor man's tales. Boy Abunda, who thankfully didn't bring  out his magic mirror, asked, "Umiiyak po ba kayo?" Manny said, "Hindi ako yung umiiyak sa telebisyon."
ADVERTISEMENT - CONTINUE READING BELOW
The question: Was that last line a dig at another presidentiable?
6. Ramon "Bong" Revilla
Strategy: Milk a sex scandal for all its worth
Fanning the Hayden Kho flame even more, Sen. Ramon "Bong" Revilla gave a privilege speech on "A Doctor's Perversity" which led to a senate investigation on the sex videos. He also accompanied Katrina Halili, one of the stars of  Kho's sex videos, when she filed a complaint against Kho at the National Bureau of Investigation. Revilla says he isn't going to run for president but we all know a certain someone who said the same thing and look how that went.
The question: Don't you have more important issues to spend the Senate's time (and money) on?
7. Gloria Arroyo
Strategy: Bash enemies at a state function
"To those who want to be President, this advice: If you really want something done, just do it. Do it hard, do it well. Don't pussyfoot. Don't pander. And don't say bad words in public," Pres. Gloria Arroyo said in her 2009 State of the Nation Address. It's a dig at Sen. Roxas, who said p***** i** at a rally against Charter Change, which Arroyo campaigned for. It is unclear whether or not Gloria Arroyo will run for representative for Pampanga's second district after she will  supposedly step down from the presidency in 2010.
Mar Roxas cusses at an anti-cha-cha rally at Makati last year
The question: Do you ever follow  your own advice?
8. Loren Legarda
ADVERTISEMENT - CONTINUE READING BELOW
Strategy: Bring sexy back at an official state event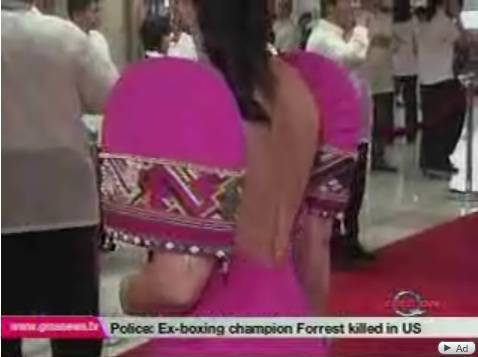 Loren Legarda hasn't said anything definite about running in 2010 but she's already dressed up for the cameras, er, red carpet. She made heads turn with the plunging, almost-backless and almost-baring-that-other-cleavage fuchsia terno she wore at the last State of the Nation Address.
The question: Have you heard of the style rule, "dress for the occasion"?

9. Joseph "Erap" Estrada
Strategy: Literally run in a TV commercial

"Erap, makakatakbo ka pa ba?" asks a jogger in Former President Erap Estrada's commercial for a brand of herbal anti-arthritis medicine (we kid you not). Erap turns to the side and gives a creepy smile  probably supposed to come off as charming. "Bakit hindi?" he answers. Maybe because as former president, he can't run for reelection? His candidacy might boil down to the Supreme Court decision but it's interesting to note that he's the only presidential hopeful that was paid, instead of being the one paying, to star in a commercial.
ADVERTISEMENT - CONTINUE READING BELOW
The question: Do you really think it will be good for the country to have you as president again?
10. Francis "Chiz" Escudero
Strategy: Post supposedly candid family photos in his Facebook page

In this photo from Sen. Chiz Escudero's Facebook profile, Chiz is oh-so-happily tossing a salad while his  wife flashes a huge grin bordering on scary. While in this photo, Chiz's son Quino looks straight at the camera, ruining the supposed candidness of the photo.
The question: Is a photo of bath time with the kids next?
SPOT.ph wants to know: What are you dying to ask them?
Click here to read "Selling the Drama: OMG, Save us from these awful political ads!" by Lourd de Veyra.
Artwork by Warren Espejo.
Share this story with your friends!
---
Help us make Spot.ph better!
Take the short survey
Load More Stories