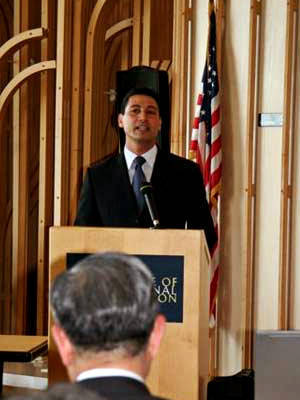 Far from spreading doom and gloom about the planet sitting on a time bomb because of global warming and climate change, social entrepreneur and 2008 World Economic Forum's Young Global Leader awardee Illac Diaz, is spending his days initiating and developing solutions to global issues with his group, My Shelter Foundation.
Former commercial model and executive for Smart Communications, Diaz is now working with several partners for a project called the Designer Village Challenge.   An international design competition aimed at finding solutions to building designs which will be both disaster-resilient and affordable, the Designer Village Challenge was launched in a press conference last June 16 at the United Nations Plaza in New York.
SPOT.ph lists down reasons why the project appeals to everyone's inner Captain Planet:
1. It's a proactive move.
According to the Global Climate Risk Index, the Philippines is one of the ten most afflicted countries in the world in terms of number of lives and property lost as a result of typhoons visiting the islands annually. Extreme weather, floods and drought are not unusual in the Philippines when strong typhoons hit our shores.
ADVERTISEMENT - CONTINUE READING BELOW
"If we think ahead of time, we can start realizing that we have to do something proactive," Illac   says. "The pattern of weather has been crazy and there's nothing to stop it unless we do something ourselves."
"We have to take responsibility, and it doesn't matter where you are: if you're in the city and you're poor, if you're in the province and you're poor, you're gonna be the first hit.   The best way to start to mitigate this is to build better architecture as the frontlines of climate change," he stresses.
2. The Designer Village Challenge brings the brightest minds together.
With the support of Governor LRay Villafuerte of Camarines Sur and working with Gawad Kalinga (GK), the United Architects of the Philippines (UAP), and My Shelter Foundation, the competition aims to find winning designs which will be the blueprint and master plan of thirty-five houses to be built in Camarines Sur, one of the areas most damaged by typhoons. From 1998 to 2008, some of the   most damaging tropical cyclones have passed through Camarines Sur.
"We have to adapt already and we can't build the same kind of structures again.   We don't have any pre-disaster architecture.   But we need it badly, and the best thing to do is put up a competition to pit the brightest minds in the world to come up with it," shares Diaz.
The top three winning designs will receive $10,000, $5,000 and $3,000 respectively and will be awarded in August 2010.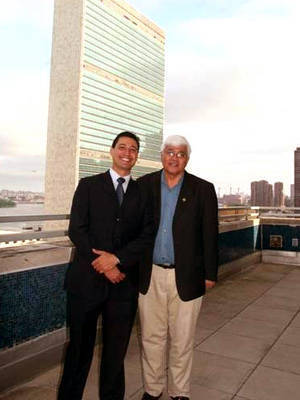 Illac Diaz with Gawad Kalinga's Tony Meloto.
ADVERTISEMENT - CONTINUE READING BELOW
3. It's an ambitious project but climate change is happening, here and now.
"Climate change is happening here and now, in the Philippines.   Storms are increasing, a lot of people are being displaced, there's a human face to climate change," Illac continues.
According to Architect Bong Recio of Gawad Kalinga, this project will be different because it has never been done before. "It is Gawad Kalinga's vision of bringing the design standards of GK homes to the next level."
A video taken during the wrath of typhoon Ondoy over the weekend.
4. We have to realize that we have to deal with climate change.
Diaz, who is passionate about shelter says, "that climate change is going to be one of the biggest challenges of this generation.
There are twenty storms every year and growing. Climate change is hitting cities that were never before hit by floods like Iloilo. If low-cost housing and schools are going to be built, instead of looking for cheaper ways to do it, we must
revolutionize this by understanding that its imperative to make them stronger."
ADVERTISEMENT - CONTINUE READING BELOW
5. It's a revolutionary project.
"If this can be done, we can create a template not only for Bicol but for the Philippines, but we can also create the whole general template for funding and institutional funding for the world," says Diaz.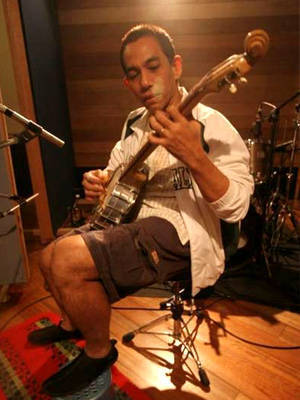 Joey Ayala records "Stand Up".
ADVERTISEMENT - CONTINUE READING BELOW
6. It's more than just a competition, it's a campaign for climate adaptability.
Diaz says that the project goes beyond the competition. They are also recording "Stand Up," a song composed by Boogie Romero of Kjwan which brings together over forty local artists, which include Noel Cabangon, Joey Ayala, Cynthia Alexander, Jett Pangan and Marc Abaya of Kjwan, lending talent to a cause   we all should be aware of.   Recording is already underway, a music video and a rockumentary is also in the works.
Diaz says it's "a climate adaptability song which says that we have to stand up and know that the world is changing and we have to be ready for the storm."
Keep posted for behind-the-scenes photos and interviews on SPOT.ph.
Click here to know more about the Designer Village Challenge.
Images by Illac Diaz.
Share this story with your friends!
---
Help us make Spot.ph better!
Take the short survey
More Videos You Can Watch
Load More Stories