2010 Election Guide: When, where, and how to register
You've got only about a month left to register for the 2010 elections. Find out what to bring and wear, where and when to go, what to do and what to remember.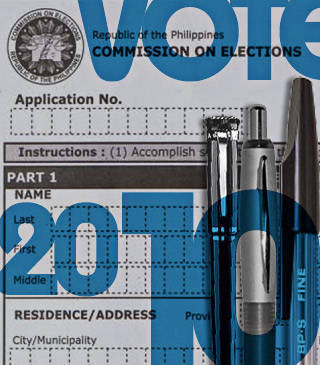 You've got only about a month left to register for the 2010 elections. Have your say in who our country's leaders should be and head to your locality's COMELEC office on or before October 31.
In the aftermath of typhoon Ondoy, the Commission on Elections announced on September 28 that voter registration in Pasig's first and second districts, Taguig and Muntinlupa are temporarily on hold. A representative from the National Capital Region COMELEC office told SPOT.ph on September 30 that Taguig registration resumed using satellite registration at Market Market! and Muntinlupa registration was relocated to the Alabang Public Market. Pasig registration is still on hold since passageways to their COMELEC office are submerged.
As of July, there are 2.7 million new voters and a total of 45,487,634 voters, reported Inquirer.net. Not on the list? Add yourself to the tally with SPOT.ph's election registration guide.
FOR FIRST-TIME VOTERS
How to qualify as a voter: You must be at least 18 years old with a one-year residence in the Philippines and six-month residence in the place where you want to vote.
What to bring: A valid ID (passport, company ID, school ID, NBI clearance, senior citizen's ID, driver's license, SSS/GSIS ID, etc.) with your picture and current address. Save yourself the trouble of finding a photocopying machine by bringing the required photocopies of the front and back of your ID. Pens may run low so better bring your own. No need to bring money for registration because registration is free.
What to wear: Depending on the COMELEC office and the time you go, registration can take from half an hour to half a day or more. Wear light and comfy clothes and shoes to be on the safe side.
ADVERTISEMENT - CONTINUE READING BELOW
Where to go: Call or visit your barangay hall and ask which COMELEC office you should go to. Your parents and neighbors might also know.
When to go: COMELEC offices are open Mondays to Saturdays including holidays, 8 a.m. to 5 p.m. New voter Katherine Lopez was the first in line when she registered in June. "I suggest people go as early as 8 a.m. so they won't have to deal with flaring tempers that usually come with long waiting periods," she says.
What to do: An election officer checks if you're not registered in other localities using the National Listing of Registered Voters. If you're cleared, fill out the Application for Registration form (the white one). Then, sign the logbook for COMELEC reference.
CONTINUE READING BELOW
Recommended Videos
Freshen up while waiting for your name to be called, because they'll be taking your photo. Next is a biometric scan of your ring finger and thumb. "The biometrics machine was not sensitive enough. I tried about three times per finger which could've slowed the line had I registered at a later time," Lopez says.
Despite the biometrics technology, old school ink might still stain your fingers since the white forms require fingerprints.
What to remember: Do not leave without getting your acknowledgment receipt, which will prove you are a registered voter. Rock Ed's Gang Badoy suggests posting the receipt which looks "thinner and less significant in appearance than parking tickets" on a corkboard so you won't lose it. Also, don't worry if your name doesn't come up in COMELEC's online registration verification because their record only includes voters who registered until June 17.
ADVERTISEMENT - CONTINUE READING BELOW
Unfortunately, the government will issue most voters' IDs after the 2010 elections. "Given that the voter's ID is not a requirement to vote, the COMELEC has stopped printing the IDs so it can focus in preparations for the 2010 polls," COMELEC spokesman James Jimenez told Inquirer.net.
"I registered way back for the 2007 elections and I still don't have my voter's ID. When I registered, the officers said there was already a backlog," returning voter Denise Fontanilla says.
FOR RETURNING VOTERS
Check the online registration verification of COMELEC to check your registration status and assigned precinct.
Deactivated registration status: Your registration status can be deactivated if you didn't vote in the last two elections or you lost your Filipino citizenship. A deactivated status can also be because you were imprisoned for more than one year, declared insane or incompetent by the authorities, or convicted of any crime against national security and of disloyalty to the government.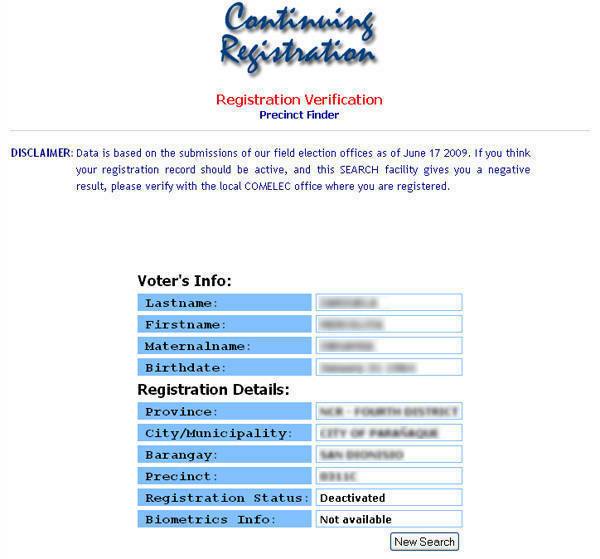 A COMELEC record with deactivated registration status and unavailable biometrics info
To reactivate your registration, fill out the Application for Reactivation of Registration Record form (the yellow one). Unless your registration status was deactivated because you did not vote for the past two elections, you also have to attach a certification or order of the court proving your grounds for deactivation no longer exist. Click here to see the yellow form (not for downloading).
ADVERTISEMENT - CONTINUE READING BELOW
If you have none of the disqualifications above and registered before June 17 but can't find your name in the online registration verification, better check with your COMELEC office. It is possible that your name may be missing because of typographical errors.
Typo errors and change of name: It may be a hassle to go back to your assigned COMELEC office but you need to correct typos to vote. To correct those, fill out the blue form or the Application for Change/Correction of Entries, which is the same form you have to fill out if you changed your name because, say, you're a woman who got married. Click here to see the blue form (not for downloading).
Change of residence: Even if you only moved a few blocks away from your previous home, you still need to fill out an Application for Transfer (the green form) if your precinct assignment changed. Click here to see the green form (not for downloading). You can check if your COMELEC record shows your new address after the quarterly Registration Election Board hearing.
No biometrics: Fontanilla had her thumbprints scanned when she registered for the 2007 elections but when she used the registration verification on September 30, she found out her biometrics were "unreadable." If, like Fontanilla, your biometrics info is not available according to the registration verification, go back to your assigned COMELEC office to have your digital signature, photo and fingerprints taken.
OVERSEAS ABSENTEE VOTING
Unfortunately, Pinoys abroad cannot vote anymore since the overseas absentee voting ended on August 31.
ADVERTISEMENT - CONTINUE READING BELOW
FAST FACTS on registering for the 2010 elections:
Deadline for registration: October 31
Operating hours of COMELEC offices: Mondays to Saturdays including holidays, 8 a.m. to 5 p.m.
What to bring: A valid ID with your picture and address, photocopies of the front and back of your ID and a pen. No payment is required.
For more inquiries, call COMELEC at 527-9624. You can also visit the official COMELEC website.
Artwork by Warren Espejo.
Share this story with your friends!
---
Help us make Spot.ph better!
Take the short survey
Load More Stories