10 Big Fights at the UAAP
In honor of Finals Game 3, SPOT.ph looks back on 10 UAAP incidents where push came to shove.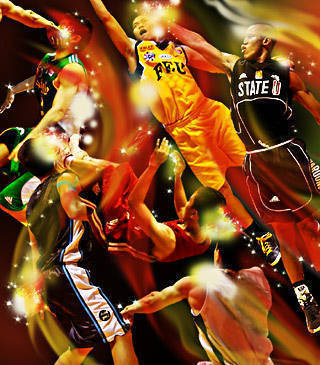 Before the University Athletic Association of the Philippines (UAAP) brawls, there was an era of blood and gore, spit and stitches, punches and tagaan. "Matindi noong araw. No holds barred. Habulan ng taga sa Araneta," said Tessa Jazmines, veteran sportswriter and president of media relations company Larc and Asset that handled the UAAP for two consecutive years.
Meanwhile, in the National Collegiate Athletic Association (NCAA) league, which preceded the UAAP and used to house current UAAP teams, there were "bugbugan blues," as Jazmines put it.
With so much physical contact, adrenaline and competition in a basketball game, it's not surprising that some games get a bit heated. SPOT.ph looks back on 10 UAAP incidents where things got a little too rough.
1. Attack of the bangko
Rico Maierhofer of the La Salle Green Archers whacked Mark Borboran of the University of the East Red Warriors hard on the head during the last game of the 14-0 elimination round sweep of the Warriors in 2007. As Maierhofer raised his hand to acknowledge the foul, Borboran's teammate Mark Fampulme confronted Maierhofer, leading to jeering and shoving between the two teams in front of the La Salle bench. Coaches and referees rushed to separate the teams but they were just not fast enough. Somewhere in the confusion of green and red, Archer rookie Brian Ilad, who was on the bench, punched the back of Fampulme's head.
An onslaught of fouls followed: unsportsmanlike foul for Maierhofer, technical foul for Fampulme for taunting, technical foul on both teams and finally, a disqualifying foul on Ilad. The UAAP board later suspended Ilad for five more games, which meant the end of the season for Ilad.
ADVERTISEMENT - CONTINUE READING BELOW
Ilad was drafted by team Bacchus of the Philippine Basketball League (PBL) last April, while Maierhofer is now playing for PBA's Purefoods and Borboran for Alaska.
2. One ugly fight
A nudge, a punch and a kick–the bench-clearing incident between Ateneo and La Salle in a 2003 final four game had all these and more. Players shoved each other and coaches tried to break up the fight amidst persistent whistled warnings from the referees.
The fight started when Blue Eagle star player LA Tenorio punched Archer Jerwin Gaco after Tenorio lost the ball. Gaco retaliated by nudging Tenorio, leading to a fight that took the referees more than 10 minutes to stop. During the fight, Archer Ryan Araña kicked Blue Eagle Wesley Gonzales from behind, which earned Araña a one-game suspension. Also slapped with suspensions were Ateneo's Tenorio, Christian del Rosario and coaching staff Bob Marquicias, and La Salle assistant team manager Manny Salgado.
CONTINUE READING BELOW
Recommended Videos
La Salle forced the game into overtime and won, 76-72. The next Ateneo-La Salle game was rescheduled to allow the teams and fans to cool down.
Tenorio now plays for PBA's Alaska, Ryan Araña for Rain or Shine and Wesley Gonzales for San Miguel, while Gaco is being considered for the ASEAN Basketball League to be launched on October 10.
3. One ugly aftershock
Though the game following the ADMU-DLSU bench-clearing fight in 2003 was rescheduled to cool down the tense atmosphere, the blue and green camps clashed again during the following game.
ADVERTISEMENT - CONTINUE READING BELOW
"The two teams almost came to blows at the passageway leading to their respective dugouts during the break with bottles of mineral water being thrown and a shoving and shouting match ensuing between the two camps," reported Philstar.com.
After the buzzer, Blue Eagle Wesley Gonzales, who was kicked by Archer Araña in the previous game, confronted Archers Jerwin Gaco, who was punched by Blue Eagle LA Tenorio in the previous game, and Joseph Yeo at midcourt.
La Salle alumni and former Ateneo players like Andrew Cruz, Sonny Tadeo, Rainier Sison, Chris Quimpo, Jeck Chia and Enrico Villanueva along with former La Salle player Rafa Dinglasan were involved in a scuffle behind the Ateneo bench afterwards.
4. When the manager is hard to manage
Seconds after the Far Eastern University Tamaraws beat the Green Archers, 75-73, in game one of the 2005 finals, La Salle assistant team manager Manny Salgado struck FEU's Arwind Santos on the head. "Salgado ran for safety as the FEU star forward threatened to retaliate. FEU head coach Bert Flores had to be restrained as he tried to get his hands on Salgado," reported Philstar.com.
Before punching Santos, Salgado stepped in between Santos and Archer Joseph Yeo who were having some words. "I was there to pacify them, there was too much thrash talking. I was trying to break them up but [Santos] said something I didn't like and I lost my cool," Salgado said.
Salgado issued a public apology but that didn't stop the UAAP board from perpetually banning Salgado from watching all the UAAP games. He no longer works for La Salle, according to Jazmines. Meanwhile, Santos now plays for San Miguel in the PBA.
ADVERTISEMENT - CONTINUE READING BELOW
5. Ready, set, fight!
Archrivals and "titans of trashtalking" Wesley Gonzales of Ateneo and Mac Cardona of La Salle "slugged it out" at the Araneta Coliseum's south gate in 2002, according to Christian Soler of inboundpass.com.
"I told Wesley to just finish whatever needed to be finished. So I let him get it on with Cardona," Ateneo Coach Joel Banal said when Soler asked about the fight.
Cardona now plays for Talk 'N Text of the PBA and Gonzales for San Miguel.
6. The coaches strike back
It was a case of he said, he said when coaches of archrival schools Ateneo and La Salle went head to head during the finals series of 2001. The coaches "hurled sarcastic, spiky remarks at each other" during interviews at the Araneta Coliseum press room after Ateneo beat La Salle in game two, forcing a do-or-die game three, according to Philstar.com.
Ateneo Coach Joe Lipa complained about the "lapses in the officiating" and said he didn't "believe that [the Archers] were in hospital beds" before the game. He earlier slammed the UAAP officials, saying he was disgusted at the officiating and citing allegedly bad calls like Archer Carlo Sharma's closed fist punch at Blue Eagle Rich Alvarez, which went unnoticed. Sharma was later suspended upon review of the tapes.
Over at the green side, Coach Franz Pumaren blasted what he thought were unfair calls and too many free throws given to Ateneo. He also said the officials did not listen when he "told them that what Enrico Villanueva [of Ateneo] did on Manny Ramos [of La Salle] (also in Game One), a karate chop, was even more dangerous."
ADVERTISEMENT - CONTINUE READING BELOW
La Salle later took home the crown when they beat Ateneo, 93-88. Lipa is now UAAP commissioner and Pumaren continued to coach La Salle until this season. However, it was reported on October 7 that he resigned to run for a local position in 2010; his brother and former UE coach Dindo Pumaren will take over effective January 1, 2010.
7. Here's the kicker
After Blue Eagle Bacon Austria fouled Archer rookie Joshua Webb in the first Ateneo-La Salle game of the current season, Webb retaliated by kicking Austria when they were down on the floor. Webb was slapped with an unsportsmanlike foul for the kick, an unfortunate blemish on his standout game where he scored a career-high 26 points.
The UAAP season is over for Webb and the Archers as they missed a final four slot for the first time since the UAAP used the final four format. On the other hand, the Blue Eagles will battle it out with the UE Red Warriors for the championship.
8. Shove it
It rained fouls in an almost bench-clearing incident between the National University Bulldogs and UP Fighting Maroons during their second game this season. In the midst of the heated game, Miggy Maniego of UP and Joseph Terso of NU got into a shoving scuffle, while Terso's teammates Jewel Ponferrada and Jerome Tungcul joined the two.
"Our emotions just got out of hand; we were too passionate to win. I'm just really competitive. I don't want to be pushed around. It's just part of the game and what happens in the court, stays in the court," Maniego told SPOT.ph.
ADVERTISEMENT - CONTINUE READING BELOW
Ponferrada and Tungcul were disqualified from the game for leaving the bench while Maniego, Terso and Bulldogs Coach Manny Dandan got technical fouls.
The Maroons beat the Bulldogs, 78-76. Maniego was the second highest scorer of the game with 15 points following Martin Reyes' 17 points.
9. A sucky sucker punch
After being on the floor for only a few seconds, Marco Cam of the UST Growling Tigers "sucker punched" Alvin Padilla of the UP Fighting Maroons in their second game this season. "Makes you wonder what Cam has for Padilla," UAAP commentator TJ Manotoc said. The closed-fist punch meant automatic ejection from the game for Cam who was also slapped with a suspension.
Padilla was the second highest scorer of the game with 21 points but UST ended up winning, 93-88. The Tigers placed fourth overall while the Maroons tied with the National University Bulldogs for last place with three wins and 11 losses.
10. A "heckler" banished
Marring the nail biter 65-64 win of Ateneo against archrival La Salle in 2007 was the announcement of a two-year ban slapped on an Ateneo alumnus. After Ateneo beat the UST Growling Tigers 69-64 in a previous game, "Raffy Dayrit nearly came to blows with league commissioner Ed Cordero at courtside," reported Inquirer.net.
Dayrit was described in atenista.net forums as a "heckler" who had no problems telling UAAP officials what he thought of the officiating. "Ed Cordero himself challenged Dayrit to a fist fight inside the coliseum while the game was still ongoing… Dayrit, to his credit, did not respond to their challenge," wrote fellow Ateneo alumnus Ramon Paterno to Inquirer.net.
ADVERTISEMENT - CONTINUE READING BELOW
"I categorically deny having physically and verbally abused Commissioner Cordero… The ban on me was made…without allowing me to personally present my side," Dayrit said in an open letter posted on atenista.net.
Artwork by Warren Espejo.
Share this story with your friends!
---
Help us make Spot.ph better!
Take the short survey
Load More Stories