Ria Limjap: Escolta Encounters
SPOT.ph blogger Ria Limjap takes a tour through Escolta in all its old glory.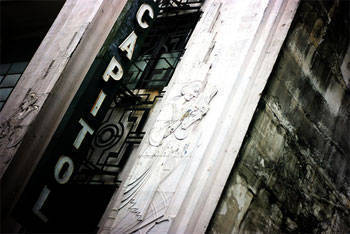 My weekend was Escolta-themed: Friday afternoon I caught a screening of Nick Deocampo's documentary Cine > Sine which traces the influence of Spanish culture in Philippine cinema. Deocampo builds a virtual world using three dimensional animation, historical footage, old photographs, and newspaper notices to recreate fin de siècle Manila, a vibrant city on the brink of revolution and a new century. Turns out the first ever screening in the Philippines was presented by a Spaniard named Francisco Pertierra, who presented a program billed Espectaculo Cientifico de Pertierra in a listening salon at Numero 12, Escolta. It cost a few centavos to sit on a bench, a few more for a chair.
And then on Saturday, Carlos Celdran was doing one of his famous downtown walking tours. "I'm trying a new route," he said. Here was my chance to walk down Escolta and wonder where Señor Pertierra showed his film. I decided to tag along.
ADVERTISEMENT - CONTINUE READING BELOW
(Carlos promised to bring me to this hole-in-the-wall restaurant called Singaporean Hainanese Chicken Rice where they serve–you guessed it, Singaporean Hainanese Chicken Rice. It's on Tomas Pinpin and the chicken is amazing. It's worth noting that there are several food stops sprouting on Escolta. There's Polland Café on the corner of Yuchengco, where the hopia is always fresh and it's nice to sit and watch the kalesas. Then there's Escolta Ice Cream Bar, an honest-to-goodness ice cream parlor that serves sundaes, cones, and short orders. Uno Seafood Restaurant on the ground floor of Calvo Building looks like a promising place for good Chinese. That art deco beauty, the Capitol Theater, was also supposed to become a Chinese restaurant, but it remains sadly gutted and unfinished.)
CONTINUE READING BELOW
Recommended Videos
As I wandered around Escolta, I tried to picture the sad old street at the height of its glory: luxury department stores that sold diamonds and imported goods, fancy rooftop night clubs like Luisa's where the bright young things of Manila society went to dance and mingle. The length of Escolta was the prime commercial area of the city; in its heyday it must have been fabulous.
Deocampo's documentary, which he calls a "first in a series of ten" about the history of Philippine film, starts off in Escolta. An award winning filmmaker and passionate educator, Deocampo fuses historical facts with clips from classic Filipino films to illustrate the far-reaching influence of Spain in our culture. (Do you ever wonder why the mata pobre upper crust contrabida is usually tisoy?)
ADVERTISEMENT - CONTINUE READING BELOW
Audience literacy is Deocampo's goal: that is, educating the audience about film and at the same time raising questions about our identity, both national and personal. "We all have stories but can't remember it anyway," sang Nina Simone. We should bother to find out what they are. Our stories are written on our streets, faces, and films if only we choose to look deep but not so far.
Nick Deomcapo's book Cine: Spanish Influences on Early Cinema in the Philippines is available at National Book Store.
***
P.S.
The schedule for CinemAlexis was moved to accommodate relief efforts but here's the new schedule. All screenings at Mogwai Cinematheque in Cubao Expo.
October 12, selection by Philbert Dy, 9 PM Kulay Dugo ang Gabi directed by Gerry de Leon.
October 13, selection by Lyle Sacris, 9 PM Selected works from Matthias Müller, Film and Video 1989-2004.
October 15, selection by Quark Henares, 9 PM Chungking Express directed by Wong Kar-Wai.
October 16, selections by Chris Costello, 7 PM   Francesco Guillare Di Dio directed by Roberto Rossellini, 9 PM Mouchette directed by Robert Bresson, 11 PM   Sunrise: A Song of Two Humans directed by   F.W. Murnau.
October 17, selections by Erwin Romulo, 7 PM Biyaya ng Lupa directed by Manuel Silos, 9 PM Signos directed by Mike de Leon, 10 PM Batch '81 directed by Mike de Leon.
Photo (Capitol) by Mike Rosales

Share this story with your friends!
---
Help us make Spot.ph better!
Take the short survey
Load More Stories