Tweets of the Week: Ping Medina, Demi Moore + more
Ping Medina wants to portray Manny Pacquiao, Ruffa, Pia Magalona and Bianca King react to the Manny-Krista scandal, and Demi Moore and Perez Hilton fight.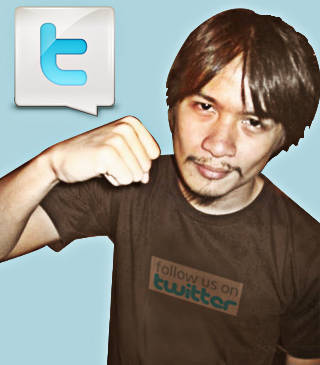 Ping Medina
Gang Badoy, Rock Ed founder: Overheard at the MiniStop: "Sana hindi gamitin ng kahit na sinong kandidato si Efren, no?" (I say these 4am philosophies are publish-worthy)
Carlos Celdran, performance artist: says OMG. Leave me alone. So I support Gibo over Noy. BIG deal! Pareho naman silang Cojuangco at the end of the day. Konting perspective pls.
Drew Arellano, TV host: You know what's sad? This Maguindanao Massacre will be next week's pambalot ng daing :s
Ping Medina, actor: Sana next movie ni Manny Pacquiao ako ang gaganap na Pambansang Kamao.Bagay naman diba? Wapakman! http://twitpic.com/qlzv9
Ruffa Gutierrez, actress and TV host:
- Curious to find out what Jinkee Pacquiao sent Kris via text? My lips are super sealed! This much I can say: Jinkee didn't sound too happy.
- A woman who falls for a married man will never realize how much pain & anguish she has caused until she has a family of her own.
- Hellooowww I never mentioned any names. Don't put words in my mouth gossip girls! :) My last post was a personal thought. K? :)
- Anyway LIVE and LET LIVE. We can all co-exist in this world without intentionally hurting others.
ADVERTISEMENT - CONTINUE READING BELOW
Bianca King, actress: will you watch wapakman considering whats been coming out on the news lately? (hey... im in it! and i kick butt in a bikini!)
Pia Magalona, celebrity mom: Everybody giving their opinion on Manny-Krista: KNOW that YOU'RE contributing to the PROMO of their movie. Don't be suckered! #fb
Neil Patrick Harris, actor: Listen gang, not all of these teets will be for comedy. Sometimes I have actual things to say. Charity is important. I've always said, "Nev
- Oops. Tweets. W. t-W-e-e-t-s. My bad. Teets are different. They are ALWAYS used for comedy... Apologies.
CONTINUE READING BELOW
Recommended Videos
Actress Demi Moore vs. gossip blogger Perez Hilton over Moore's alleged retouched magazine cover
- Moore: Here is the original image people my hips were not touched don't let these people bullshit you! http://twitpic.com/q4v70
- Hilton: @mrskutcher Your hip may not have been retouched, but the rest of you was definitely enhanced with Photoshop! Don't front!
- Moore: I love the pic and can only say I wish I had good lighting like that following me around all day!! Haha
- Hilton: @mrskutcher It's more than just good "lighting" sweetie.
- Hilton: @MrsKutcher Back to you, Demi http://bit.ly/3ngbfd
- Moore: I am saddened to think how much pain he must live in & clearly his actions scream how much he just needs to be loved! RT @Mr_McClane: I think @perezhilton hates @mrskutcher so much is because he knows he will never be as classy as she is. He is an embarrassment to humanity!
- Hilton: @mrskutcher I am saddened to think how humorless you are. I'm just living my life - cuz I'm a paper chaser! My life, my life!
ADVERTISEMENT - CONTINUE READING BELOW
Artwork by Warren Espejo.
Share this story with your friends!
---
Help us make Spot.ph better!
Take the short survey
Load More Stories