�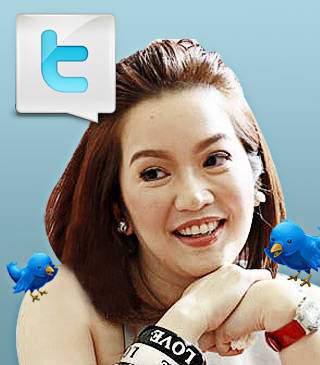 Kris Aquino
Kris Aquino, TV host and actress:
- My sister Pinky so funny - when she saw me in the hospital, first she said, "Krisy, your lips so pale! Maybe because never see you with no..
- ...lipstick. But why do you have false eyelashes while confined?". I said, they are lash implants. By the way, bukol in back of my head...
- ...still half a tennis ball size.
ADVERTISEMENT - CONTINUE READING BELOW
Claudine Barretto, actress: Omg! Can't believ way jamby madrigal sed about juday! She shud b thankful SHE WOULDN'T hav WON IF IT WERE NOT FOR JUDY ANN SANTOS!!
Adel Tamano, lawyer and senatorial candidate:
- I want to make a formal apology to Senators Bong Revilla and Jinggoy Estrada for my comments on Mo's show. They are both good guys and...
- ...I crossed the line. I was an idiot and mean to question their intelligence. I'm sorry.
Mo Twister, DJ and TV host: Any 9's or 10's of the female persuasion willing to spend the night at my house to check if I snore? It could be a serious medical problem.
Assunta de Rossi-Ledesma, actress:
- 2003 to 1st quarter of 2004 I was doing 4 shows- 3 in ABS and 1 in GMA, plus 1 movie under Star Cinema.
- After my '04 church wedding, that's when everything went to hell. No renewal of contract, no income for 6 months.
- I don't know if I should've fought for a contract or what. Anyway, I'm still paying for it until now. Thank you very much.
- It's been 6 years already. Parang kahapon lang. It still pains me until now. It's very, very painful. I wouldn't wish it on my worst enemy.
- What's important is I chose to forgive. but it will take a long time for me to forget. It will always be that little chip on my shoulder.
Julius Babao, broadcaster:
- Bwisit na nga tayo sa mga unecessary road projects ng DPWH sa EDsa, nakisali pa itong weeklong Edsa celebration.
- Well what can I say, its election season, daming gustong UMEPAL!
Rico Blanco, singer-songwriter: Edsa situation clearly manifests politicians blatant disregard f basic rights (not evn welfare) of d general public. People power my pwet.
Saab Magalona, actress:
- Mom and tita Maricar are so bad, eating macaroni salad while I'm sipping on my lemonade. My 7th glass today. *_*
- Ok I quit this master cleanse diet. I'm going on a regular diet. Mom says I don't need it. K mom knows best (its so nice to have an excuse)
Paolo Valenciano, musician: is staring at the official melason facebook page. i wonder if my friends would judge me if i clicked "become a fan".
Isabelle Daza, model: So a waiter asked to take a picture with me. And kissed me on the cheek. Should I feel flattered or was that inappropriate? I'm so awkwaard!
ADVERTISEMENT - CONTINUE READING BELOW
Artwork by Warren Espejo, photo by Noel Orsal of PEP.ph.
Share this story with your friends!
---
Help us make Spot.ph better!
Take the short survey
More Videos You Can Watch
Load More Stories