20 Most Unique, Like-Worthy Facebook Fan Pages
Scratch "you are who your friends are." These days, you are what your fan pages are.
Gone are the days when only celebrities, merchandise and restaurants got fans on Facebook. These days, even sentiments and idiosyncrasies get their own 15 minutes of fame with Facebook's handy page-making tool.

1. "Wala akong matapos dahil sa FACEBO0K!" (I can't finish anything because of Facebook!)
We forgive its alphanumeric spelling because it speaks the truth. With over 194,000 fans as of April 3, 2010, this call-it-like-you-see-it page has active discussions and, of course, wall posts from fans on the things they delay because of Facebook like sleeping, pooping and taking a bath. The page even has T-shirts for sale pending approval to use Facebook's logo.
ADVERTISEMENT - CONTINUE READING BELOW
This page is perfect for Facebook addicts who waste many hours clicking around the social media network.

CONTINUE READING BELOW
Recommended Videos
2. "Puro Ka Parinig sa mga Wall Posts Mo. Kung Matapang Ka, I-Wall-to-Wall Mo!!" (You're always making asides on your wall posts. If you're really tough, then post it wall-to-wall!)
For those who express their rage via status messages and become part of fan pages and groups to make a statement, this page wants you to quit your passive aggressive routine and just confront the person in question on his or her Facebook wall. Nothing beats a smackdown in front of an online audience.
ADVERTISEMENT - CONTINUE READING BELOW
Suggest this page to your friends and frenemies who love engaging in virtual fights. With forewarned "bitchy content," the page is host to its fans' blatantly honest comments on broken promises, love declarations and more.

3. "MY SISTER SAYS IF I CAN GET 1 MILLION FANS SHE WILL NAME HER BABY MEGATRON"
ADVERTISEMENT - CONTINUE READING BELOW
A "silly sibling bet" leads to a baby boy being named Megatron. After hitting the millionth mark in just 13 days, the page creator's sister, Melissa, now has to name her baby after the pop culture icon, according to Daily Mail UK. "I didn't think it was going to be such a big deal!" Melissa said.
Whether Melissa goes through with it or not, you've got to admire how many people will support a funny cause. And who knows, the kid might just score free Transformers action figures!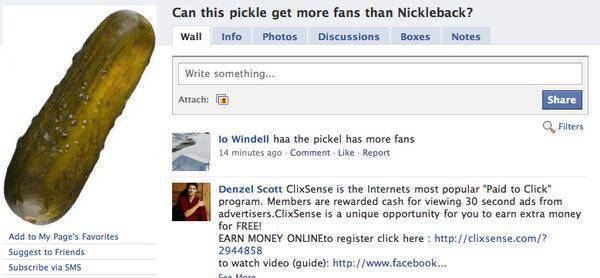 ADVERTISEMENT - CONTINUE READING BELOW
4. "Can this pickle get more fans than Nickleback?"
Yes, it can! Purposely misspelling Nickelback to avoid copyright issues, the fan page beat the rock band in just two weeks in February. The page is sustaining it with almost 1.6 million fans compared to Nickelback's less than 1.5 million.
The page's creator, Coral Anne, claims it's "strictly intended for humor." She wrote, "I am not using this page to endorse any hate towards the band Nickelback. I respect Nickelback."
Nickelback's vocalist Chad Kroeger reportedly told Anne, "Your page will be closing in two weeks." To which Anne replied, "I still whooped your ass, Chad!" However, Anne denied the whole thing. "I have had no correspondence with Chad Kroeger or anyone affiliated with Nickelback," she wrote on the fan page.
Anne said she was inspired by the fan page, "Can this onion ring get more fans than Justin Bieber?" (No, it can't as of posting time).
ADVERTISEMENT - CONTINUE READING BELOW
Nickelback and Justin Bieber are not the only ones in danger of this phenomenon. A "guy who looks like a thumb" is after tween superstar Miley Cyrus; a melon is after Cyrus' alter ego, Hannah Montana; a pickle is after Twilight and a squirrel is after U.S. Pres. Barack Obama, among others.

ADVERTISEMENT - CONTINUE READING BELOW
5. "INIISIP KO PA LANG TINATAMAD NA KO" (I get lazy just thinking about it.)
Idle hands are Facebook's playthings. Going by the page's motto, "Mabuti na ang tamad, 'di naman pagod (It's better to be lazy than tired)," fans share how lazy they are to, say, run away or even breathe.
This page is perfect for procrastinators and, of course, people want to do as little work as possible.

ADVERTISEMENT - CONTINUE READING BELOW
6. "AKO NA NAMAN ANG BAHALA! SUMOSOBRA NA KAYO AH! -BATMAN" (It's all up to me again? It's too much! --Batman)
For those who've been living under a rock, "Bahala na si Batman" is a Pinoy expression which means to leave things to chance. The Bat Page features one-liners like "Porke't tapos na exam n'yo hindi na kayo magpaparamdam (Just because you've finished your exams, you don't pay attention to me anymore)?" The fan page also has tons of funny Batman pictures like Batman giving the Bat Signal the finger, Batman getting owned by Superman and Batman doing a Kanye West.

ADVERTISEMENT - CONTINUE READING BELOW
7. "Buti Pa Ang Biglaang Lakad Natutuloy; Ang Planado, Hindi!" (Spontaneous trips push through, unlike planned ones!)
The fan page claims it doesn't promote not planning; it just states that, sometimes, spontaneous trips do trump planned ones that get cancelled. Among others, the discussion pages tackle the scientific explanation of this phenomenon (twist of fate and memory gap), acceptable reasons to cancel trips (school, emergencies and family gatherings) and the best spur-of-the-moment outings (driving from Quezon City to Bicol, and going on a food trip after someone posts how boring the day is).

ADVERTISEMENT - CONTINUE READING BELOW
8. "punta ka ba? try ko humabol! (pero di pupunta)" (Are you going? I'll try to catch up! [But won't actually go])
Admit it; you've done this at least once. "Try ko" is the favorite line of the lazy, the busy and the too shy to say no. Some excuses from the fan page: pretend you thought the event was cancelled, pretend you didn't get the text message about the trip and pretend you couldn't find the venue. Just don't do it often unless you want to be able to relate to this fan page.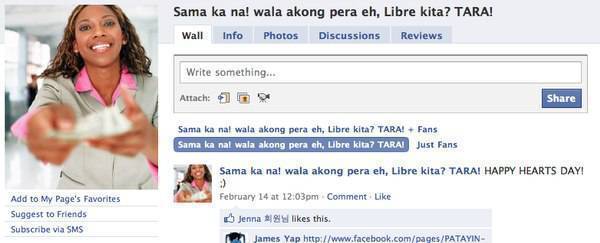 ADVERTISEMENT - CONTINUE READING BELOW
9. "Sama ka na! wala akong pera eh, Libre kita? TARA!" (Come with us! / I don't have money. / My treat? / Game!)
Because the best things in life are free.

10. "HINDI AKO NANGLALAIT, SINASABI KO LANG KUNG ANO ANG NAKIKITA KO :D" (I'm not dissing you; I'm just telling the truth.)
ADVERTISEMENT - CONTINUE READING BELOW
Brutal honesty takes the spotlight on this fan page. The page features mostly photos that fans root for or crucify like two skinny dudes boxing and a "beggar version of Will Smith" hanging out with three "chicks," as described by the fans.

11. "HINDI PORKET MAY DSLR KA, PHOTOGRAPHER KA NA!" (Having a DSLR doesn't make you a photographer!)
ADVERTISEMENT - CONTINUE READING BELOW
Its first wall post, "May nalalaman ka pang ANGLE Shots jan. SHOTIN KITA EH (Angle shots, huh? What if I shoot you instead?)," got 2,838 likes and 3,372 comments. Drawing raves from people tired of poser photographers who use DSLRs (digital single-lens reflex cameras) and rants from people who think the page is just bitterness embodied, the page now strives for peace among its 88,636 fans.
If you like this page, you might also like "HINDI PORKET MAY STUDIO PIC KA, MODEL KA NA. WAG KA NAMAN FEELING (Having a studio photo does not a model make)."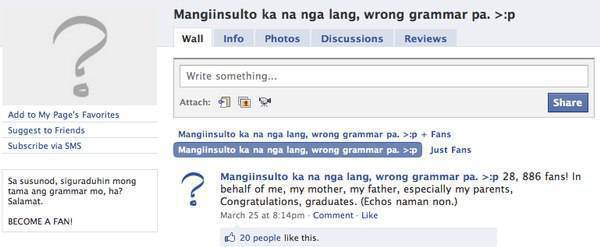 ADVERTISEMENT - CONTINUE READING BELOW
12. "Mangiinsulto ka na nga lang, wrong grammar pa. >:p" (If you're going to insult me, better make sure that insult is grammatically correct.)
Anger clouds your judgment so Google before you Tweet or post unless you want a screencap of your less-than-perfect rant uploaded on this fan page.

ADVERTISEMENT - CONTINUE READING BELOW
13. "Pretending to Text in Awkward Situations"
More than 3.6 million people resort to this tactic, based on the page's number of fans. The page suggests finding an awkward text buddy among the fans because "it gets super awkward when someone asks who you're texting when you're pretending." It also runs down situations when you need "awkward relief" like running into your ex and inadvertently watching a sex scene with your parents.
Speaking of texting, the thumb-injury-prone phenomenon also spawned pages on hating people that don't text back, hating people who type "Lyk3 Dihs," accidentally sending messages, typing "haha" even when there's nothing funny, putting a smiley at the end of a text, and texting the person next to you things you can't say out loud.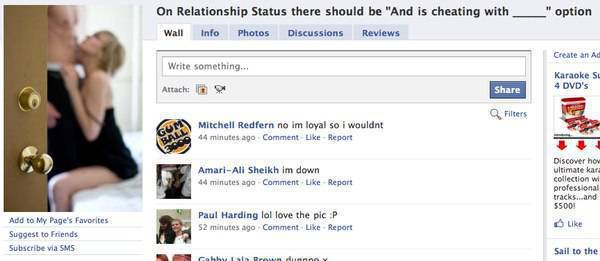 ADVERTISEMENT - CONTINUE READING BELOW
14. "On Relationship Status there should be 'And is cheating with ______' option"
It's not really a sensible idea and some fans attacked the page for promoting cheating, but it's fun to imagine how relationships would be like with this option. Talk about transparency. At least you won't have to waste your time on a player–that's if he or she is stupid and/or bold enough to use this imaginary option.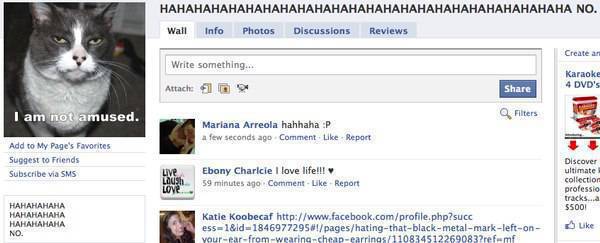 ADVERTISEMENT - CONTINUE READING BELOW
15. "HAHAHAHAHAHAHAHAHAHAHAHAHAHAHAHAHAHAHAHAHAHAHAHA NO."
Whether you mean it or you're just pissing someone off, the fan page is perfect for those who use this Simon-Cowell-worthy reply. Points for the apt profile photos of unamused-looking cats.

16. "Yelling random things when your friends are on the phone with their parents"
Who hasn't done it? The fan page suggests yelling the following: "pass the weed," and "stop touching me there," a Randomly swearing and screaming a fake (or not) O works too.
ADVERTISEMENT - CONTINUE READING BELOW

17. "5 More Minutes of Sleep in the Morning Really DOES Matter"
It has more than 800,000 fans who have a love/hate relationship with their snooze button. The page's administrator wrote, "Suggest it to all your friends, and maybe we can get a law passed to have all schools and jobs start five minutes later, so we can have our extra sleep EVERDAY of every year FOREVER!" Riiiight.
ADVERTISEMENT - CONTINUE READING BELOW

18. "Yes, I do look at my reflection when I walk past parked cars or windows."
Vanity is the name of the game for this page's over 160,000 fans. For more LOLs, we wish the page would change its profile photo to a fan-submitted photo of Twilight's Edward checking himself out on a car window with the text, "Dude, I dazzle myself." Narcissism at its finest.
ADVERTISEMENT - CONTINUE READING BELOW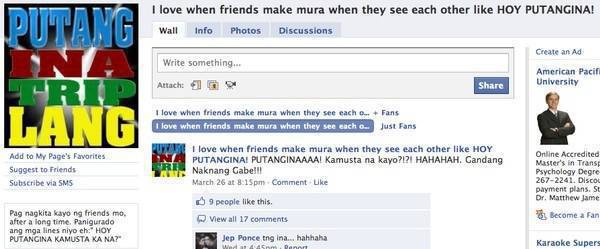 19. "I love when friends make mura when they see each other like HOY PUTANGINA!" (I love it when friends curse upon seeing each other.)
P*tang ina, a curse in Filipino that means "prostitute mother, is now part of ordinary conversation among the youth, the fan page explains. Unpleasant to the ear but absolutely happening.
ADVERTISEMENT - CONTINUE READING BELOW

20. "I actually pay attention to the "L" and "R" on my headphones. Always."
Only about three weeks up and it already has over 1.3 million fans. Not much on the page though, but it has some noteworthy discussions on the best headphones and if the left or right earphone is better to use when covertly listening in class.
ADVERTISEMENT - CONTINUE READING BELOW
Illustration by Warren Espejo, Screen capture images from Facebook.
SPOT.ph wants to know: Which unique Facebook Fan Pages have you joined or want to put up?
Share this story with your friends!
---
Help us make Spot.ph better!
Take the short survey
Load More Stories