Tweets of the Week: Rhian Ramos, Anne Curtis + more
Zsa Zsa Padilla speaks up about daughter Karylle's nip slip photo, Rhian Ramos and Bubbles Paraiso crush on 15-year-old Elmo Magalona, and KC Montero might shave his nuts.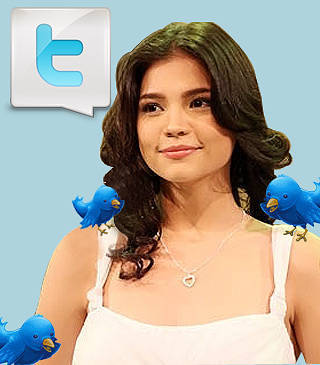 Rhian Ramos
Singer-actress Zsa Zsa Padilla on her daughter Karylle's nip slip photo they claim is fake: My heart is bleeding. How can people be so heartless?
Actress Anne Curtis who had her own nip slip incident just last month: I super understand you Ms.Z RT @zsazsapadilla: My heart is bleeding. How can people be so heartless?
Denise Laurel on her own wardrobe malfunction in 2009: I was unwillingly carried n pushed in the water by jordan herrera during my watdrobe malfuntion in camsur.. And I was wearing a tube floor length dress... And I only apologised to my family for the stress but I didn't do anything wrong I was pushed in almost drowned and was smilling cause I didn't wanna show I was mad.. Jordan to this day still hasn't apologised. But I'm over it learned my lesson.
Rhian Ramos, actress:
- my newest crush --->@SuperElmo (Elmo Magalona) yo elmo, how old are you?
- @maxenemagalona (Maxene Magalona) you know what max... when elmo and i get older, 3 years will seem like a very small age gap.=) haha
Bubbles Paraiso, model: dear @maxenemagalona (Maxene Magalona) and @saabmagalona (Saab Magalona).. i love u guys so much that i wana be ur sister in law and marry @SuperElmo (Elmo Magalona).. hahahaha!!
KC Montero makes a bet with his ex-wife Geneva Cruz's son, Heaven Arespacochaga:
Montero: @HCAres if i can get this kid over 400 followers i win a bet. Help me beat a 14 year olds ass please. hahah
Arespacochaga: If my dad @KCMontero loses he has to shave his gray balls.
Montero: you lil shit! no dinner for you!
Arespacochaga: @KCMontero I'd skip dinner to see you shave your nuts

Teresa Herrera, model and TV host: Working out on Powerplate is like having a giant vibrator. Who's complaining?!@#$
ADVERTISEMENT - CONTINUE READING BELOW
Karen Davila, broadcast journalist: Kakatawa...nagsalubong si Satur Ocampo at Jovito Palparan sa studio, TEEEEENSE! hahahaha.
Daphne Osena-Paez, TV personality: What's up w the "pa poor" angle? A tv producer wanted 2 portray me as poor bec I had summer jobs (in Canada!) like it was child labour.
Artwork by Warren Espejo, photo by Noel Orsal of PEP.ph.
Load More Stories