Top 10 Dethroned Beauty Queens
Stripped of their sashes and shed of their scepters, why couldn't these beauties hold on to their crowns?
In the Philippines, beauty queens are pop culture goddesses.   That's why it's breaking news whenever one gets dethroned.   SPOT.ph lists Pinay beauties, as well as foreigners, who were stripped of their crowns for one reason or another.

1. MARIA VENUS RAJ
Disputed title: Binibining Pilipinas-Universe 2010
Pageant problem: Binibining Pilipinas Charities, Inc. (BPCI) officials cited inconsistencies in her birth certificate. It appeared that she was born in Qatar and not the Philippines, which would make her ineligible for her crown.
Queenly aftermath: Raj is currently fighting to get back her crown. After some deliberation, the BPCI reconsidered her plight and stipulated that she gets to be queen if she produces a Philippine passport before the Miss Universe pageant in August. If not, she will be replaced by Binibining Pilipinas second runner-up, Helen Nicolette Henson since first runner-up Dianne Necio is only 17. If Raj does end up competing in the Miss Universe pageant, she goes down in pageant history as the first dethroned queen to be reinstated.
2. RIS LOW
Disputed title: Miss Singapore World 2009
Pageant problem: From the start, many Singaporeans bashed Low for her atrocious English. Then again, she also turned out to be a criminal. She had failed to inform pageant officials that she was convicted of credit card fraud in May 2009. She was asked to step down since, obviously, a beauty queen with a criminal record was not what the organizers signed up for.
Queenly aftermath: Low's notoriety continues. She claimed to be bipolar and confessed to stealing Pokemon cards when she was young. This didn't faze the folks at Espire, a condom manufacturing company that appointed Low as their ambassador.
ADVERTISEMENT - CONTINUE READING BELOW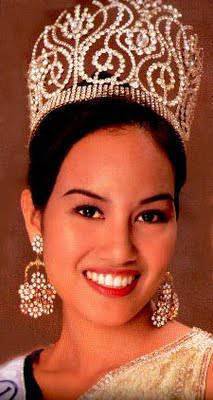 CONTINUE READING BELOW
Recommended Videos
3. JANELLE BAUTISTA
Disputed title: Binibining Pilipinas-Universe 1999
Pageant problem: Bautista had it all–beauty, brains, poise. Unfortunately, she didn't have Filipino citizenship. Bautista is American.   Ergo, she couldn't represent the Philippines.
Queenly aftermath: Bautista was replaced by Miriam Quiambao, who had been crowned Binibining Pilipinas-World. Quiambao went on to compete in the Miss Universe 1999 pageant in Trinidad and Tobago, winning first runner-up honors. One queen's fall is always another one's rise. While Quiambao is now a celebrity, Bautista seems to have slipped away from the limelight quietly and gracefully.
4. CARRIE PREJEAN
Disputed title: Miss California USA 2009
Pageant problem: Prejean got embroiled in controversy because of her answer to pageant judge Perez Hilton's question about same-sex marriage. "I think that I believe that marriage should be between a man and a woman, no offense to anybody out there. But that's how I was raised and I believe that it should be between a man and a woman," she said. Later on, semi-nude pictures of Prejean were leaked. Though she survived the risqué photos issue, Prejean was eventually dethroned because she reportedly didn't honor other Miss California USA contract obligations.
ADVERTISEMENT - CONTINUE READING BELOW
Queenly aftermath: Prejean was replaced by Tami Farrell. It was also revealed that her breast implants were paid for by the Miss California USA organizers.   Prejean's had her 15 minutes of fame. (Or maybe she'll have a reality show later on.)
5. VANESSA WILLIAMS
Disputed title: Miss America 1984
Pageant problem: Williams made her mark as the first woman of African American descent to be crowned Miss America. However, 10 months after she was crowned, her nude photos were published in Penthouse. The photos had been taken years before she joined the pageant and she had never authorized her release. Nonetheless, the photographer sold the photos to the magazine.
Queenly aftermath: Williams, who was was replaced by Suzette Charles, went on to be a singer-actress. She's best known for being comic villain Wilhelmina Slater in Ugly Betty.
6. TISHA SILANG
Disputed title: Binibining Pilipinas-Universe 1998
Pageant problem: She looked every inch the Filipina beauty queen–until they realized that she had a Canadian passport.
Queenly aftermath: Silang was replaced by Jewel May Lobaton. Silang ventured into TV hosting for a while. In 2008, Silang participated in the third season of The Amazing Race Asia with boyfriend Geoff Rodriguez.
7. AMPARO MUÑOZ
Disputed title: Miss Universe 1974
Pageant problem: This beauty from Spain allegedly had such a violent temper that she was asked to resign after six months as queen. She, however, was not formally replaced.
Queenly aftermath: Muñoz went on to become a successful TV and film actress in Spain. To this day, nobody really knows what kind of violent behavior Muñoz engaged in. Tiara throwing?
ADVERTISEMENT - CONTINUE READING BELOW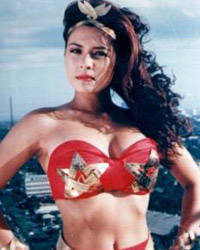 8. ANJANETTE ABAYARI
Disputed title: Binibining Pilipinas-Universe 1991
Pageant problem: This dusky buxom beauty possessed a sex appeal that would have had the whole world in awe. Unfortunately, she did not possess the citizenship that would have made her eligible to represent the Philippines in the Miss Universe 1991 pageant. She is American.
Queenly aftermath: Abayari, who was replaced by Alou Gonzalez, went on to reign as a sex symbol. She also became a sought-after movie actress. She even got to play the iconic Pinoy heroine Darna in Darna: Ang Pagbabalik in 1994. However, in 1999, Abayari was jailed in Guam for alleged possession of shabu. She has since regained her freedom and is now enjoying a quiet life in the US.
9. LAURA ZUNIGA
Disputed title: Miss Mexico-International 2009
Pageant problem: Nuestra Belleza Mexico, the pageant organizer, dethroned Zuniga after she was arrested with several men carrying illegal guns and drugs in September 2008. Zuniga said she just got dragged into the mess by her boyfriend Angel Orlando Garcia Urquiza, who is affiliated with a drug cartel. Her "gangland ties" rendered Zuniga ineligible to compete in the Miss International 2009 pageant.
ADVERTISEMENT - CONTINUE READING BELOW
Queenly aftermath: Zuniga, who was replaced by Ana Gabriela Espinoza Marroquín, was released from detention after a couple of months.
10. OXANA FEDOROVA
Disputed title: Miss Universe 2002
Pageant problem: This Russian beauty didn't seem to fit into the pageant mold–as she refused to just stay charming when she was "insulted" on The Howard Stern Show. Then again, perhaps pageant organizers shouldn't have expected a police officer to be so pliant. Fedorova was also rumored to have been pregnant.   Others say she gave up the title because she had gained weight.
Queenly aftermath: Fedorova, who was replaced by Panamanian Jutine Pasek, did not officially finish her reign. The Miss Universe Organization refuses to recognize her as a legit titlist. Fedorova went on to finish her law degree. She also continued her career as a police officer.
Special mention:
MARIA ISABEL LOPEZ

Disputed title: Binibining Pilipinas-Universe 1982
Pageant problem: BPCI didn't like the fact that Lopez walked the ramp and bared some skin as a Gerald Peter model. Lopez disclosed that they reportedly asked her to resign, but she made a lot of noise through press conferences arranged by her talent manager. She had won the crown and she was not giving it up. She represented the country in the Miss Universe 1982 pageant in Peru.   Thus, she's the only Pinay beauty queen who has deflected her dethronement.
Queenly aftermath: Lopez starred in several sex-oriented flicks like Isla, Silip, and Red Roses for a Call Girl (a.k.a. Manila Tattoo). But, of course, Lopez was always a sex symbol who was more than what she seemed. She is currently one of the most vocal critics of the BPCI.
ADVERTISEMENT - CONTINUE READING BELOW
Pop culture treasure: Lopez's exchange with pageant judge Rita Gomez has gone down in pageant history. The flamboyant Gomez asked, "Here's your question hija: Are you still a virgin?" To which Lopez quipped, "If I say I still am, can I bring home the crown tonight?" "Good answer!" exclaimed Gomez.   Then, Lopez came up with her own question: "How about you, ma'am? Are you still a virgin?"   Gomez answered, "Hija, I have five different children with five different fathers. What do you call that? Immaculate Conception?"
Art by Warren Espejo.
Image credits: Supreme Beauty (Janelle Bautista) and Mars Ravelo Darna at Tripod.com (Anjanette Abayari.)
---
Help us make Spot.ph better!
Take the short survey
Load More Stories