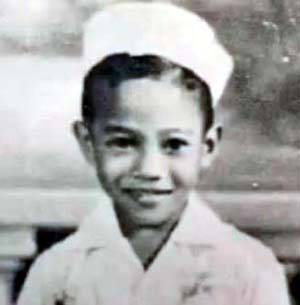 Nobody saw Vice President Jejomar "Jojo" Binay coming. No, not because of his oft-mentioned (in a so very un-PC way) non-anemic complexion. He was considered the dark horse in the vice presidential race. People had expected Senator Mar Roxas to win. Save for the belated mention of his past extramarital dalliance, he stayed pretty much under the radar during the campaign period. To everyone's surprise, Binay emerged as the country's No. 2 man. Love him or hate him, he's now one of the most powerful men in the country. We might as well try to see his true colors. SPOT.ph plays pop profiler and psychoanalyzes the man they call "V-nay" by listing 10 reasons that might explain what makes him who he is.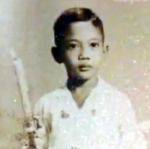 ADVERTISEMENT - CONTINUE READING BELOW
Jejomar Binay uses his humble beginnings as his unique selling proposition.
1. He's an only child. He's the one and only offspring of Diego Medrano Binay, a librarian, and Lourdes Cabauatan, a teacher. Though most only children may tend to be introspective and self-contained, there are those who "would be conditioned to behave in an outgoing manner, if they are to win friends, because they have no guaranteed familial playmates," according to a Northwestern University study called "The Dilemma of the Only Child." Binay appears to be the latter. On the flip side, experts say that only kids could also turn out to be "little emperors" who want to dominate the groups they find themselves in.
2. He's had a hard-knock life. Binay's parents died when he was young, so he had to be taken in by his uncle, Atty. Ponciano Binay. In his uncle's home, Binay said he had to wake up at around 4:30 a.m. each day to do his chores (which included gathering slop for his uncle's piggery) before he went to school. In a way, he had to earn his keep.
ADVERTISEMENT - CONTINUE READING BELOW
Recommended Videos
3. He's a Type A personality. The article "What is a Type A Personality?" describes it as such: "This person as a child was probably given conditional love, had a role model who was raised on conditional love or both. There was a standard to be met and if it was met there was acceptance and reward; if the standard wasn't met then there was neither reward nor acceptance." Interestingly enough, the article also pointed out that the Type A person "[is] a perfectionist of low self-esteem who doesn't want to have any association with dirt." It seems that "getting dirty makes them feel cheap and worthless" so "they need neat surroundings." Didn't Binay complain about getting a rash in his new office?
4. He married a doctor. Binay is a lawyer while his wife Elenita is a doctor. On paper, their power coupling embodies most Pinoys' idea of success and prestige.
ADVERTISEMENT - CONTINUE READING BELOW
5. He's a joiner. Check out just a few of the groups that Binay joined: Alpha Phi Omega (APO) Fraternity, the Order of DeMolay, the Free Legal Assistance Group (FLAG, which helped human rights victims during the Martial Law), the August Twenty-One Movement (ATOM, which sought justice for Benigno "Ninoy" Aquino, Jr.), and the Movement of Attorneys for Brotherhood, Integrity and Nationalism, Inc. (MABINI) Binay is also the president of the Boy Scouts of the Philippines.
Jejomar Binay has the ability to talk through any issue--from allegations of corruption to infidelity.
6. He's a Scorpio. Born on November 11, Binay is a Scorpion. Astrology.com weighs in on his kind: "Much like the Scorpion would rather kill itself than be killed, those born under this sign are in ultimate control of their destiny. It is life on the Scorpion's terms, too, since these folks promote their agenda (they are quite the executives) and see to it that things go forward." The article also points out that other people may find the Scorpion "overbearing." They can even be "self-destructive" and "turn vindictive in no time flat."
ADVERTISEMENT - CONTINUE READING BELOW
7. He's a Water Horse. His birth year, 1942, makes him a Water Horse. (That horse thing again!) According to a Chinese astrology chart, he's intuitive, adaptable, a good orator, and persuasive. He's also likely to move "according to the flow of the situation." Binay proved that he's a true Water Horse when he admitted to Probe Profiles host Cheche Lazaro that he changed his mind about running for president when President Benigno "Noynoy" Aquino III said that he'd run for the position.
8. He eats simple food, or is at least often shown doing so. In a Reporter's Notebook feature, Binay was filmed eating sardines. He was also shown eating with his hands on a huge dining table illuminated by a crystal chandelier. Perhaps, eating simply is his way of reminding himself of his past.
9. He wants to expand his sphere of influence. Binay's son Jejomar Erwin is now the mayor of Makati while daughter Mar-Len Abigail is the representative of the second district of Makati. Binay and his family say they are simply giving back to Makati, but some of their critics accuse them of "building a dynasty."
ADVERTISEMENT - CONTINUE READING BELOW
10. He may have a little bit of Napoleon in him. If the definition of the Napoleon Complex is to be believed, Binay, who at 5'2" is the same height as Napoleon Bonaparte (though some historians insist Bonaparte was really 5'6"), is a man who thinks he has to constantly prove his worth. He may also tend to be defensive because he thinks people are out to push him around. (For the record, President Noynoy Aquino is 5'8.") During President Cory Aquino's time, Binay was dubbed as Rambotito (litte Rambo), after the lead character in Sylvester Stallone's action flick First Blood. This was because Binay stood by Cory through all the coup attempts against her government and, yes, because he's not that tall.
Art by Warren Espejo and photos of Binay as a young boy from screen captures from You Tube videos.

ADVERTISEMENT - CONTINUE READING BELOW
Share this story with your friends!
---
Help us make Spot.ph better!
Take the short survey
Load More Stories