WIN a Trip for 2 to Hong Kong!
<strong>Top 10 Reasons to Extend Your Summer in Hong Kong:</strong> Which spot would you like to visit? Tell us and win!
The rains have started and summer is officially over in the Philippines. For those who have not had enough of the myriad activities on the islands, you may be wondering how best to extend the summer heat. Well, why not travel to Hong Kong, where summer has just begun?
Want to win a trip for two to Hong Kong? Let us know which spot in the story you would like to visit and why.

ADVERTISEMENT - CONTINUE READING BELOW
The Hong Kong Summer Spectacular is part of "Festive Hong Kong 2010", a year-long celebration of festivals and events featuring unique traditional Chinese festivals and Western cultural celebrations. From June 11 to August 31, locals and tourists enjoy an annual feast for the senses all over Hong Kong, with the city's popular attractions including Hong Kong Disneyland, Hong Kong Wetland Park, and Ocean Park Hong Kong. In July, the action is in East Tsim Sha Tsui for the Hong Kong Dragon Boat Carnival, while the "Summer Pop - Live in Hong Kong" concert caps the season in August.
CONTINUE READING BELOW
Recommended Videos
Wondering what's more to Hong Kong aside from these tourist spots? Here are the top ten reasons why you should spend summer in Hong Kong: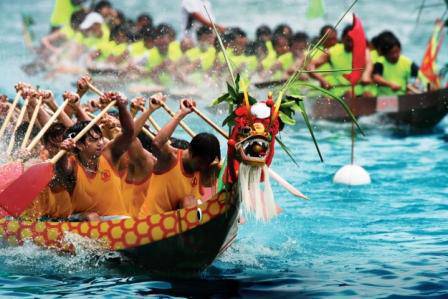 ADVERTISEMENT - CONTINUE READING BELOW
1. Witness the Dragon Boat Carnival. The Hong Kong Dragon Boat Carnival is the biggest event and main attraction of Summer Spectacular and Festive Hong Kong 2010. It gathers over 130 local and international boat race teams for one adrenaline-pumping boat race that ignites the senses. At night, the celebration turns into rowdy merriment as participants are led to the San Miguel beer garden with live entertainment, food stalls, and even a beer-drinking competition. The Dragon Boat Carnival is on July 23-25 at East Tsim Sha Tsui on the Kowloon side of Victoria Harbour. Admission is free! The races are from 9 a.m. to 6 p.m., while the San Miguel Beer Garden is open from noon to 9 p.m.
For more information, visit the summer highlights page of the Hong Kong Tourism Board (HKTB) website.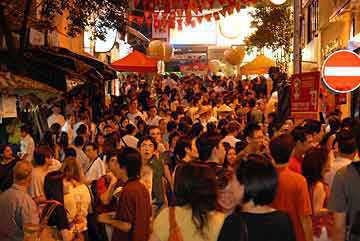 ADVERTISEMENT - CONTINUE READING BELOW
2. Challenge friends or family members to a Beerfest. Why wait until October? Every summer, the Lan Kwai Fong Beerfest is held in Lan Kwai Fong, one of Hong Kong's food districts, from July 17-18. During this event, locals and tourists crowd to drink beer and sample savory treats, with juicy burgers and smoky barbecues, to the hottest party music and the coolest people.
For more information, visit the district's official web page.
The district is also celebrating World Cup fever this season, and transforms into a Football Fans Park from June 11 to July 11. Most bars have 100-inch HD TVs to indulge football fans, while visitors can enjoy live performances, themed gifts, games, and even a football goal to "go for scores".
Click here to check the mini games and performance schedule.
ADVERTISEMENT - CONTINUE READING BELOW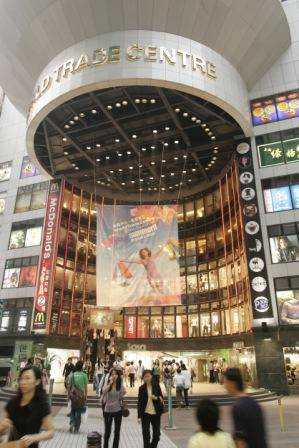 ADVERTISEMENT - CONTINUE READING BELOW
3. Shop, shop, and shop some more. Hong Kong is a shopper's paradise, with specials and visitor privileges that every fashionista would love. From shopping malls, international luxury brands, trendy shops, themed shopping streets, street markets, and authentic Chinese clusters, Hong Kong has something for every kind of shopper. Bring your passport to the following shopping malls to avail great discounts up to August 31: Times Square, Citygate outlets, apm, Olypian City, New Town Plaza, Langham Place, Harbour City, Lee Gardens, Plaza Hollywood, and ifc mall.
Shopping in Hong Kong is not complete without street markets where the best experience is to find hidden treasures, enjoy the hustle, and of course, haggle. Visit the Temple Street Night Market for great bargains, and Stanley Market for special finds to take home.
Make sure that you only shop at the most discerning boutiques. The Quality Tourism Services (QTS) sign in shops ensures that they have high standards and have qualified for this exclusive recognition.
ADVERTISEMENT - CONTINUE READING BELOW
The "Visa go Hong Kong Super Shopper" is also the latest promotion from HKTB and Visa, as local residents and visitors who spend over HK$3,000 with their Visa cards during the "Hong Kong Summer Spectacular" period can register online and enter a lucky draw. The lucky visitors will each receive a round-trip travel package to Hong Kong in October to take part in the shopping contest, with eight local residents. They will be required to accomplish shopping missions under a designated theme with HK$20,000, and the winning team can receive HK$500,000 Visa spending amount.
For directions and shopping hours, check out Hong Kong's shopping surprises, and a list of malls by district.
For more street finds, check out the list of street markets on the HKTB site.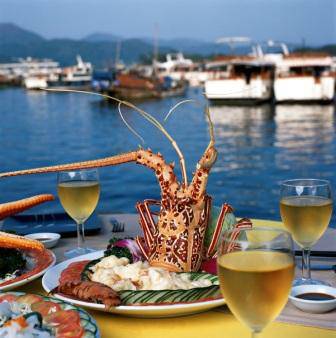 ADVERTISEMENT - CONTINUE READING BELOW
4. Experience different dining options and get food discounts. As the "Culinary Capital of Asia," Hong Kong offers a wide variety of cuisines from two different cultures - the East and the West. Must-taste food items when you visit Hong Kong include dim sum such as Har Gau (shrimp dumplings), Siu Mai (meat dumpling), Pai Gwat (steamed spareribs), Ngau Yuk Mai (steamed beef ball) Cha Siu Bau (steamed barbecued pork bun), and Chun Guen (fried spring roll). Complement this with the Yum cha or drinking tea experience, which can be taken Chinese, English, or Hong Kong-style. For amazing discounts during the Hong Kong Summer Spectacular period, visitors can avail of coupons for different food districts by printing discount coupons.
5. Drop by the Ani-Com and Games Convention. Who's ready for a DOTA marathon? When it comes to gaming, anime, and comics, Filipinos are at the top of the game. Pack your bags and bring the house down during the 12th Ani-Com convention this year from July 30 to August 3 at the Hong Kong Convention and Exhibition Center. The tickets, priced at HK$28 each, are available on-site, and at designated convenience stores around the city.
ADVERTISEMENT - CONTINUE READING BELOW
ADVERTISEMENT - CONTINUE READING BELOW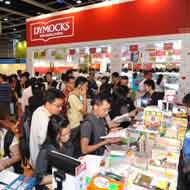 6. Bring home the book you've been dying to buy. Search for the latest New York Times bestseller or browse for unique paperbacks flown in from different parts of the world at the 21st Hong Kong Book Fair on July 21-27 at the Hong Kong Convention and Exhibition Center. Be sure save up and prepare extra space in your luggage for the books you will be lugging home.
ADVERTISEMENT - CONTINUE READING BELOW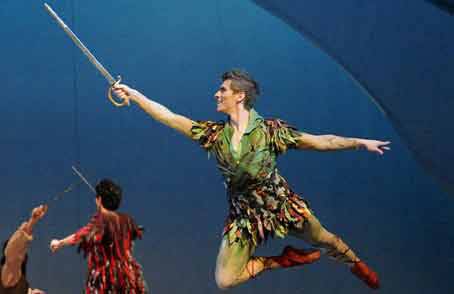 7. Learn from a world-class play. Bring your whole family to experience top-notch actors in world-renowned plays that would delight, entertain, and teach a lesson or two. Watch Peter Pan, Story of Mozart, Gulliver, and many more. View other show titles on the official website and catch the shows, which will run from July 9 to August 15 in various venues.
ADVERTISEMENT - CONTINUE READING BELOW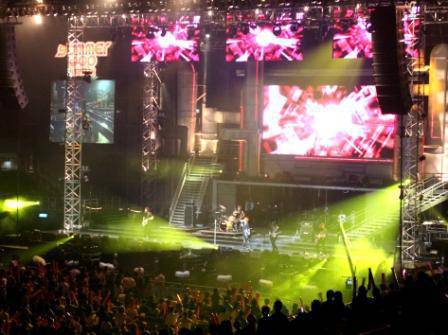 8. Jam with Hong Kong artists during Summer Pop - Live in Hong Kong. For entertainment fanatics, there's Summer Pop - Live in Hong Kong - a music concert with performances from pop artists coming from mainland China, Taiwan, and other parts of Asia, from August27-29 at the Hong Kong Coliseum. Featured artists include the Big Four (Dicky Cheung, Andy Hui, Edmond Leung, William So), the Grasshopper (Calvin Choy, Remus Choy, Edmond So), Joey Yung and Ekin Cheng.
ADVERTISEMENT - CONTINUE READING BELOW
For more details, visit the official website.
ADVERTISEMENT - CONTINUE READING BELOW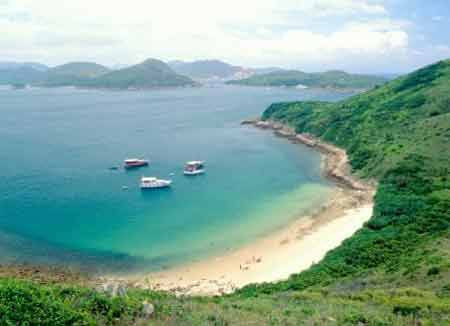 9. Go waterskiing, hiking, or surfing. What's summer without going to the beach? Get a tan at Shek O, which boasts of fine sands, seaside restaurants and BBQ stores. For those who want a relaxing, white sand beach, head to Tai Long Wan. For the more adventurous, explore Pui O and Lido. And for the romantics, search for South Bay or Wu Kai.
ADVERTISEMENT - CONTINUE READING BELOW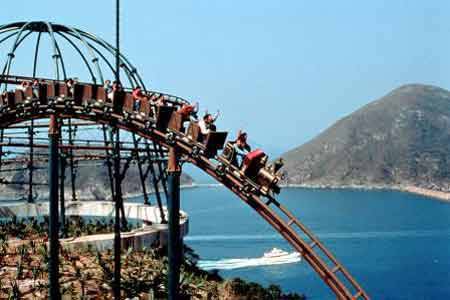 10. Summer Specials at Key Attractions. Hong Kong's most famous tourist destinations also have summer spectacular specials. Hong Kong Disneyland is now a summer hangout with Stitch and Friends, while the Hong Kong Wetland Park offers an insect photography exhibition for visitors, where enthusiasts can submit their own photos for a souvenir. Meanwhile, Ocean Park Hong Kong is hosting massive water gun fights and foam parties for the period, perfect for friendly fights and family bonding. And for kung fu fans out there, highly trained kung fu masters from Shaolin, China will have daily noontime performances at the Ngong Ping 360 Shaolin Showcase.
ADVERTISEMENT - CONTINUE READING BELOW
For more information, visit the websites of Hong Kong Disneyland, the Hong Kong Wetland Park, Ocean Park Hong Kong, and Ngong Ping 360.
For more Hong Kong-related news, just log on to www.facebook.com/hongkongonline.
Photographs courtesy of the Hong Kong Tourism Board. Peter Pan photo from www.hkiac.gov.hk.
Share this story with your friends!
---
Help us make Spot.ph better!
Take the short survey
Load More Stories