Lourd de Veyra: "Happiness is a Warm Pup"
Says our SPOT.ph blogger: "At last! Something warm, furry, and positive. Ah <em>leche.</em>"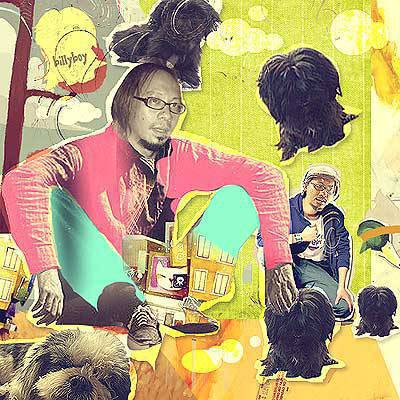 "Also: I cannot distinguish between the love I have for people and the love I have for dogs."
-Kurt Vonnegut, Slapstick
Because there's already so much negativity in this world, so much hate, so many marriages melting like Antarctic glaciers in this changing climate, so many oil spills and motorcycle accidents on Commonwealth Avenue, I've decided: enough writing about bitches. Let's talk about puppies.
ADVERTISEMENT - CONTINUE READING BELOW
Few are the things in this world that give me happiness. Most of them cannot be mentioned because I invoke my right to self-incrimination. The rest? Dogs. And I say this without irony.
Not just any dogs, but small, cute puppy dogs. I know that "puppy dog" is a silly redundancy but permit me this just once--it's a personal thing. "Puppy dog" rolls on the tongue more naturally and pleasurably than either "puppy" or "dog." Kinda like "The Razorback Bands." Listen: I may be the biggest, greasiest, most despicable asshole, and pervert in the world, but in the presence of puppy dogs I become the finest and gentlest of human beings, a veritable St. Francis of Assisi, a walking, drooling, stammering, blubbering yellow Care Bear surrounded by a mist of pink hearts and rainbows.
CONTINUE READING BELOW
Recommended Videos
Who can resist a cute puppy?
Evil Dead II and Dead Alive (an early Peter Jackson splatter masterpiece) are among my favorite films but I believe the words "dog" and "death" should never occur in the same sentence. I urinate on Walt Disney's grave if only for Old Yeller, where a boy is faced with no other choice but to shoot his pet that has become rabid. Also, physical confrontation might ensue if you mention Marley and Me in my immediate presence. You do not want to pass by a pet shop with me in the mall because I get a kick out of ogling the poor little creatures staring helplessly at me from the back of the display glass. For a brief moment, I always have this delusion--like Robert De Niro with the young Jodie Foster in Taxi Driver--that I would save them from this cruel hell. Until I see a Booksale and totally forget about them.
ADVERTISEMENT - CONTINUE READING BELOW
It's all a matter of taste. Some people like R&B, I loathe it and would rather stick my head into a meat grinder than listen to it. Some people like Kenny G and the novels of Stephenie Meyer. I reach for the airsickness bag. Some people like comic books and skateboards. I believe in that Biblical passage saying about me speaking as a child, I understood as a child, I thought as a child; but that when I became a man I threw away all childish things. Some people blow their monthly salaries on cocaine and slutty girlfriends. I spend mine on freaking dog food and flea-and-tick sprays. Ultimately, we do not question each other's preferences.
It may be cute to you, but hell on the puppy dogs.
I do not like my dogs all Teutonic-big and intelligent and shit--unless they'll be sniffing for bombs and illegal substances. Dogs should not be penile extensions, like cars with enhanced mufflers and sound systems that register a five on the Richter scale. Also, dogs should not be treated child substitutes who will one day earn the right to vote, go to college, and inherit your Calatagan beach house. They should not be humiliated by being dolled up in floral skirts and bonnets and Spider-Man costumes. Pet owners who think it's cute to do so are criminally demented and should be reported to the nearest police precinct. In the same way, shops that sell such offending items should be slammed shut by the local SWAT team. But the worst offenders are those who put shoes on their dogs' paws. It may be cute to you but it is definitely the Bataan Death March to those poor creatures. You should be shot by the SWAT operatives on sight. God designed the canine paw to function without the aid of external podiatric devices--unless you plan to use them to drag carriages in Binondo and Avenida. People should not impose their ugly quiltwork and re-channel the sadness and vacuity of their lives on their pets.
ADVERTISEMENT - CONTINUE READING BELOW
I also do not like giving names that strain on the virtues of cute--particularly names of food and vegetables. "Come here, Artichoke!" for me should not be the words of a sensible human being. At a petshop in Tiendesitas I witnessed a couple tap-tapping the glass behind which their Shih Tzu was being groomed, cooing, in the most sickening of tones, "Summer!...Baby...Summer...Ssssah... mmuhr." Yes. That's the fucking dog's name. Summer--I almost called the People for the Ethical Treatment of Animals. Even more unforgivable is giving names of famous writers and philosophers, like Neruda, Dostoevsky, and Wittgenstein. It smacks simply of pretentiousness ("Hey, look at me! I'm so smart!") and insecurity. I believe that canine appellations should be of utmost simplicity and brevity, uncomplicated, without the need to explain the cast of characters of postwar European philosophy. Which goes without saying that the best dog names are self-explanatory, just like our forefathers had intended, and have a maximum of two syllables: "Brownie," "Blackie," "Queenie," "Whitey," "Bantay," "Kagat" (the name of my neighbor's snarling askal).
ADVERTISEMENT - CONTINUE READING BELOW
I want them small, stupid, fat, and lazy. Not necessarily needy and whiny. Shih Tzus are fine dogs. I know, I know--even the pet-owning world isn't spared from snobbery and there will be snobs who'll sniff at the fact that Shih Tzus are to the present what the Japanese Spitz was to the '80s. Which is to say, widely popular; you can find one kept even underneath your vegetable vendor's table at the talipapa--the equivalent of wearing that shirt with the Philippine map. But since I do not own a Rhett Eala Collezione shirt, I permit myself to submit to popular choices in this case, fully aware that the aesthetics of charm and adorability--especially in the cases of pets--are insanely universal. But note that I do not like my Shih Tzus looking too imperially pretty. I dislike them mathematically precise ponytails and obsessively groomed and I believe they should not have their own yaya as it is demeaning to both parties. Dogs should stink like ass, and be hugged and smothered, their fur messed up while you both roll laughingly on the rug just the way God intended, not treated like priceless, fragile figurines.
ADVERTISEMENT - CONTINUE READING BELOW
The snobby Shih Tzus won't take anybody's...er...shit.
My Shih Tzu Biboy is small, fat, lazy, and generally helpless. He is equipped with big, expressive, almost Noranian eyes that burn into your sense of compassion whenever you tell him that he's had enough bowls of Royal Canin. Biboy has the physical habits of a boa constrictor: after eating obscene amounts of dog food, he ossifies into a useless clump of hair and fat. His sloth may be attributed to his age: at nine years old, he's gone blind and prone to slamming into furniture. After learning from the lessons of the past, I'm preparing myself for the inevitable.
So I got myself two more dogs, this time, a pair of mahogany-colored Lhasa Apsos. They're also small, not quite lazy, but frighteningly furry sometimes I can't tell between their front and back. Everyday I report to work with a lint remover in my bag--especially when I'm wearing black. Static electricity is such that there's enough pet hair on my clothes to make me look like a reject from the cast from The Lion, The Witch, and the Wardrobe. These fuckers are so fast and furry it's impossible to take a decent picture of them without restraints, a high-speed camera, and rented lighting equipment from CMB. On an entry-level point-and-shoot camera and normal lighting situations, they look like boom microphones, unruly carpets, or Rorschach patterns. Or worse, blots of shadows.
ADVERTISEMENT - CONTINUE READING BELOW
They have names but I prefer to call them "shadow dogs." I know it's not cute. But that's far better than naming them "Summer."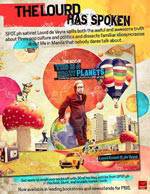 This is a Crazy Planets is available in newsstands, bookstores and supermarkets nationwide for only P195. For more information, click here.
Artwork by Warren Espejo.
ADVERTISEMENT - CONTINUE READING BELOW
Share this story with your friends!
---
Help us make Spot.ph better!
Take the short survey
Load More Stories