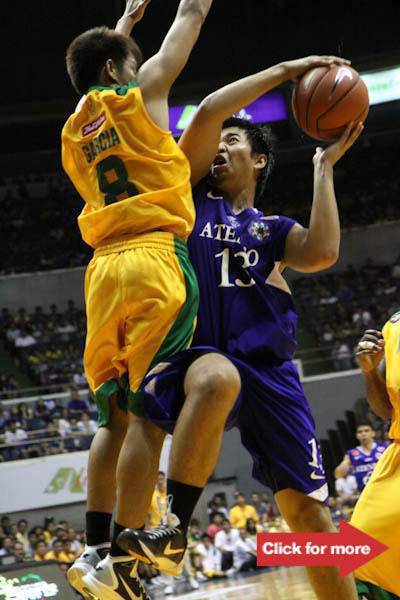 Far Eastern University versus Ateneo de Manila University on June 11 at the Araneta Coliseum. Click for more photos.
On July 10, the Araneta Coliseum opened its doors to the 73rd season of the University Athletics Association of the Philippines (UAAP). Get in the game with the fun facts we collected about the collegiate athletic tournament.

1. It started out as an experiment.

The University of the Philippines Athletic Department, which spawned the 86-year-old National Collegiate Athletic Association (NCAA), pioneered experimental games with the NCAA's "Big 3" in 1930. The Big 3--UP, National University (NU), and University of Santo Tomas (UST)--plus Far Eastern University (FEU) eventually seceded from the NCAA and formed the UAAP.

2. Everyone takes turns.

There are eight participating schools: UP, NU, UST, FEU, Adamson University (AdU), Ateneo de Manila University (ADMU), De La Salle University (DLSU), and University of the East (UE). They're supposed to take turns in hosting the UAAP. But the schools have taken to switching their hosting stints. School anniversaries are the usual culprits. For instance, it was supposed to be NU's turn this year, but DLSU requested that they be the host this year since they're also celebrating their centennial.

3. It's controversial.

The UAAP's strongest teams in terms of crowd draw due to their long-standing rivalry, DLSU and ADMU, entered the league last. DLSU was the last to join because they lacked the vote of one school for their application approval. (A unanimous vote was the rule up until 1986.) No, it wasn't because of their archrival ADMU--the growls allegedly came from Espana. UST allegedly voted against DLSU because of an '80s rumble between the Archers and the Letran Knights, also a Dominican school like UST.
ADVERTISEMENT - CONTINUE READING BELOW
The 73rd UAAP Season opens
Funny moments at the 2008 UAAP Finals
4. You boo, you lose (points).

Sometimes, there's nothing more satisfying than booing the heck out of your bet's opponent. But you'll have to hold your tongue unless you want to sacrifice a few points. In one of the UP Pep Squad training sessions held a few years ago, the squad was advised to discourage crowd jeers especially during an opponent's free throw since it might result to overall point deductions.

5. It's not just about basketball.

Though basketball is probably the UAAP's most high profile event, there are other equally exciting sports: badminton, table tennis, tennis, taekwondo, swimming, judo, cheerdance, volleyball, softball, track and field, chess, fencing, baseball, and football.

6. You have to stay in school and hit the books if you want to be a UAAP player.

Students are eligible to play if they have a high school diploma, are taking up a minimum of 12 units of subjects, and have good academic standing. They must be enrolled in a four-year bachelor's course at the university they wish to play for. UAAP players also can't be more than 25 years old or play in the league for more than five years, whichever one comes first. Schools must follow these rules or face suspension from the league.
ADVERTISEMENT - CONTINUE READING BELOW
Recommended Videos
UAAP Season 72: Highlights of the Ateneo vs. La Salle game in August 2009
7. Take it or leave it: Coaches can only handle one league at a time.

Coaches are also subject to UAAP regulations. The UAAP prohibits coaches from being the head coach of a PBA and a UAAP team at the same time.

8. Easy on the imports.

Foreigners can join the league upon completion of the residency requirement, which is at least two years of schooling in the Philippines. However, fielding two players at the same time is strictly prohibited. In 2007, the UAAP technical committee found that ADMU fielded American Kirk Long and Australian Zion Laterre at the same time for six seconds in a game versus DLSU, reports Inquirer.net. DLSU filed a protest which was dismissed due to "lack of merit," since it did not affect the game result (ADMU's 80-77 win).

9. It pays to be a "traitor" when buying tickets.

If your school is playing against its archrival and it's a much-anticipated game, you'll have better luck scoring tickets from other schools since tickets are distributed as evenly as possible between the participating schools and venues.

10. There's only one chance to protest a three-point shot in a game.

Called the "Challenge Rule," this and the "Suspension of the Possession Arrow" are the only UAAP rules that are different from your run-on-the-mill professional basketball rules.
ADVERTISEMENT - CONTINUE READING BELOW
Photos by Jenner Ong.
Share this story with your friends!
---
Help us make Spot.ph better!
Take the short survey
Load More Stories